At its core, the CCA is a collection of passionate, seriously accomplished, ocean sailors making adventurous use of the seas. All members have extensive offshore boat handling, seamanship, and command experience honed over many years. It is a special club for many reasons. Our members have found pleasure and fulfillment through the camaraderie of like-minded friends who share a love of ocean sailing and voyaging. The membership is not held together by a physical clubhouse -- it is a diverse community of individuals with a mission that has inspired its achievements, guided its growth, and passed along an identity and purpose that has served many generations.
The CCA has long been considered a reliable source of information on ocean sailing, and its members are among the most accomplished ocean sailors of our day, leaders in developing and codifying best practices of the sport. Their passion to take the less traveled and more challenging oceanic routes has led to a body of collective knowledge that the membership freely shares in seminars, local discussion groups and has documented in books, magazine articles and digital presentations on a variety of topics.
The CCA is all about the spirit of helping others who share our passion for making adventurous use of the seas. Today's CCA member is engaged in making a positive difference in the world. They voluntarily write cruising guides, run courses on safety and seamanship, contribute to the technical foundations of yacht design and systems, and take an active role in improving ocean health, collaborating with environmental organizations around the planet.
Who Are Typical CCA Members?
Membership includes circumnavigators, long distance cruisers, and ocean racers … women and men of all ages drawn to the sea and each other to develop and share their knowledge. They are passionate about their pastime, serious about preparation, and, most importantly, a pleasure to have as a watch mate.
Some current members are highlighted in short video profiles:
Haley Lhamon As a dinghy sailor from Texas, then California, Haley King Lhamon competed as a youth at a national level and trimmed aboard the 1988 Sears Cup winner (junior triple-handed nationals). She met her husband Rusty while racing at Stanford University and the couple went on to live in Michigan, Germany, and Washington. They now live on Bainbridge Island and own Lyric, an Alden 44 on which Rusty's parents circumnavigated. Over the years, they have cruised in Europe, the Caribbean, South Pacific, Great Lakes and both coasts while raising Taylor (19) and Barrett (16). Haley and Rusty haven't stopped racing; Haley won the 2007 Thistle Women's Nationals and co-skippered/navigated Team Sail Like a Girl's Melges 32 in 2018 as the first monohull and first all-female team to win the Race to Alaska. A former elementary and learning support teacher, Haley now coordinates the local Park & Rec sailing program and coaches high-school sailing. She's on the board of The Sailing Foundation and is past commodore of the Port Madison Yacht Club where she helped start a women's group last winter. Both educational and social, the low-key monthly program now includes 80 women!
Alec Brainerd grew up sailing in Maine, working in boatyards and both crewing and captaining various windjammer schooners. He transitioned into large classic yachts as crew aboard the 94-foot William Fife ketch Sumurun, which won the 1997 Atlantic Challenge Cup. He sailed throughout the Mediterranean aboard Sumurun that year and later sailed from Antigua to New Zealand on an 82-foot wooden ketch. He also worked at Rockport Marine, building the Joel White designed W-76 White Wings and helped refit a 100-foot 1939 Camper & Nicholson ketch. In 2002, he established Artisan Boatworks, where he and his crew build, restore, maintain and broker an impressive array of classic wooden yachts. He and his wife Erin are active members of Camden Yacht Club, from which they sail their 42-foot yawl Nora with their two young daughters.
 Holly Francis learned to love sailing on a yearlong voyage with her family when she was 14. Through high school, she sailed aboard the schooner SSV Tabor Boy in Buzzards Bay and on numerous trips to Maine, Bermuda, and the Virgin Islands. As executive officer (second in command) of the student crew during her senior year, she learned about the value of teaching leadership and teamwork through the lens of the ocean. Other trips include cruising from Spain to Italy, in Maine, and an Atlantic crossing in 2014. She is currently a senior at Stanford University and looking forward to sailing adventures in her future.
Joe Harris grew up sailing on Long Island Sound, where he was mentored by his father and grandfather, both experienced offshore racing sailors. Joe sailed offshore frequently in his 20s, racing to Bermuda and delivering boats to and from Europe and the Caribbean, before buying his own boat and moving to shorthanded offshore racing. During the period 2004 to 2007, Joe earned a succession of first and second place awards for Bermuda and Transatlantic races, and in 2015-2016 successfully sailed his 40-footer, GryphonSolo2, around the world. Joe is currently chairman of the CCA's Environment of the Sea Committee.
Why do Ocean Sailors Value Membership in the CCA
Membership is selective, with just 1,300 experienced men and women in 14 stations and posts throughout the United States, Canada and Bermuda and around the world. Members connect with each other and the future generation of ocean sailors through meetings both serious and social, voyages, cruises, and online. Considered a mark of achievement, membership is by invitation reflecting one's ocean sailing accomplishments and character. Standards are high, and much of the membership is also building their experience together with other members while achieving their own ocean sailing ambitions.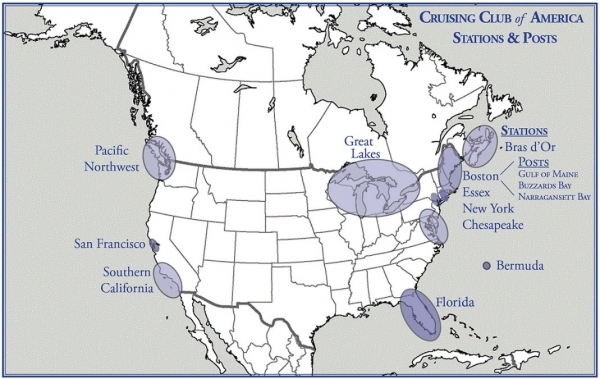 Becoming part of the CCA offers the opportunity to join a community of adventurers who share a passion for self-reliance while embracing the challenges inherent in offshore passage making. Ocean sailing demands humility and rewards extensive preparation and experience. Individuals who rise to these challenges and continue to successfully explore this blue planet are naturally drawn to the CCA where knowledge is shared and life-long bonds are created.
A Broad Range of Outreach Activities make the Cruising Club of America a unique educational organization:
Ocean safety, seamanship and weather training are essential components of the club's commitment to helping serious skippers and crew suitably prepare for their offshore adventures.
The CCA organizes the Newport Bermuda Race, the premier East Coast ocean race, in collaboration with the Royal Bermuda Yacht Club. The race offers a competitive proving ground for up-to-date safety practices, new equipment and ocean sailors looking to enhance their offshore skills. For many younger sailors, the race offers an opportunity to gain important offshore experience.
Club members collaborate to create an impressive annual magazine known as "Voyages," covering a broad range of topics from safety (e.g., crew overboard recovery) to cruising in exotic locations (e.g., Greenland or the South Pacific), to book reviews on relevant subjects. Many articles are subsequently republished in leading boating magazines.
The Environment of the Sea Committee allows the CCA to actively contribute to this dynamic worldwide dialogue on the deteriorating condition of our oceans. We are interested in promoting collaborative systemic change for the health of our marine environment. We promote environmental "best practices" to prevent pollution and support the philosophy of "sustainability" in our thinking and actions.
The CCA annually honors ocean sailors from around the world for outstanding accomplishments (see the awards page for more details):

The Blue Water Medal - "To record and reward examples of meritorious seamanship and adventure upon the sea, displayed by amateur sailors of all nationalities, that might otherwise go unrecognized."
Young Voyager Award - "Awarded to a young sailor who has made one or more exceptional voyages."
Rod Stephens Trophy for Outstanding Seamanship - "Awarded for seamanship which significantly contributed to the safety of a yacht, or one or more individuals at sea."
 

The CCA Technical Committee comes from a variety of professional backgrounds, including designers of sailboats and powerboats, engineers, marine surveyors, rule-makers, performance analysts, and specialist marine consultants. The CCA has an almost 90-year history of involvement in yacht rating and handicapping systems for offshore racing, going back to the CCA Rule, which was the dominant handicapping rule for North American offshore racing for more than 30 years beginning in the 1930's. Beginning in the 1970's, CCA members provided the technical underpinnings for the development of handicapping based on Velocity Prediction Programming.

Today the same science-based approach to race handicapping underlies the work of the Offshore Racing Association (ORA) and its Offshore Racing Rule (ORR). The ORA works for boat owners and race organizers to clarify the essential aspects of rating rules. The ORA has a close working relationship with the CCA (for its Newport Bermuda Race), US Sailing, the ORR Owners Association, the Sailing Yacht Research Foundation, the Chicago Yacht Club, the TransPac Yacht Club, the New York Yacht Club, and other national and international racing entities. See offshoreracingassociation.org/

Members of the CCA Technical Committee are committed racers and cruisers, combining hundreds of thousands of miles of offshore experience with the professional tools and practical background to help determine what makes for a well-designed, well-built, seaworthy boat, whether used for racing or cruising.
The CCA organizes cruises for its members in desirable locations around the world. Last year approximately 45 boats gathered in the Stockholm Archipelago, Sweden. This year there will be cruises in company in Ireland in July and in Mallorca/Majorca Spain in September. These events usually include member boats, charter yachts sourced by CCA organizers and larger sailing vessels for group charters.
How are Ocean Sailors Invited to Become CCA Members?
As outlined above, candidates for membership have extensive offshore boat handling, seamanship, and command experience honed over many years. If this sounds like you, we will be very interested in hearing from you.
Candidates are proposed and supported in writing by at least five members, describing their experience sailing with the individual, their knowledge of his or her offshore command experience and character, and the person's willingness to take a real and active interest in club activities.
Please contact the Club Secretary at inquiry@CruisingClub.org, indicating your experience, your home port, any CCA members who know you, and your interest in being actively involved with The CCA.