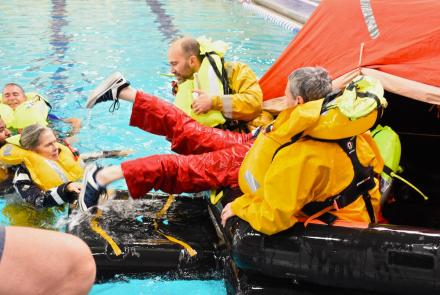 In case you missed it, offshore race organizers made some giant steps in safety training recently. A leader of this cohort is Mark Lenci, a retired U.S. Navy sub captain who skippered his boat for the first time in last year's Newport Bermuda Race. As a Cruising Club of America member, Mark had also agreed to coordinate the club's Safety-at-Sea program for the 2020 Bermuda Race.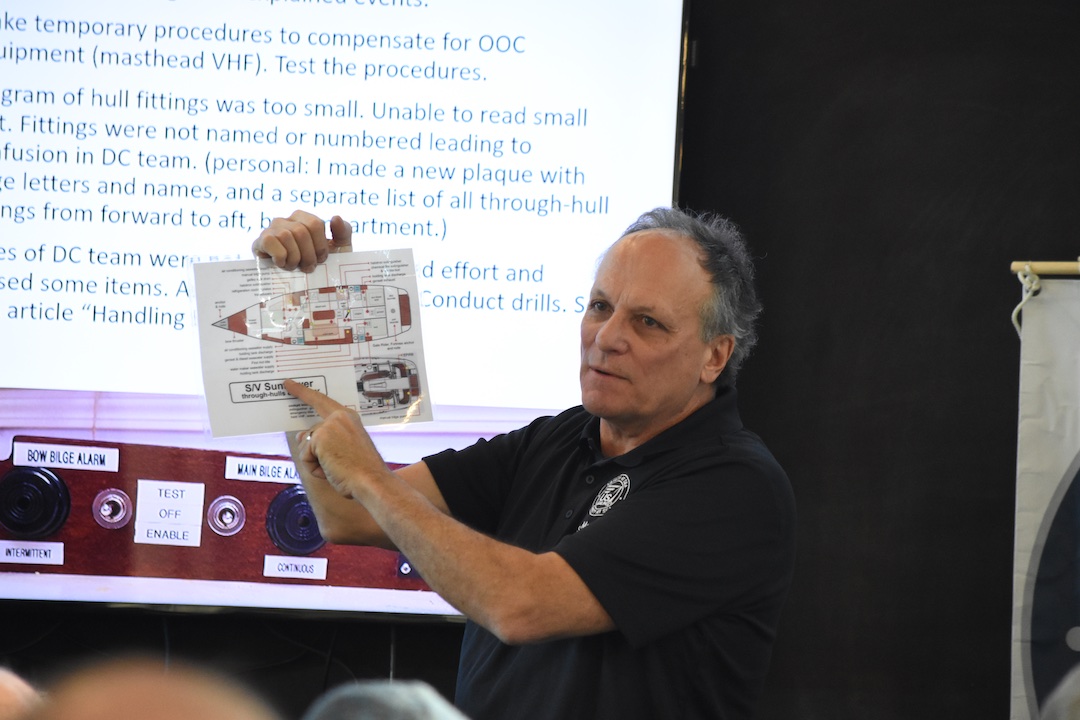 Course organizer Mark Lenci explains equipment and through-hull diagrams each boat must carry
Mark says, for a first-timer, the requirements were "incredibly confusing." And things didn't get better when he started talking with organizers of other races, each of which had different requirements and safety courses that were named differently. On top of that, US Sailing then rolled out an innovative online course, which generated controversy among safety experts debating the value of online vs. classroom courses.
It was time for a meeting of race committees, including reps from the Newport Bermuda Race, Transatlantic, Marion Bermuda, Transpac, Pacific Cup, and others. At a minimum, they had to decide the standing of the online course. But the results of that and follow-up sessions went much farther, establishing US Sailing's online Offshore Safety at Sea course as a standard  when coupled with the International Offshore Safety at Sea with Hands-on Training course. A course was also set to establish consistency in race requirements and course names.
"We all agreed that we should not let crews qualify to race offshore based on an online course alone," says Mark. Yet, like most at the meeting, Mark was also convinced that the online course provided a great complement to hands-on training. "It was a way to make the delivery of training better and more consistent," says Mark. "You get more material in the online course and it's generally presented better. You take 15 modules, and there is a test for each one, plus another test at the end. To be sure you absorbed the lessons, it tests you twice."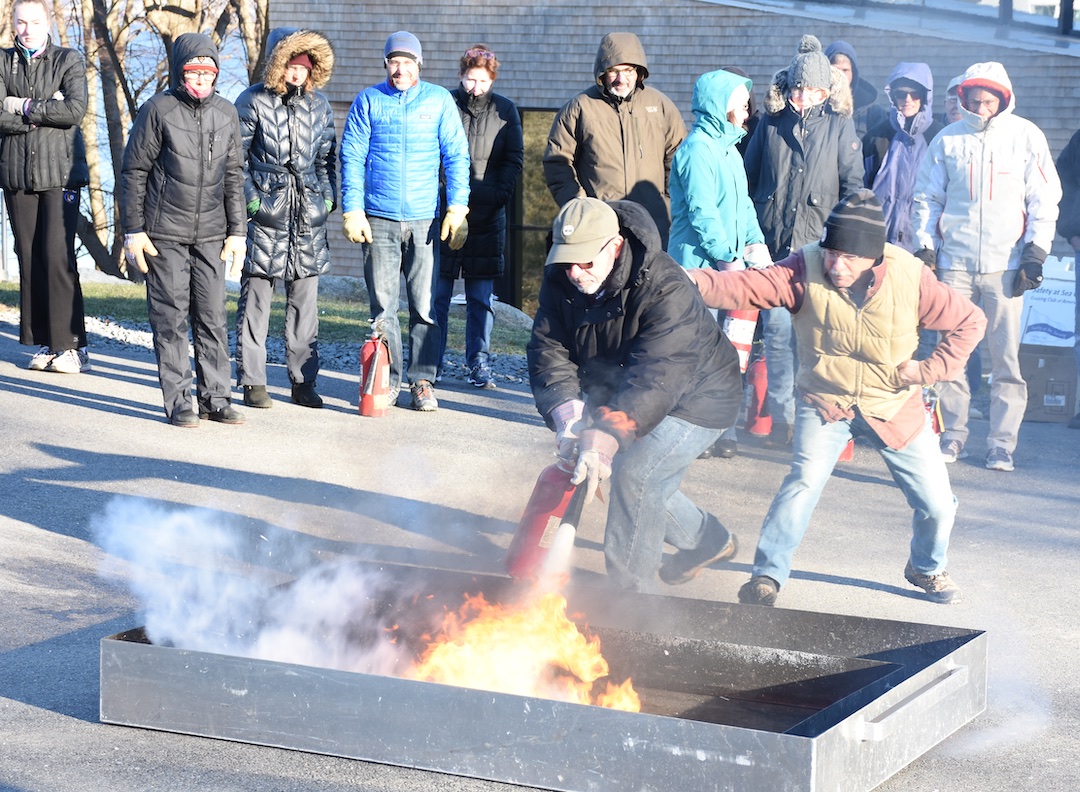 Hands-on safety course training includes learning to fight fires as a team.
Once there was agreement that an online course was not enough by itself, meeting attendees moved to embrace the World Sailing- and US Sailing-certified course called International Offshore Safety at Sea with Hands-on Training. The course provides intensive hands-on training including fighting fires and climbing aboard a liferaft in full foul weather gear. In some venues, the course includes a first day of offshore safety classroom work, but participants can do the course in one day if they first complete the Offshore Safety at Sea course elsewhere, either in a classroom or online.
Prior to the collaboration of committees, each race organizer would set its own percentage of crew members required to meet various training requirements. Now, the goal of the Hands-On Training  is clear, and for most organizers the number is now 30 percent (50 percent for the Transatlantic). For some organizers, 30 percent is now a target that may be reached over more than one race cycle. 
The group also agreed to unify the naming of all their training events, which had variously been called seminars or courses. Going forward, all would use the term "courses."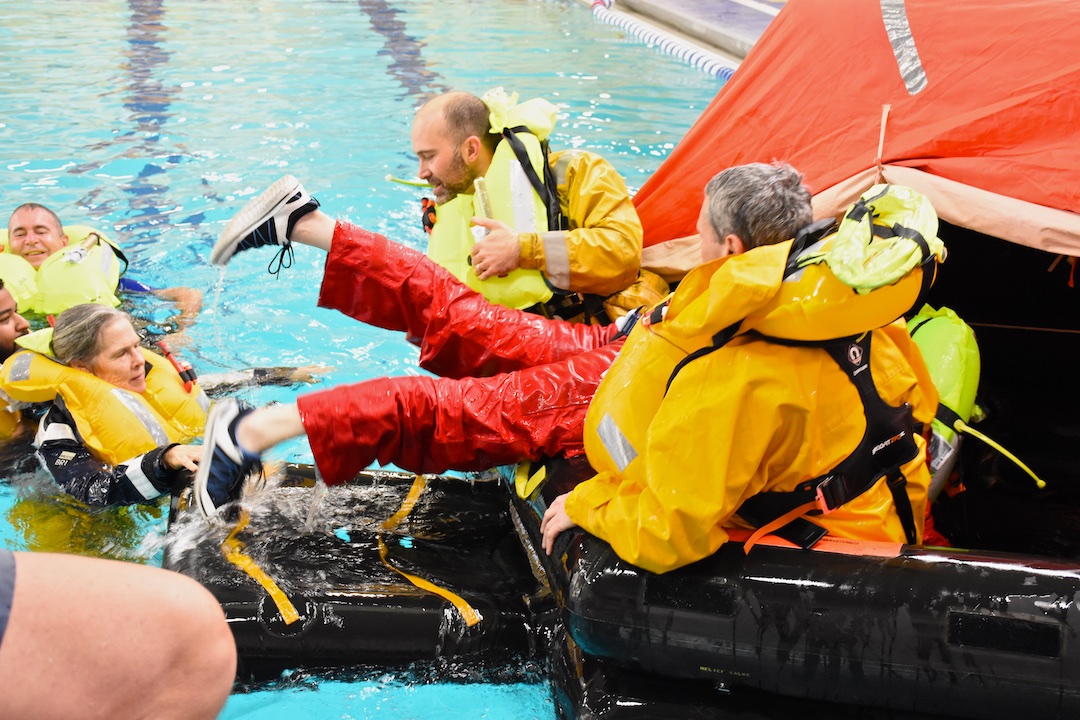 Sailors get wet, right a capsized liferaft, and climb aboard as a team.
Despite its success, the meeting left Mark with a problem...how to provide enough hands-on training for all the skippers and 30 percent of the crews entering the 2020 Newport Bermuda Race.
"I'm a numbers guy," says Mark, "and it was super obvious right off the bat that we would have to run more courses. Compared to other organizers, Cruising Club of America and the Newport Bermuda Race with a fleet of 160-200 boats had the farthest to come—we had to double the number going through hands-on training for 2020."
In 2018, CCA's March hands-on course was already maxed out with only two sailors per boat required to take it. The Annapolis and Storm Trysail events that spring were also sold out. In a June make-up course before the Bermuda Race started, another 50 sailors were trained.
To meet anticipated demand, Mark established an ambitious schedule of running a course every three months for two years, starting in October 2018.
"The key was to find a venue where we could do courses repeatedly and cost effectively," says Mark, "with the right venue availability, pricing model, and no need to transport people to multiple locations during the day." The right partner was Roger Williams University, where US Sailing is a tenant and everything is within walking distance. The CCA pays only for the people who actually show up, which controls costs. "Roger Williams is a tremendous location for us," says Mark.
Finding enough volunteers is an ongoing challenge. Mark says for each course he needs a moderator, three high-skill, specifically trained experts plus five volunteers who are experienced sailors. Most are drawn from the ranks of the Cruising Club of America membership as well as some from the New York Yacht Club.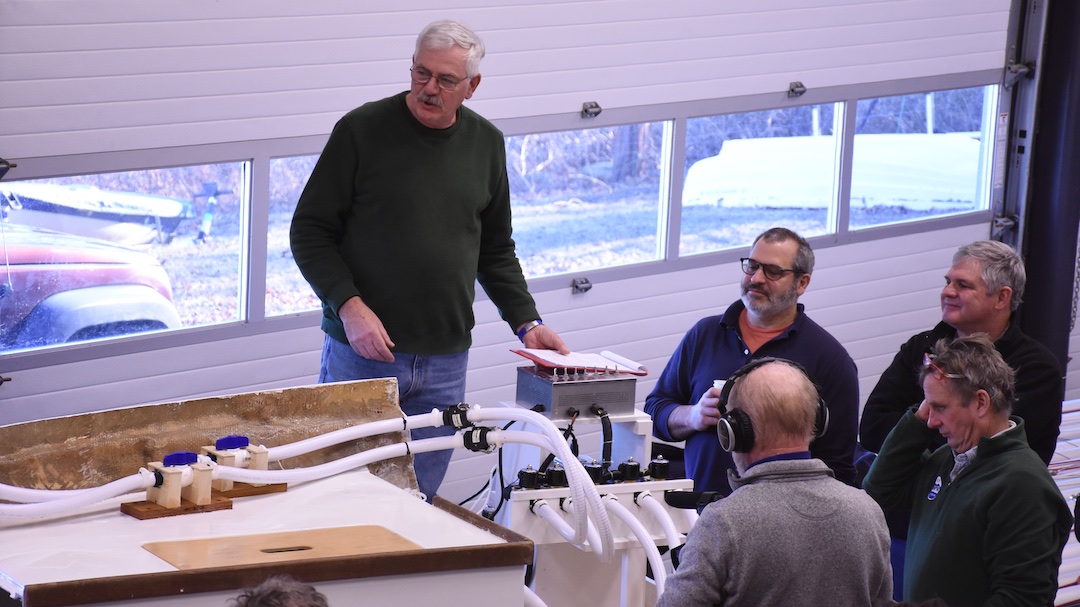 The CCA's leak trainer challenges sailors to handle different leak scenarios.
Mark has also upgraded the hands-on program by building a unique "leak trainer"—a portion of a Hunter 33 hull adapted to the purpose. He also hires LRSE, a nearby equipment and training company that manages the fire-fighting equipment and drills. 
Everything looked good until registration got underway for the March 2019 course, when 100 people signed up. "We could not provide the full experience for that many people," says Mark. "We had to split the group into two days of training on five days notice." Mark has now booked all future dates through March 2020 with a second spill-over day, assuming the demand remains high.
Mark began surveying participants starting in January to see what sort of sailors were actually taking the courses and says, "It's running 60 percent racers, 40 percent cruisers," proving there is strong demand from all types of sailors going offshore.
A group rate for crews has also had a remarkable effect, with 40 percent of the sailors attending as full crews. Sailors are coming some distance to take the course, too. For the summer course in July, of the first 20 sign-ups, only two are from New England. "There are six from Canada, two from the U.S. Virgin Islands, one from New Zealand, and the rest from the U.S. Southeast, where no course is being offered this year."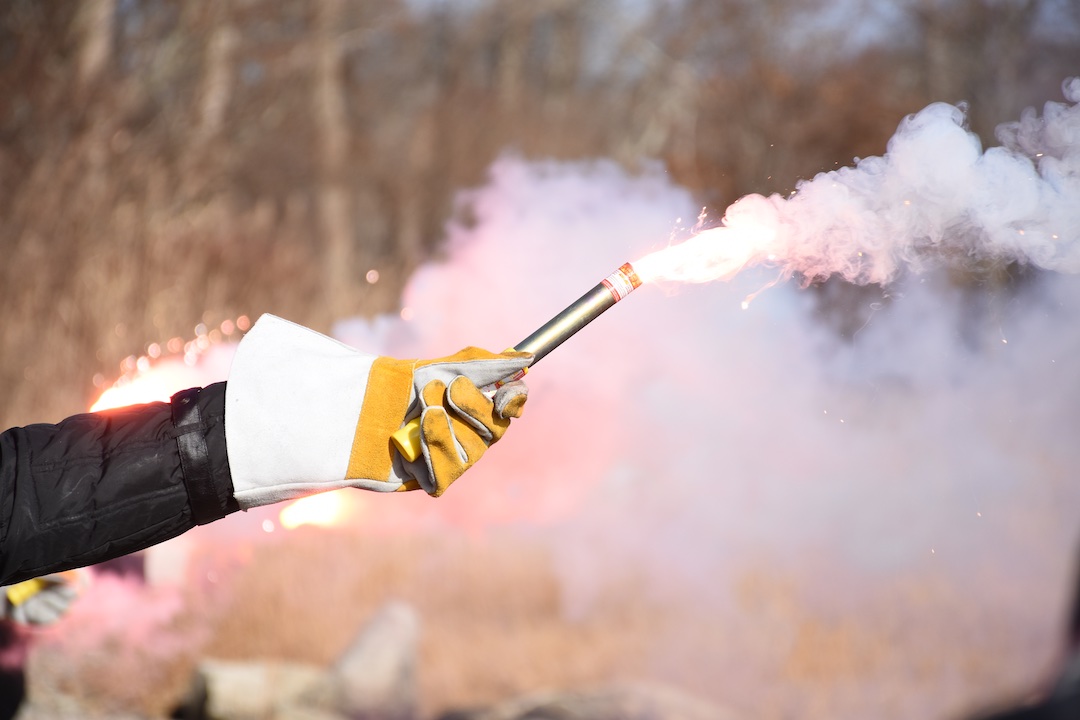 Participants in safety courses learn how to handle different flares.
The net result can only be viewed as a positive for all offshore sailors and race organizers, particularly the Cruising Club of America. Improving safety at sea is one of the club's primary purposes, and by simplifying the process and making courses more readily available, Mark Lenci and his team have materially improved safety training, not only for sailors in the next Newport Bermuda Race, but also for sailors aiming for all manner of blue-water destinations in the years ahead.
Review upcoming CCA Safety-at-Sea course schedule.