Ondine Under Bare Poles: Lessons learned from a dismasting
"From the CCA School of Hard Rocks
...lessons learned in pursuit of the Art of Seamanship"

By John Jourdane, Southern California Station
The Cruising Club of America
February 2022
I was sailing on the 82-foot Maxi racing yacht, "Ondine 4". We had delivered the new boat from Palmer Johnson Shipyard in Sturgeon Bay, Wisconsin, down the St. Lawrence River, across the North Atlantic to Norway, then into the Mediterranean to Sardinia, where we participated in the Maxi World Championships.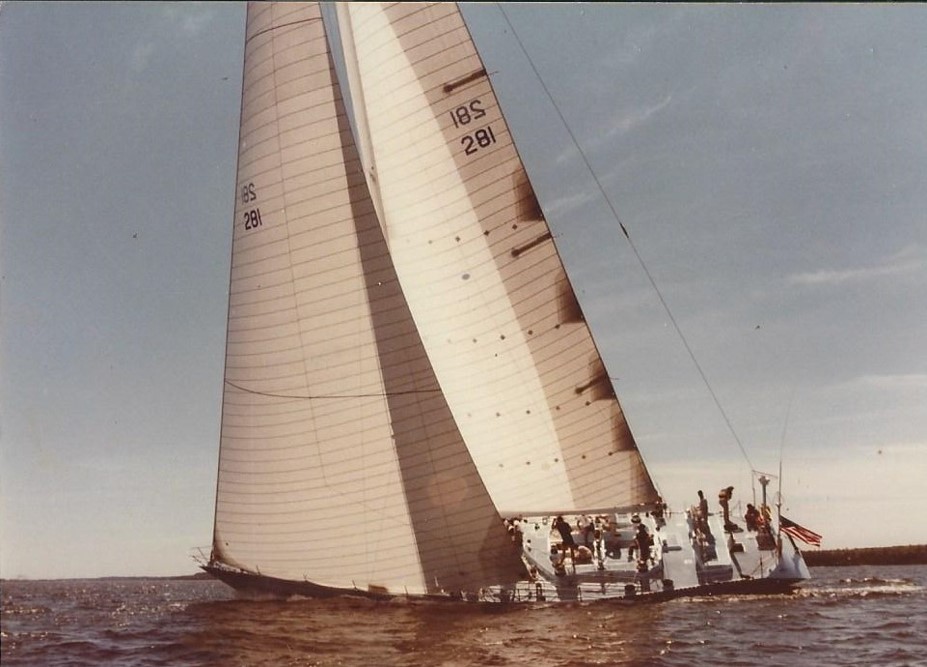 Ondine 4
We raced for a week against a dozen other maxis. We did well, but lost to Kialoa, then headed back across the Atlantic to New York City. Our course was the great circle route, which took us north of the Azores and Bermuda.
When we were about half way across, our weatherfax showed a tropical storm developing off the Caribbean, which turned into Hurricane Irene. We tracked Irene and saw that it was heading for Bermuda.
We were just past Bermuda when the wind started to build. As it went to 30 knots, then 40, we put in reefs and a storm jib. The wind built to 50 knots, and we dropped the storm jib and just used a deeply reefed delivery mainsail. As Irene neared, we had a steady 60 knots with gusts to 70. As the sun went down, we decided to go to bare poles, or "scudding", which is sailing downwind with no sails. We put out all our sheets and halyards as a drogue off the stern to slow us down and to keep our stern facing the breaking 30-foot waves. This was before commercial drogues were available.
We changed our watch schedule so only one person was on deck steering for a half hour, wearing a life jacket and harness and hooked onto jacklines in the cockpit.
In the middle of the night, the boat yawed while surfing down a wave, turned beam-on to the breaking wave, and we broached. The boat heeled well beyond 90 degrees. Fortunately I was in a leeward bunk, but the crew in the weather bunks were thrown out and across the interior. Luckily, no one was seriously injured.
We then heard a loud crash, and the boat stood back up. Everything seemed to calm down, but we had broken our mast.
We couldn't do anything on deck given the nasty conditions, so we just drifted in the rough seas until dawn. The conditions lightened as Irene died down and moved away.
One big problem with breaking a mast is that there are no halyards to send someone up in a bosun's chair. You need a monkey bowman who can shimmy up and cut away the shrouds and broken mast. We had a monkey, Kiwi Dave, who climbed up the mast, lashed lines for a headstay and backstay, then lashed blocks at the top so we could have a bit of main and storm jib halyard.
Then we slowly motor sailed to the nearest island, Saint Pierre, south of Newfoundland and about 350 miles away.
We called the owner, told him what had happened, and asked what he wanted us to do. He said to take the boat back to Sturgeon Bay, where Palmer Johnson could fix it. We loaded up with fuel and headed back up the St. Lawrence River, across the Great Lakes, and arrived safely at Palmer Johnson in Sturgeon Bay, Wisconsin.
What did we learn?
Never sail under bare poles in extreme weather. You need to be proactive and be able to hoist a bit of sail up to maneuver and not get beam-to on breaking waves.

Our hurry to get home may have affected our judgment. We should have sailed away from Hurricane Irene until it passed or died down.

We should have had storm sails aboard that our crew had practiced setting and using.
One caveat: this advice is for monohull sailing. Multihulls are different: They often use stacked sails, which is like having a storm trysail up, and with modern drogues, they can keep stern to the waves.
The Cruising Club of America is a collection of passionate, seriously accomplished, ocean sailors making adventurous use of the seas. All members have extensive offshore boat handling, seamanship, and command experience honed over many years. "School of Hard Rocks" reports, published by the CCA Safety and Seamanship Committee, are intended to advance seamanship and help skippers promote a Culture of Safety aboard their vessels.