Preventers: A Comparison of Approaches
Preventers for off wind sailing has always been a popular discussion topic.
A recent tragic event off the New Zealand coast, has again brought the topic to the forefront. A valuable engineering analysis performed by Maritime New Zealand shed some light on the loads imposed on preventers, booms and the support hardware.
The Gulf of Maine Post recently held a lively discussion lead by Leslie Schneider. Following their lead, the Buzzard's Bay Post held a Safety Moment discussion on use of preventers.
This summarizes the discussion and alternatives.
Preventers are essential gear for off wind sailing  but are not a substitute for proper reefing for anticipated conditions and sailing within abilities of crew and boat
The issue is uncontrolled, unplanned gybing
Injury and death, man o/b

Gear breaking.

Rig failure
Ways to avoid:
1. A midships preventer, Dr. Garry Fischer describes a permanently installed midships preventer system that was installed on a Morris 46 on CCA website:  https://cruisingclub.org/article/permanently-rigged-preventer-offshore-yachts
Advantages:
pre rigged, restricts gybing in "moderate" conditions.

Can be handled entirely from cockpit, including tacking/ gybing

Nipping the gybe early greatly reduces load buildup
preventer attachment mid point or forward on boom.

Smaller load angle, thus greater load on boom and gear.

Also Vertical load angle increases load on Boom and gear

Risk of boom breaking, bending, gear failure.

CCA Member, John Harries writes, "amidships preventers-a-bad-idea-that-can- kill"  "Attainable Adventure Crusiing

"

 

https://www.morganscloud.com/2018/10/02/amidships-preventers-a-bad-idea-that-can-kill/

He addresses the loads based on the engineering analysis models of the New Zealand tragedy and estimates the loads on midships preventers are 12-24 times the wind force versus 2 times the wind force for bow preventers the load on a boom end preventer
2. Bow preventer (or End boom preventer), a  preventer from bow to end of boom
Optimum approach for heavy weather sailing

Greater load angle, thus great gybe resistance for given amount of force.

Lines along boom can be pre-rigged

Single or double line from bow block to aft winches

Does Require going to mast to rig preventer.
See diagrams below for comparison of loads between the two arrangements.
3.  Other approaches:
Vang to toe rail, better than nothing. Poor load angle

Boom brakes
There is no one best approach one needs to consider boat, crew, weather and available alternatives.
Comparison of loads on a midships versus bow preventer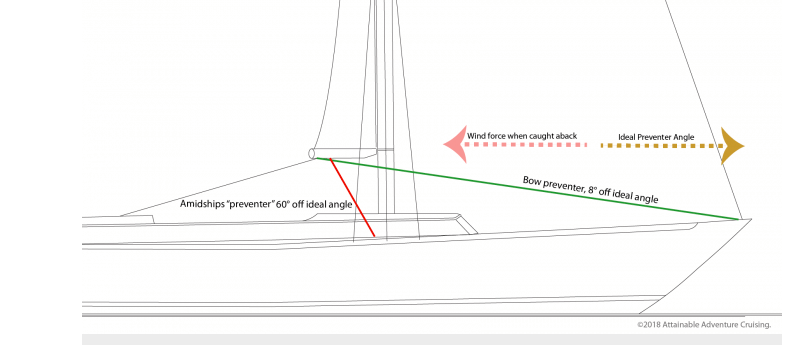 modification of Gary Fischer's sketch by Paul Bushueff