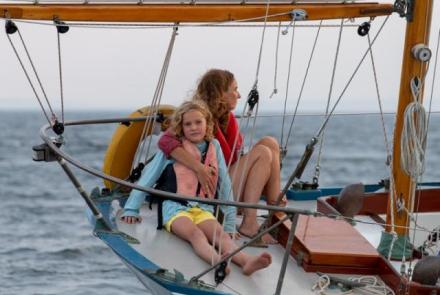 Every sailing family has a different approach to developing their life together on the water. Here's how Alec and Erin Brainerd are doing it.
Alec Brainerd grew up in Brooksville, Maine, immersed in the world of sailing. His parents owned a windjammer in the early '70s, and he and his brother spent time "messing about with small boats" out of Bucks Harbor Yacht Club in Maine.
As a young adult, Alec captained windjammers and crewed on voyages both transatlantic and transpacific aboard much larger wooden yachts, like the 94-foot William Fife ketch, Sumurun, while winning the 1997 Atlantic Challenge Cup. Alec helped refit a 100-foot 1939 Camper & Nicholson ketch in Auckland, New Zealand, and helped build the W-76 White Wings, back in Maine.
Alec met Erin when she was working on a windjammer, the J&E Riggin. This was about the same time he had started his own business, Artisan Boatworks Inc., which builds and restores wooden boats in Rockland, Maine.
Working in the galley of the J&E Riggin, Erin learned to love Penobscot Bay. She says owners Annie Mahle and Jon Finger were mentors. "They took it all in stride," she says. "Nothing ever ruffled their feathers. They introduced me to the amount of composure it takes."
"My husband also taught me a lot," she says, while admitting to debating a few points with him sometimes. "He is accomplished, calm, thoughtful and safe," she says. "I trust him implicitly." 
After the couple were invited to join the Cruising Club of America, they decided to enroll in "Safety for Cruising Couples" (also known as "Suddenly Alone"). This CCA course for couples focuses on the less-experienced spouse, teaching them to run the engine, operate the VHF, and raise and lower the sails, as well as more complex concepts including Crew Overboard.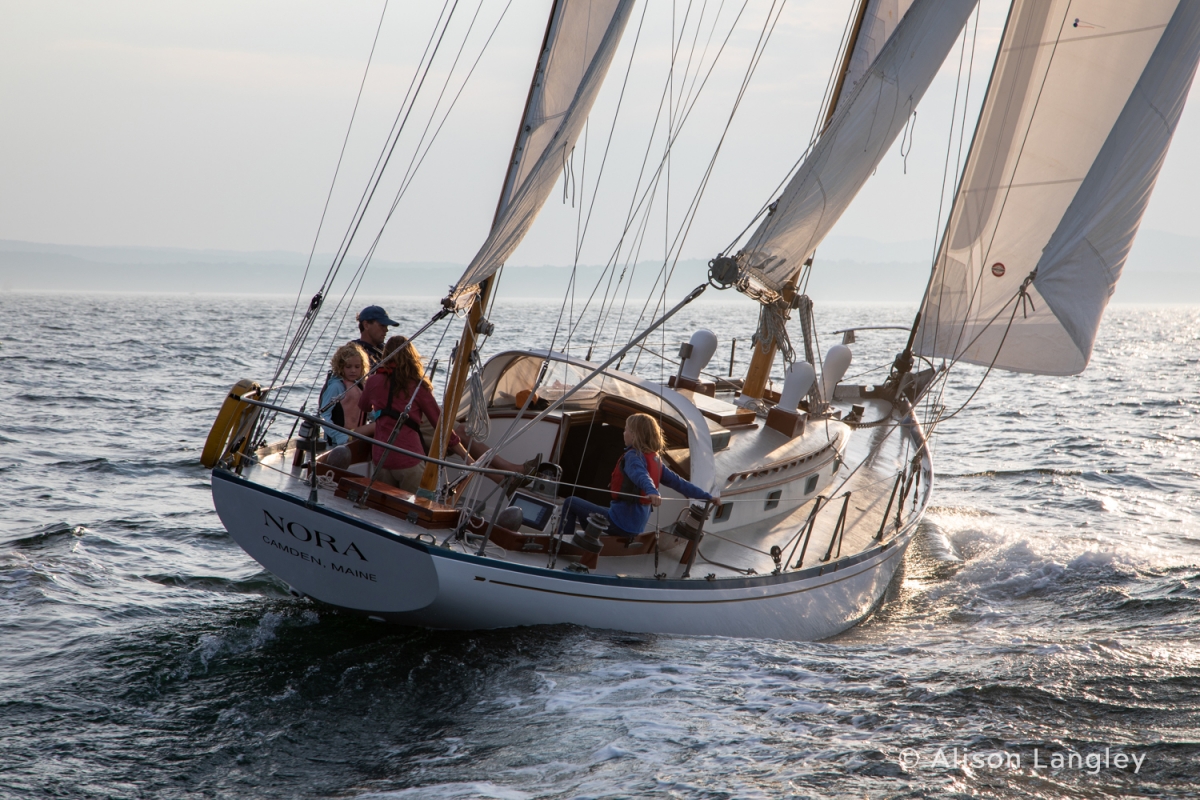 Erin describes it as a confidence booster, saying,"I've always been worried about my strength to pull Alec aboard or maneuver the boat and sails. Not anymore."
The Brainerds didn't intend to buy a 42-foot cruising boat, and they don't have a grand plan to cruise the world; but Nora came along at the right time and the right price. The 1961 Sparkman & Stephens yawl is a full-keel wood boat that was too good to pass up, Alec says. "We like to think that she found us."
With their 10- and 9-year-old girls, Adella and Georgia, "we spend as much time as we can out on the water as a family," Erin says.  In the summer, that means long weekends and at least a one-week cruise. "This summer, we're planning two weeks," she says.
"The girls learn by osmosis," Alec says. "It's never really instruction. It's just what we're doing. We try not to push it on them too hard."
The girls have taken summer sailing lessons at the Apprenticeshop in Rockland but according to Alec, "They probably won't follow the racing path." They enjoy sailing Nora's dinghy around an anchorage, and for this family, that's part of the larger picture of how sailing fits their life together.
Alec says that some of the most memorable moments have been the simplest, "sailing on beautiful afternoons with the girls below reading books, totally content, or building fires on the beach and then hanging out in the cockpit together."
At some point, the Brainerds may take a longer trip down the ICW or to Bermuda or the Caribbean, but they feel no urgency. Penobscot Bay, which is relatively protected, is one of the best cruising areas anywhere, and Alec feels in some ways, inshore cruising is at least as challenging as offshore. Anchoring every night, for example.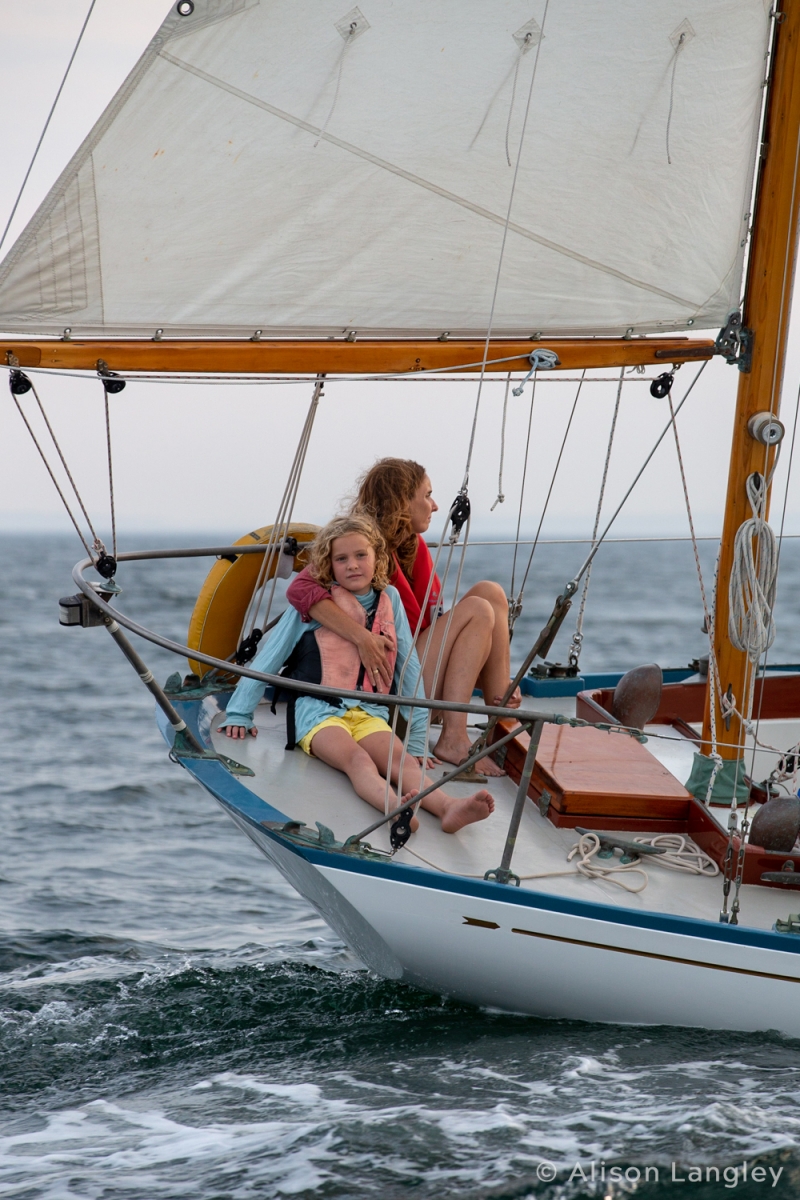 Erin says, "What's really important to us is that it gives us a chance to focus on what's important. We spend a lot of time in the summer on Penobscot Bay to unplug and to reconnect as a family."
"What I appreciate about it for the children," she adds, "is the sense of adventure and the opportunity to travel, be fearless, and problem solve. Best of all, it teaches all of that but not under direct instruction."
Erin also says that sailing is a chance "to promote being good stewards of the environment with our children and to help them appreciate the natural world. When they are out here seeing fish jumping, seeing the seals and watching the sun rise, I think it speaks to them, and they will remember that for the rest of their lives."