A file of the Event Notices to Participants is available here Event Notices  including Corona Virus Note #12
Mallorca Sept 12 – 25 2020
While watching closely Covid19 developments, we are continuing with plans for our cruise in September but avoiding any new expenditures and delaying deposits we would otherwise be required to put down. Sublime Yacht Charters, who are organizing our charter boats, have arranged with the various vendors for the March deposits to be delayed until at least mid-May. We are taking the view that there is little to be gained in making a decision now on the future of an event 6 months off. As the situation unfolds we will alert participants and post notices to this website.
Jock & Val Macrae, Mags and I spent a great two weeks last September shadowing our plans for this year's cruise. We had good weather, lovely swimming, fabulous food and we explored some interesting calas (bays). We know we will have a great event next year.
We currently have 35 boats and approximately 200 sailors registered. We are still open to new crews. Good charter opportunities remain. It is an impressive fleet including 11 member yachts and chartered yachts.  We have Rhea, a 175 ft ketch as our mothership organized with all 13 cabins subscribed. A preliminary boat roster is posted in the attachments to the right.  
"The weather is generally pleasant and the water warm (77 degrees) in September. Daily temperatures are in the high 70's low 80's. Rainfall in our 2 week period over the last 2 years has averaged 0.6 in. (See the attached file to left)." This year, there was a thundershower the day we arrived and two brief showers through the week. A couple of unusually cloudy mornings but many great days and pleasant temperatures throughout.  
We plan to sail 185 miles around the island counter-clockwise. "While winds are generally quite light in September, if anything comes up it will generally be out of the NE." This year we had one day of 20-knot winds from the North East. Otherwise, winds were generally light (<12 ) from the North East. Going C-C should have the wind and sea behind us as we go along the North Coast. We've identified the harbours to head to if there is wind and all should work out well. 
The anticipated Agenda is 
Saturday 12th - Palma - Board Charter boats in the late afternoon.
Sunday  13th – Palma – Provision boats and enjoy Palma
Opening cocktails and heavy hors d'oeuvres at 49 Steps a rooftop setting beside the marina where most charter boats will be berthed. It has a beautiful view of the Cathedral, fortress and the Palma waterfront 
47 miles  Mon/ Tuesday / Wednesday
Explore the south coast and perhaps anchor off the long beach Playa del Trench (21mi) or off Colonia de St Jordi 
Illa de Cabrera (27 mi from Palma) is a nature reserve on the South East tip of Mallorca. There is a very protected all weather harbour. We plan to make bookings here on Monday and Tuesday night. Plan on staying one night.
The calas along the east coast south of Porto Colomb are not to be missed. 
 Wednesday 16th – Porto Colom – Dock Party  – We have been assured there should be enough room for 50 boats in the marina and on moorings in this protected harbour. We are working out arrangements for a dock party ashore. 
 50 miles Thursday / Friday / Saturday
Explore the calas between Porto Colomb and Porto Cristo.
Possibly head into the protected Puerto de Cala Ratjada before going around the Cabo de Pera. 
 Saturday 19th – Alcanada – Casual dinner ashore at a La Terraza a waterside restaurant. We had a great tasting and it should be a good dinner.  Fleet anchored offshore in the lee of Isla de Aucanada or in Alcudia harbour about 4 miles west depending on weather and personal preference.  
 35 miles Sun / Monday /Tuesday – possible stops
Then around Cabo Formentor from which point the coast is quite open but you can probably pull in for a swim at 
Cala de San Vincente 
or the incredible Cala de la Colobra 
before heading for shelter in Soller.
Tuesday 22st – Soller - Cocktail party ashore (locale to be finalized). We have been assured there will be room for us either in the marinas or anchored in the harbour. Plan to spend more than one night in Soller to give yourself a chance to take the tram from the port up to the town of Soller or hire a car and test the mountain roads. 
47 miles Wednesday / Thursday / Friday – possible stops
      Calla de Deya if a west wind
      Foradada if an east wind. Plan on heading there (4 miles west of Soller) for a breakfast swim. The paella ashore is recommended. 
      Andraitx - a beautiful protected port on the west coast
      Stop for a swim in the calas between Pta de Cala Figuera and Puerto Portals.
      Charter Boats will generally be due back by the end of the afternoon Friday. 
 Friday 25th Palma – Closing Dinner – Finca Sa Font Seca – a 17th century country estate about 20 minutes from the marina. Cocktails on the terrace, dinner on a lower terrace or in a churchlike hall depending on the weather.
A preview of some of our destinations can be seen through this link CCA Mallorca Preview  
Participants are encouraged to allow extra time while in Mallorca for some land travel to enjoy the stunning mountain vistas and lovely towns and villages. The island is a flat plateau with cliffs and caves on the south and east side and mountains and beautiful rock formations on the north-west side. Some suggested hotels in Palma are listed in the attachment. Palma can be quite busy in September so you are advised to book well in advance. 
 We have been working closely with Helen and Dawn of Sublime Yacht Charters who come well recommended by friends in Palma. They have created a list of charter opportunities which are available at this link CCA Mallorca Charters. It will be updated as boats are booked and additional listings are added. The standard charter would have you going aboard 5:00 pm Saturday 12th and have the boat back in Palma for the party Friday with departure from the boat Saturday morning 26th. Boats require a 25% deposit with booking, 25% 6 months prior and 50% 1 month before. 
A recent update of the RCC Balearics Pilot has been created by David and Susie Baggaley, friends of Charles-Henri Mangin (ESS), and a pdf version can be ordered through this link to the  RCC Pilot Guides,  They have been kind in adding some specific notes on our cruise which you will find on the right of this web page. In the same column, you can also find a link to the 2020 Addendum to the Pilot.   
If you think you are interested in joining us, please let us know by completing a brief survey / sign up list via this link CCA Mallorca Survey . 
For those of you who are on board for the cruise, we are collecting initial deposits of $150 per person. Deposits are non-refundable but transferable. We anticipate the total expense for the cruise including the 5 events to be approximately $700 per person. Registration is via https://cruisingclub.org/2020/mallorca/register where you will see a list of others who have registered to date. A recent alpha list is also posted in the attachments to the right of this page
As our mothership, we have booked Rhea a beautiful 180 ft sister ship to Kioros our mothership in the Ionion in 2015. She was commissioned in 2017 and has 13 deluxe double cabins A description and complete details are in the link above or in the attachment to the right. Rhea plans to anchor in Palma harbour and will be ready for guests from 1600 on Saturday 12th. Guests must depart by 1000 on Saturday 26th.  As of February 14, we are fully booked. If you would like to go on a waitlist please let us know. 
Regards
Les Crane - Chair
CCAMallorca@gmail.com
03/31/20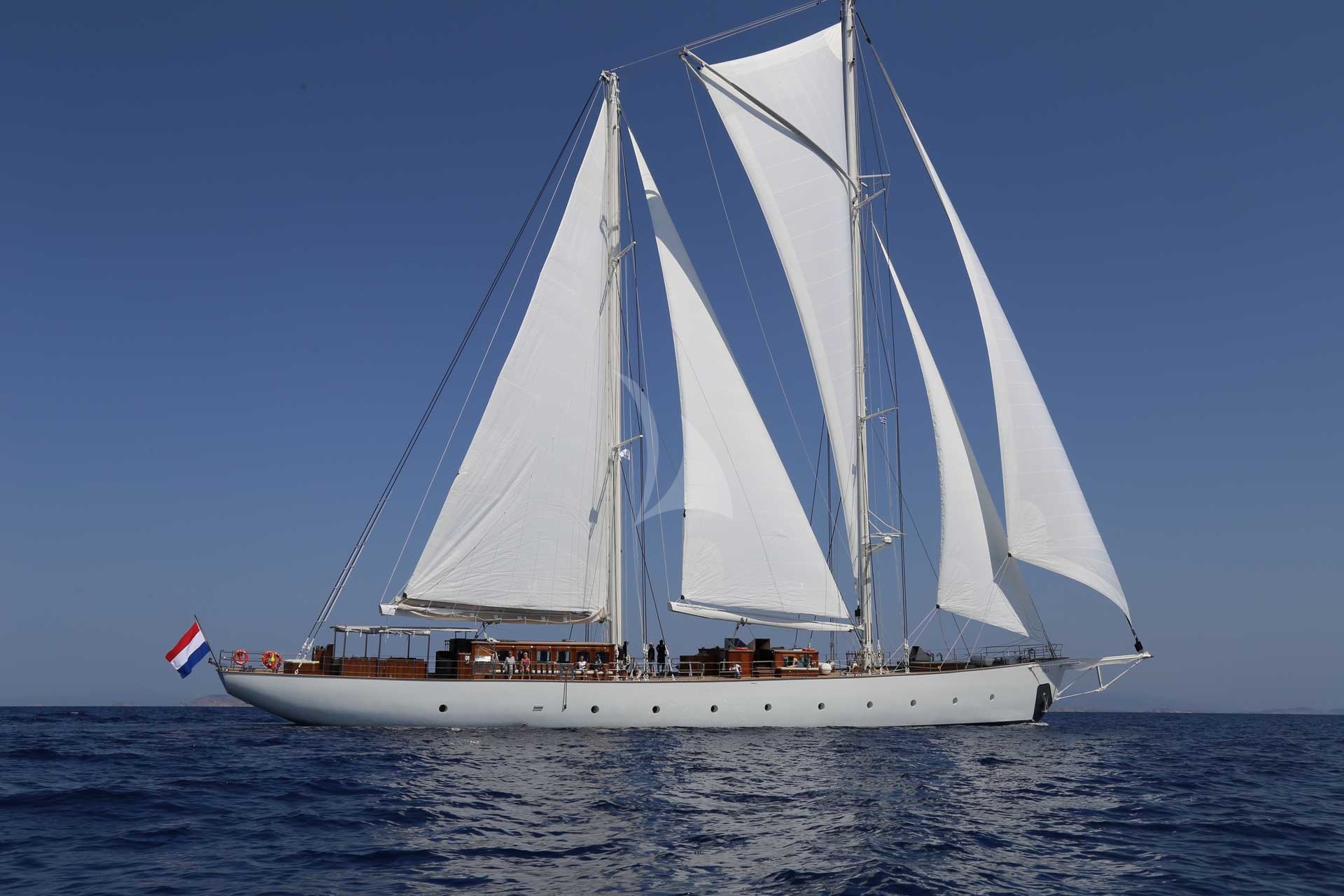 ​
Mallorca