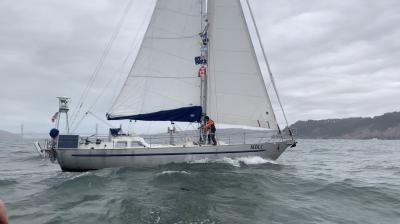 Moli is a 43-foot aluminum, double-headsail sloop purpose-made for high latitude expeditions.
Built in 1989 for adventurer Clark Stede by the famous German yard of Dubbel and Jesse, then-named Asma became the first yacht to circumnavigate the Americas, a chilling route through the Arctic and around Cape Horn, in 1991-92. Her next owner, Tony Gooch, sailed her over sixteen years "to all the desolate destinations ocean reaches" as Taonui; in 2002 Tony was the first sailor to complete a solo, non-stop circumnavigation via the Southern Ocean from a starting point in North America. Her third owners, Ann and Glenn Bainbridge, renamed the vessel Gjoa and completed an east-to-west Northwest Passage in 2014.
This is where Randall Reeves first saw her, resting on anchor in Arctic Bay, Nunavut. Now as Moli, Reeves conducted a brief shakedown cruise in 2016 (Alaska, Hawaii, San Francisco), before launching on the first, failed Figure 8 Voyage attempt in 2017 and the successful one in 2018.
Moli's resume includes two solo circumnavigations (Gooch, Reeves), two circumnavigations of the Americas (Stede, Reeves), five roundings of Cape Horn (Stede, Gooch, Reeves), two explorations of the Antarctic Peninsula (Stede, Gooch), three transits of the Arctic's Northwest Passage (Stede, Bainbridge, Reeves), and one successful loop of the Americas and Antarctica in one season (Reeves), thus leading to the unproven but proudly asserted claim that Moli is the most well-traveled private yacht in history. Whether that be true or not, she is without doubt one tough bird and ably demonstrates the assertion that a successful voyage is all about the boat.
--
Moli is of all-aluminum construction with round bilges, a long keel, and an aft-hung rudder. She is flush decked with a small pilothouse and a small aft cockpit. The vessel is rigged as a double headsail sloop with two genoa poles stowed to the mast on rails. She is tiller steered (at sea via a Monitor windvane). Integral tanks include 200 gallons of water (keel) and 200 gallons of diesel (under pilothouse). Propulsion is from a Bukh engine of 48hp that is keel cooled. When at anchor, a drip-fed diesel heater warms the interior. Her bilge and water pumps are manual; she is not fitted with a refrigerator, freezer, or watermaker. Fully loaded, Moli can displace as much as 35,000 lbs—including a year's worth of food and water for one person.
Model
Dubbel and Jesse, Custom
Designer
Dubbel and Jesse