Dangerous Bravado
Dangerous Bravado
"From the CCA School of Hard Rocks
...lessons learned in pursuit of the Art of Seamanship"
By Ernie Godshalk, Boston Station
Woods Hole is notorious.
Therefore, why would anyone devoted to good seamanship attempt passage without all due care?…I asked myself after the fact.
Woods Hole is the primary connection between Buzzards Bay and Vineyard Sound in Massachusetts. The Bay and the Sound are separated by the 15-mile long Elizabeth Islands chain. The tides in the Bay and the Sound are surprisingly out of sync. Therefore, when the tide is still high in the Bay but has ebbed in the Sound, the current through Woods Hole can reach five - or even seven - knots. To make matters worse: there is a significant change of course, across the current in the middle of Woods Hole which sets the boat dramatically sideways and creates confusing passing situations with oncoming vessels; the ferries between the mainland and Martha's Vineyard and Nantucket pass through Woods Hole; it is a busy waterway; there are significant rocks, ledges and fixed and floating navigational aids on both sides of the narrow channel; the floating aids are pulled almost under water by the current; the usual afternoon winds in Buzzards Bay are southwest 15-20; the chart is explicit: "a dangerous waterway surrounded by treacherous shoals." Things deteriorate quickly in Woods Hole.

Those were the conditions that I anticipated, and found, as I approached Woods Hole aboard my new (to me) Hinckley Sou'wester 42, Golden Eye, from the west under sail with my wife and daughter aboard. I made a firm decision to douse both sails and motor through. However, as we approached, I modified my decision to leave the main up, which would still afford good visibility without adding too much to our speed, likely to exceed 12 knots over the bottom. Getting closer on a wonderful starboard broad reach, I opted to leave the genoa up, too, and sail through.
Things initially went well: we were in control and picking up speed as we got into the current. I had been through many times and felt I knew the drill.
My blood ran cold as I saw a nav aid appear aft of the genoa and some distance off - on the wrong side. I was well south of the channel in an area filled with rocks and fixed nav aids. The nav aid that I should have honored had been hidden under the genoa.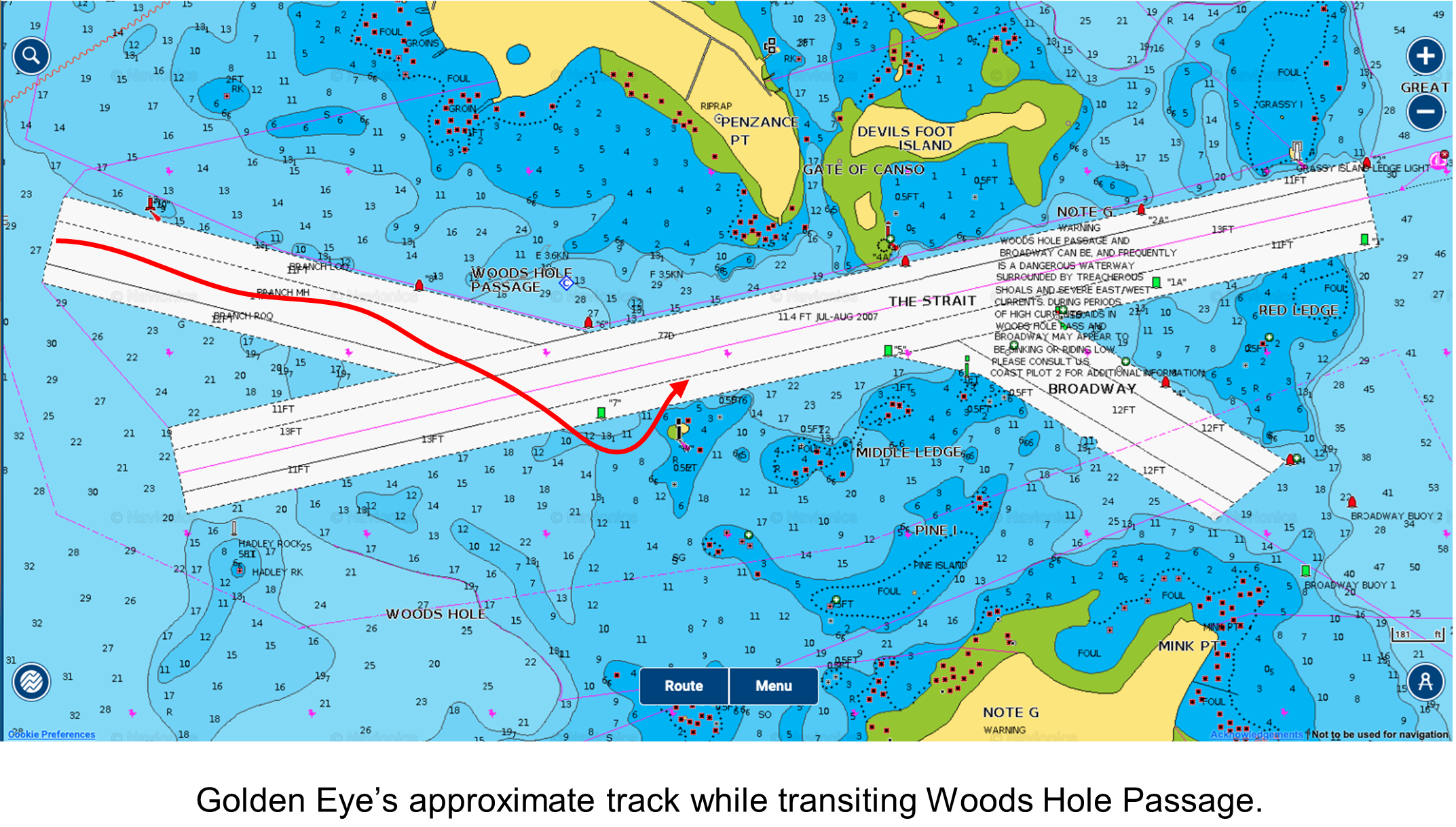 No excuses - it was sheer bravado and put the boat, my wife, daughter, and me at risk.
Happily, I was able to bear away and regain the channel without disaster. Sheer, frightening luck.
Lesson learned: Bravado and seamanship don't go together; they are mutually exclusive.
The Cruising Club of America is a collection of passionate, seriously accomplished, ocean sailors making adventurous use of the seas. All members have extensive offshore boat handling, seamanship, and command experience honed over many years. "School of Hard Rocks" stories, published by the CCA Safety and Seamanship Committee, are intended to advance seamanship and help skippers promote a Culture of Safety aboard their vessels