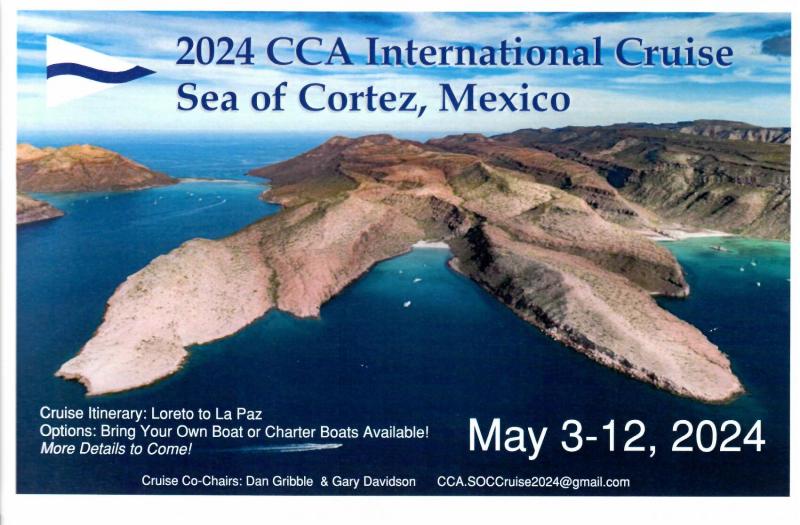 Bienvenidos!
The Southern California station is beginning to plan for a wonderful cruise to the Sea of Cortez May 3-12, 2024. 
So far we've got preliminary interest from twelve members looking to bring their own boats or charter - and the buzz is just beginning!
For those who haven't experienced the wonder of the Sea of Cortez – also known as the Gulf of California – this will be a rare opportunity to explore this unique and beautiful destination located between the Baja California Peninsula and mainland Mexico.
The Sea of Cortez is one of the most biologically diverse bodies of water on the planet as home to whales, dolphins, sea turtles, sharks, rays and over 900 species of fish.
The scenery is stunning with rugged cliffs, sandy beaches and dramatic rock formations. Most of the islands on our itinerary are uninhabited with great protected anchorages and opportunities for adventure including kayaking, snorkeling, hiking, fishing and wildlife watching.
May is a great time to visit the Sea of Cortez. The weather is typically warm and pleasant with temps in the high 70's to 80's, and the water is warm. While the area can experience strong winds, May tends to be a calmer month with more moderate breeze.
We'll begin our cruise in the coastal city of Loreto, and wind our way south over the week to LaPaz, enjoying the rich history and laidback culture of Mexico that both these endpoints offer. We're planning a few parties as well!
Some members may wish to cruise into the Gulf earlier and extend their stay later, joining the cruise along the way. Depending on interest, we may also organize a small repositioning cruise earlier to get the local fleet down the Pacific coast of Baja.
Your Southern California station cruise organizers are looking to rally as many CCA member boats as possible from West Coast stations and we're working with local charter operators to ensure a plentiful fleet of boats are available for charter. More information on charters, travel, flights, hotels and logistics are coming soon.
In the meantime though, please take a minute to complete this Preliminary Interest Survey to help us plan what we anticipate will be a unique cruising adventure.
Dan Gribble & Gary Davidson, Cruise Co-Chairs
cca.soccruise2024@gmail.com