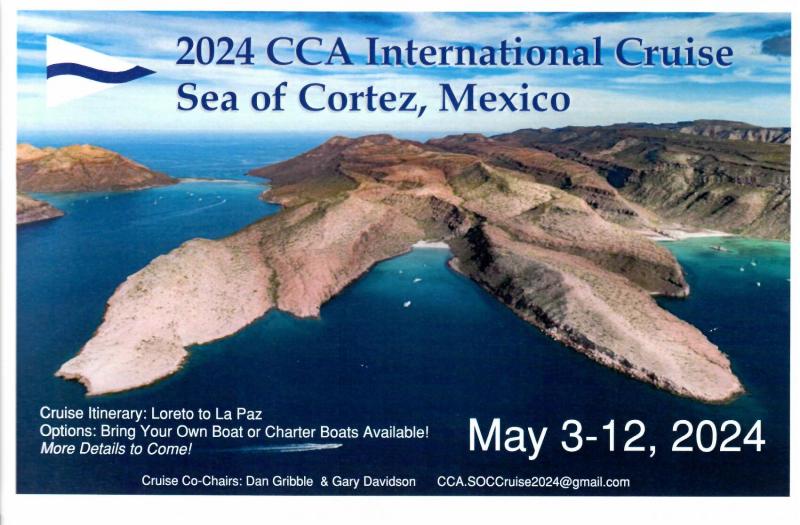 AUGUST 2023 UPDATE:
CHARTER YACHTS ARE STILL AVAILABLE! BOOK YOURS NOW!
In early May, Southern California Station Rear Commodore Steve Calhoun, Cruise Co-Chair Gary Davidson and Nancy Davidson joined Al and Jo Linda Garnier aboard their Formosa ketch Chez Nous for a dry run of the cruise, planned for May 3-12, 2024. (Thank you again Al & Jo Linda!)
The area lived up to its reputation as we enjoyed wonderfully warm weather and water, fair winds, wildlife and dramatic scenery.  We had a chance to chat with the staff at the Marina Puerto Escondido and at Dream Yacht Charters to nail down some of the particulars, and we spent our time scoping out potential coves along the coast to finalize our planned itinerary.
We spoke with many very friendly local folks who were exceptionally helpful and eager to host our group. For those who may be concerned, we never once felt unsafe during this trip. This part of Mexico was inviting, friendly and safe for travelers, immigration/customs was very straightforward and navigation was clear and easy.
As mentioned in our previous post, we'll begin our cruise from Puerto Escondido near Loreto with a festive welcome party, and an opportunity to provision for the week. We'll then head out for a week of cruising the beautiful islands and secluded coves this area boasts and enjoy a mid-way beach party (or two) before ending our adventure back in La Paz. See the planned itinerary for details.
While some will come in their own boats, we've worked out a selection of charter yachts with Dream Yacht Charters (DYC) in La Paz for those who'd rather charter.
Our original window to hold the fleet for CCA has now lapsed, but there are still boats available. The charter fleet is a mix of monohulls and multihulls at various price points which includes a group flotilla discount. See the attached list of charter yachts and contact Savannah at DYC directly for details and to arrange a charter contract.
Note that the quoted charter rates include all extras – including delivery of your charter yacht from La Paz to Puerto Escondido if you so desire. You may elect to deliver the yacht yourself a few days ahead of the cruise. Just check with Savannah at DYC for adjusted pricing and details.
For those traveling from Southern California, look into traveling directly into La Paz or Loreto from the Tijuana Airport via Volaris Airlines. This is a breeze thanks to the availability of the Cross Border Xpress (CBX) which allows you to park on the US side of the border, then walk across a bridge directly into the Tijuana Airport terminal building to pick up your regularly scheduled domestic flight to locations within Mexico.
Watch here for more information on travel, hotels, parties, provisioning and more as the cruise develops. You may also want to purchase this guide for a great overview of cruising the Sea of Cortez.
If you haven't already done so, please take a minute to complete the preliminary interest survey to help us plan what we anticipate will be a unique cruising adventure. If you have any questions, please reach out to cca.soccruise2024@gmail.com.
Dan Gribble & Gary Davidson, Cruise Co-Chairs