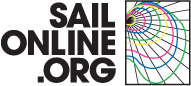 The CCA/RNYC Newfoundland Cruise Committee is pleased to announce we have joined with Sailonline.org, the Swedish not for profit real time weather virtual racing developer that hosted the 2020 CCA Virtual Newport Bermuda Race, to create a virtual routing rally this winter from Cape Cod to Clarenville NL. This highly realistic navigation simulator is a great way to practice delivery routing and navigation for the CCA/Newfoundland Cruise which has been postponed to July 24, 2022.
The first leg will be from Sandwich MA to the RNSYS in Halifax, and will open for starters any time after 1900utc Feb 8.  Cruisers must complete the leg by 2300utc March 4 to be scored for that leg.  

The second leg will have two divisions, and is also open to BDO boats starting from Halifax. Leg 2N will open for starting at RNSYS after 1900utc Mar 6, and cruisers will leave NL to stbd enroute to Clarenville in Trinity Bay.  Leg 2S will open for starting after 1900 utc Mar 10, and cruisers will leave the island to port enroute to Clarenville.  Both fleets must arrive for the pig roast rendezvous in Clarenville no later than 2300 utc on April 9 to be scored for the legs.

Since this is a simulated delivery rally featuring the challenges of dodging/playing the winter lows now blasting across the North Atlantic, skippers are encouraged to keep a deck log noting utc time and date, wind conditions, lat/long, and possible deployment & recovery of an anchor or Jordan Series Drogue (by settingTWA=0 deg) for storm avoidance or survival.  The SOL server considers a boat abandoned if TWA=0 with no keyboard commands for more than 48hrs, resulting in transport back to the start by Skycrane. (This can be avoided by entering another TWA=0 command before 48 hrs when deliberately beached or anchored.)  CCA will offer additional recognition for optimal delivery routing by deducting logged anchor time from the SOL recorded elapsed time.

We are encouraged to login and become familiar with the SOL features in advance of our Rally.   http://www.sailonline.org/blog/2021/jan/28/delivery-cruises-CCA-2021/  Try sailing a part of any active race.  The Home Page shows races currently active. The steering, course change programming, and weather prediction controls are very simple and intuitive. If you steer into an obstruction the boat anchors itself head to wind just offshore (for a Barbecue) until you enter a True Wind Angle or Course Over Ground into clear water.
 
SOL suggests we select usernames with CCA_ as prefix to simplify sorting results.  Your crew who are not yet Club members are welcome to join us with CCAC_ prefix.   
See you soon, virtually on the water!

Bill Bowers
(CCA_BuzzardsBill on SOL)
Co-Chair 2022 CCA/RNYC Newfoundland Cruise