Windward Islands
March 11th-18th, 2023
Come join us and explore some of the finest sailing waters in the Caribbean!
The Windward Islands are the southern, generally larger islands of the Lesser Antilles.  Part of the West Indies, they lie south of the Leeward Island, approximately between latitudes 10 - 16 degrees N and longitudes 60 - 62 degrees W.
The name was also used to refer to a British colony which existed between 1833 and 1960 and originally consisted of the islands of Grenada, Saint Lucia and Saint Vincent.  Today these islands constitute three sovereign states, with the latter now known as Saint Vincent and the Grenadines.
The prevailing trade winds in the West Indies blow east to west. The combination of trans-Atlantic currents and winds that provided the fastest route across the ocean brought sailing ships heading to the "New World" to the rough dividing line between two groups of islands.  Those that fell to windward became the Windward Islands, to leeward the Leeward Islands.
Sailing vessels departing from Africa would first encounter the southeastern most "Windward" islands of the Lesser Antilles in their west-northwesterly heading to the final destinations in the Caribbean, Central America, and Northern America.  The chain of Windward Islands forms a part of the easternmost boundary of the Caribbean Sea.
The 2023 Winter Cruise will begin on the beautiful island of St Lucia.  Although there are numerous charter outfits in the area, The Moorings has offered a group discount (15%), has the highest number of boats available and the various options within their fleet make them great partners for our event.
Boat pick-up for those chartering is Saturday AM in Rodney Bay and we'll kick off the cruise with a welcome reception on Saturday afternoon and evening.  A short (18nm) sail on Sunday morning to the exotic Pitons (UNESCO World Heritage Site).  The Pitons, with its lush backdrop and dramatic cliffs, are reminiscent of pirate adventure and have many hiking and snorkeling options at hand.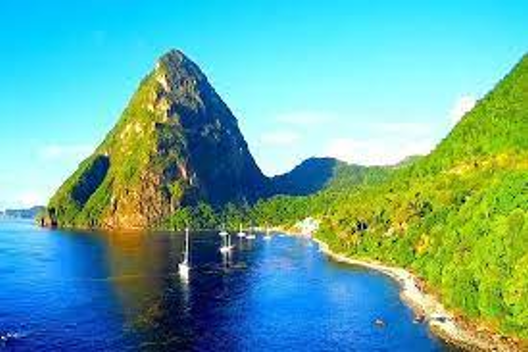 From the Pitons, there are options for Monday (weather and ambition dependent):
Sailing to Bequia (55 NM) Awaken early to get under way.  Sail south with a fair wind off the beam across open waters to the high, rugged island of St Vincent.  Possibly stop at Blue Lagoon at the south of St Vincent (can clear customs here) with an excellent harbor where many sailors stop en route to Bequia from St Lucia.  Otherwise, keep sailing the remaining distance to Admiralty Bay, Bequia's main harbor.  Or,

Stopping in St Vincent at Cumberland Bay (30 NM). (Clear customs in Chateaubelair).
Tuesday will be Bequia.  Bequia has long been a favorite of yachts people as it is isolated enough to remain relatively unspoiled, yet lively enough to be stimulating and entertaining.  It provides a blend of the old and new that many find perfect.  Our "mid-cruise" get together will be here.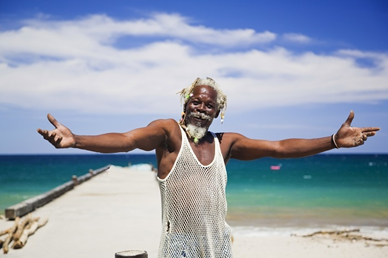 Wednesday and Thursday are choose your own adventure with multiple options.   Enjoy a lay day or adventure to a variety of islands and harbors in the Grenadines and St. Vincent.  Some possibilities include:
Tobago Cays (26 NM)
Marine Park uninhabited isles are among the most beautiful in the Grenadines and are seemingly made for sailors who love snorkeling, scuba diving, beach combing, or simply relaxing in the cockpit in a natural setting away from the bustle found elsewhere in the Caribbean. Horseshoe Reef hems in the cays, providing protection from the trade wind swells. All manner of sea life is present, including sea turtles.
Mayreau (26NM)
Rimmed with pristine beaches including Troisant Bay & Saline Bay.   Offers spectacular views from the hill.
Mustique (11nm)
Playground for Rockstars and Royalty, Basil's Bar (the Caribbean's "most famous" beach bar, exceptional lobster and sunsets.
Canouan (16nm)
Spectacular beaches, pleasant walks, windward lagoon and outer reef.
Our closing night (Friday) event will be back in Rodney Bay with a beautiful candlelit dinner at a gorgeous location as we toast our friends and the conclusion of our winter cruise.
The cruise budget/fees are being finalized and will be distributed shortly.  However, to encourage some of our younger families with children to participate, children will be free.  As of today, I know of at least one 10 year old who would love some buddies to go snorkeling with.
We are looking forward to this wonderful Windward Island adventure and hope you will join us!
Drew & Abby Kellogg
Charters:
The Moorings/Sunsail
Lisa Mayo
Lisa.mayo@thlmarine.com
888.703.3173
Recommended reading:
"Doyles Guide - The Windward Islands" - 2021/2022 edition available on Amazon.com
and:
https://www.cruisingguides.com/products/2021-2022-sailors-guide-windward-islands
Logo cruise gear will be available at Team One Newport:
www.team1newport.com