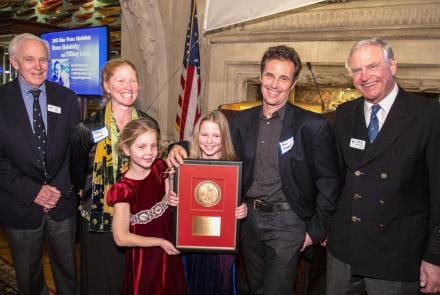 The Cruising Club of America (CCA) today announced the 2018 recipients of the international organization's most prestigious awards, including Bruce Halabisky and Tiffany Loney of Orcas Island, Wash., Stan Honey of Palo Alto, Calif., and Ellen and Seth Leonard of Laupahoehoe, Hawaii. Selected for their outstanding contributions to the sport of sailing and the history of yachting, the CCA recognized the accomplishments of these members, and others, during the Annual Awards Dinner on March 1, 2019, at the New York Yacht Club in Manhattan.

2018 Blue Water Medal - Bruce Halabisky and Tiffany Loney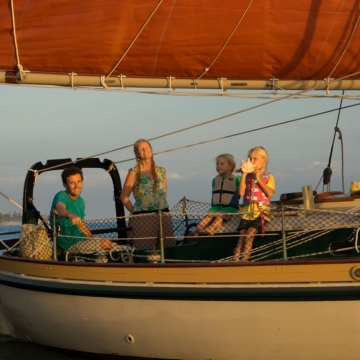 Bruce Halabisky and Tiffany Loney are the recipients of the CCA's 2018 Blue Water Medal, awarded for their 11-year circumnavigation in Vixen, a 1952 John Atkin designed wood gaff-rigged cutter, with their two daughters, born during the cruise, as crew. The CCA established this award in 1923 to reward "meritorious seamanship and adventure upon the sea displayed by amateur sailors of all nationalities that might otherwise go unrecognized."

In September of 2002, Halabisky and Loney first saw Vixen at the Wooden Boat Festival in Port Townsend, Wash., in the final stages of restoration. One would have to say it was love at first sight as they sold their few assets and within a few months owned Vixen, which had launched in 1952 from the renowned Joel Johnson yard in Bridgeport, Connecticut. After two years of living onboard, saving money and becoming good friends with Vixen, they left for Hawaii in September of 2004. Having sailed across the Pacific and Indian Oceans; completed three trans-Atlantic crossings; visited over thirty countries; and documented life onboard Vixen in podcasts, magazine articles and books, the family is now happily exploring life on land from their home on Orcas Island.

Often asked why he chose a fifties wooden gaff-rigged cutter for an 11-year circumnavigation, Halabisky explained that he "lay aside all my rationalization and logic and can appeal only with the beauty of a perfectly realized sheer line or the image of an audaciously long bowsprit awash with seafoam or a finely carved teak block gleaming in the sun.  There is something to be said for sailing around the world with a certain amount of style and class."  Indeed!
2018 Far Horizons Award - Stan Honey
In recognition of his numerous record-setting voyages as navigator, the CCA will honor Stan Honey with its 2018 Far Horizons Award. The CCA established the award to recognize a member or members for "a particularly meritorious voyage or series of voyages that exemplify the objectives of the Club."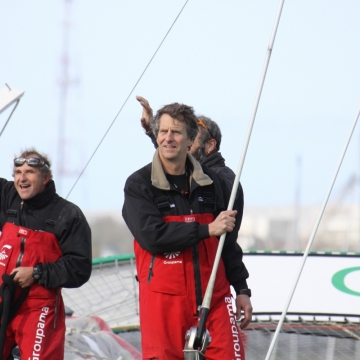 It is indeed hard to know where to start or finish when summarizing Honey's many sailing achievements as he holds 22 sailing records as a navigator or single-handed skipper, including records won on five of the 18 Transpac Races (two single-handed) in which he has competed, three Newport Bermuda Races, two Transatlantic Races and one Rolex Sydney Hobart Race. As navigator Honey has won class or line honors, literally and figuratively, on the most significant offshore races around the world, most notably as the 2006 Volvo Ocean Race winning navigator aboard ABN Amro One, and, again as navigator, setting a record in 2010 for the fastest global circumnavigation – in 48 days, seven hours and 45 minutes – on the trimaran Groupama 3, which eclipsed a record by more than two days and eight hours that had stood for five years.

Honey is as well known for his application of technology to sailing and navigation as he is on the race course for winning. He holds thirty patents in navigation and graphics and is a co-founder of Sportvision Inc., the leading developer of live-tracking enhancements for televised sports broadcasts.  Combining his passions led to the development of an augmented-reality technology for sailing broadcasts – known as AC LiveLine – that overlaid geo-positioned lines and data streams on live race-course video shots taken from helicopter- and water-based platforms, for which Honey won an Emmy for its use covering the 2013 America's Cup.
2018 Young Voyager Award - Ellen and Seth Leonard
TheCruising Club of America will present Ellen and Seth Leonard with it's 2018 Young Voyager Award in recognition of their predominantly double-handed circumnavigation commenced at the ages of 20 and 23, respectively.  

Though thousands of miles away and on different coasts, Ellen and Seth both started sailing when they were in pre-school. That distance between them was closed in 2006 when Ellen and Seth met in Maine.  A week later they were sailing together, and at the ages of 20 and 23, respectively, commenced a four-year, 32,000 nautical mile voyage around the world.  Their ports-of-call traced a passage down the east coast, across the Caribbean, through the Panama Canal, westward across the Pacific, around the Cape of Good Hope, across the Atlantic back into the Caribbean and up to Blue Hill, Maine, where it all started.  This voyage was made in Heretic, a 38-foot cutter rigged sloop, a copy of the Sparkman & Stephens legendary keel-centerborder, Finisterre (three-time winner of the Newport Bermuda Race).  Prior to leaving Maine, Seth had started a full restoration of Heretic, which was finished over the course of the cruise.

After being landlocked for several years, limited to only an east coast cruise, the Leonards purchased Celeste, a 40-foot custom built cold-molded wooden cutter-rigged sloop, and set forth on a four-year voyage of 13,000 nautical miles heading north along the west coast of Alaska and Canada, reaching the polar pack ice at 72º N.  They are currently in the Pacific heading west and have logged over 50,000 nautical miles.

2018 Richard S. Nye Award – Steve and Linda Dashew
In recognition of over 50 years of "meritorious service to the yachting world and the Cruising Club of America," the CCA will honor Steve and Linda Dashew with its 2018 Richard S. Nye Award. The CCA established the award to recognize a member or members of the Club "who has brought distinction to the Club by meritorious service, outstanding seamanship, outstanding performance in long distance cruising or racing, statesmanship in the affairs of international racing, or any combination of the above."

The Dashews, working as a team for more than five decades, have pushed the frontiers of long distance short-handed cruising. Their extensive offshore experience led them to the conclusion that speed and safety were linked as fast passages reduced weather and navigational risks. The Dashews' rigs, optimized for cruising couples, were compact by most standards, but combined with a maximum waterline and moderate beam returned comparatively fast passages and a number of records. Their ketches, the 68-foot Sundeer and the 78-foot Beowulf, are both exemplars of their simple philosophy that form must follow function. In 2005 the Dashews launched their first fast motor cruiser, the 83-foot Wind Horse, developed using the sailing designs.

In addition to designing and producing long distance cruisers with an emphasis on safety and seamanship, the Dashews have not been selfish with their hard-won knowledge of yacht design, offshore cruising and weather.  They have published over three hundred magazine articles and eight books on these topics, with the most recent four being available as free downloads at SetSail.com. Linda and Steve Dashew clearly check all the boxes required of a recipient of the Richard S. Nye Trophy.
RCC and Vilas

Also being recognized are Ernie Godshalk and Ann Noble-Kiley, both of Boston, Mass., who will receive the CCA's Royal Cruising Club Trophy, awarded to a CCA member and skipper who has undertaken the most interesting cruise of singular merit and moderate duration; while the Vilas Literary Prize will be presented to Jim and Jean Foley of Chicago, Ill., who wrote about their unusual and challenging cruise along the sparsely populated, and seldom visited, south coast of Australia. The voyage marked the completion of their second circumnavigation in 2015, a 10-year odyssey aboard Onora, the 62-foot Chuck Paine-designed, Kelly Archer-built aluminum cutter.