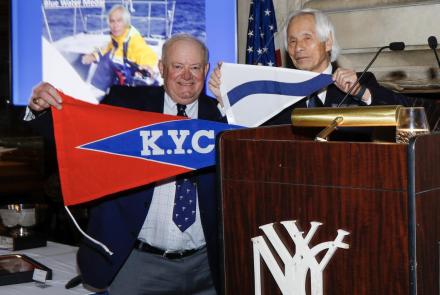 (NEW YORK, March 6, 2023)—The 2022 Cruising Club of America (CCA) awards ceremony was held at the New York Yacht Club on Saturday and was highlighted by the presentation of the Blue Water Medal to octogenarian Kenichi Horie. The prestigious Medal has been awarded by the CCA since 1923.
On his way to becoming Japan's most famous sailor, Horie crossed oceans and circumnavigated in a variety of small boats, beginning in 1962 when he sailed from Japan to San Francisco in a 19-foot plywood sloop. Sixty years later, at age 83, he sailed a similar-sized boat the other way, from San Francisco to Nishinomiya, Japan in 2022. In the years in between, Horie sailed alone around the world multiple times and made other remarkable ocean crossings in boats using solar, wind, and wave power and made of recycled materials.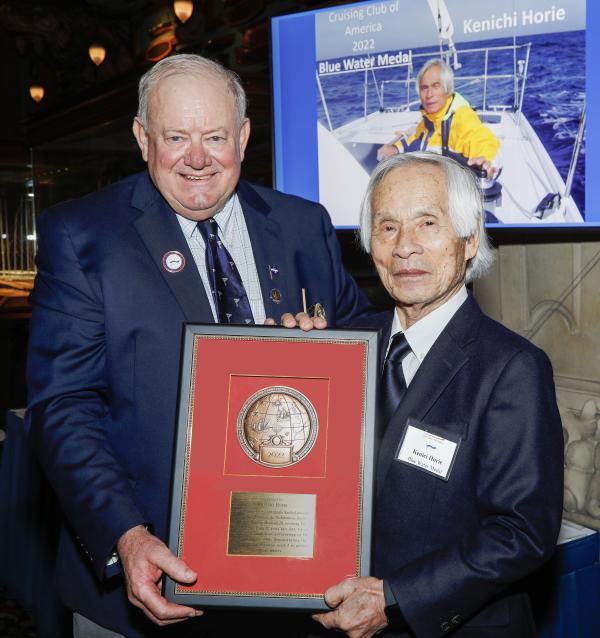 "I am very much honored and humbled to receive an award with such tradition and prestige," said Horie through an interpreter. "Receiving the Blue Water Medal is a momentous milestone…I feel my sailing chapter has completed."
Horie described sailing into San Francisco in 1962 and immediately falling in love with America. He hadn't brought a passport or any money on that trip but was treated generously by other sailors and received the key to the city from San Francisco's mayor.
As Horie told the assembled CCA members and guests, "Since then, every person I met gave me an assurance that my impression of America was correct—so kind, so wonderful. Though I am still a novice sailor, my hopes and dreams are, someday, I will be as accomplished a sailor as CCA members. I will keep trying to be like you. Please cheer me on."
The youngest winner to be recognized by the CCA was Cal Currier, who earned the Young Voyager Award. As a 16-year-old high-school student from Palo Alto, California, Currier learned to sail early in 2022, bought and prepared a modest 30-foot sailboat, and then sailed it alone last summer from Marion, Massachusetts, to Lagos, Portugal, via the Azores. Currier was cited for his impressive initiative and remarkable voyage.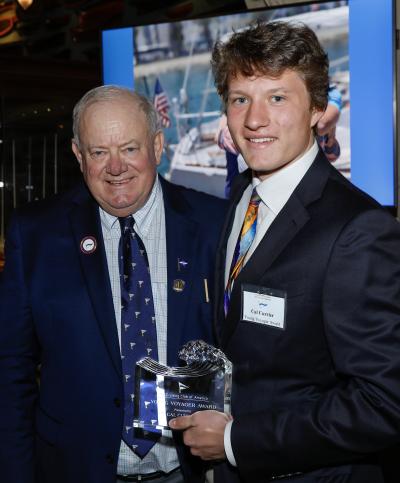 Accepting the award, Currier said he was "floored" to be honored by "some of the best sailors ever." He credited CCA members Sandy Van Zandt (who sold him his boat) and Frank Bohlen for support without which, he said, "It wouldn't have happened." He also said, "I hope it's not the last time I am in this room; I intend to do much more sailing—the Atlantic was just the beginning."
Other award winners included the following:
Max Fletcher and Lynnie Bruce received the Charles H. Vilas Literary Prize for their collaboration in writing and editing "Spain to Maine," an account of their non-stop passage home from Portosin, Spain, which appeared in the club's annual Voyages magazine.
David Tunick received the Far Horizons Award, which recognizes a CCA member for a particularly meritorious cruise or series of cruises. Tunick completed the second of two solo transatlantic passages last year at age 78, bookending more than two decades of extended cruising and racing through Northern Europe.
Frank Bohlen and Dan Nerney were given Commodore's Awards for their long service to the Club and to the sport in offering their expertise in oceanography and photography, respectively.
Tunick summed up the evening, saying, "Every time I attend a CCA gathering, I feel undeserving when I think about what others have done and continue to do, but never more than so tonight. It's thrilling to be included among the remarkable group of award winners like Frank Bohlen, Barbara Watson, the already-legendary Seth Leonard, Mary Crowley, Max Fletcher, young Cal Currier, and especially Kenichi Horie who I've admired from afar for many years. He's inspiring and unequaled in his achievements."
Read more about all that the winners achieved to earn their awards at the Awards page of the club website.