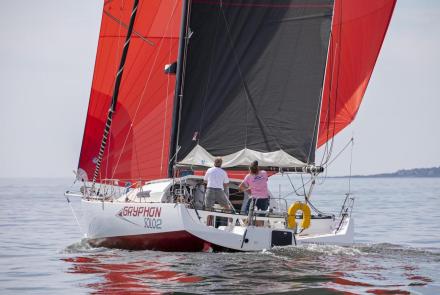 October 2020: Nine Months to Go
Like most of his fellow Cruising Club of America members, Joe Harris is never happier than when he has his next offshore passage in sight. In this article, Joe fills us in on his latest offshore-sailing scheme, a doublehanded race around the world for 40-footers.
By Joe Harris
I am planning my second circumnavigation, starting in June of 2021 and going through March 2022 as a competitor in the Globe40 around-the-world, double-handed race. I completed my first lap around the planet in 2015-16, sailing alone aboard my Class 40 GryphonSolo2 as part of a record attempt. I was hoping to circumnavigate non-stop, solo with no outside assistance, in less than the record of 137 days. As the gods would have it, I had to stop twice—first in Cape Town, South Africa to repair my hydro-generator and second in Uruguay to repair a hull crack/leak. But I completed the voyage and achieved my life-long goal of a solo circumnavigation in 152 days at sea.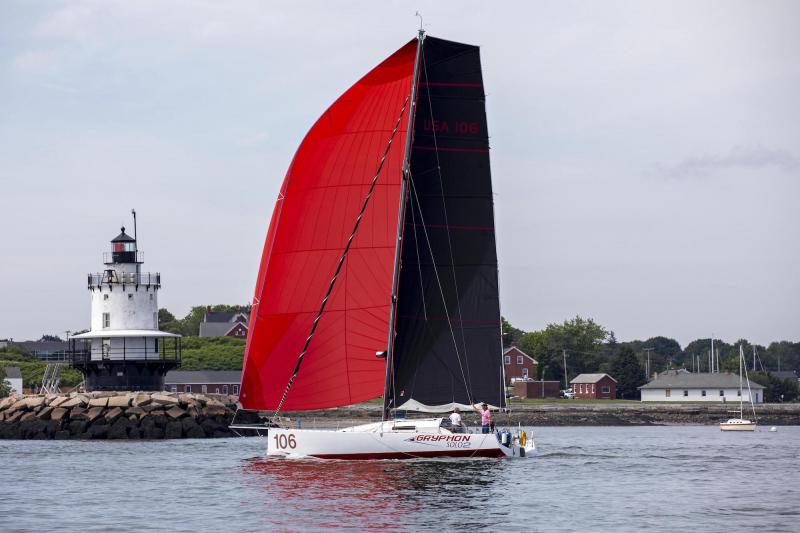 Sailing last summer, GryphonSolo2, Joe Harris's Class 40. Billy Black photo
In the Globe40, I will be racing against 15 to 20 Class 40s of various ages and descriptions, but all the Class 40s are built to a Box Rule that limits overall length, beam, height of mast, depth of keel, displacement and a few other characteristics that are meant to provide close to level racing, boat for boat.
I will also be sailing with a co-skipper, which I have done a lot of over the years, most notably in the Atlantic Cup over shorter distances and in the 2005 Transat Jacque Vabre in my Open 50, which Josh Hall and I won after 21 days at sea. The Globe40 will stop in eight very cool, off-the-beaten path locations, so it should be an interesting exploration of the world, as well as a great competition.    
Recently, we had a wonderful final day of sailing for this season aboard GryphonSolo2—it was Thursday, October 1, a bright and sunny day in Portland, Maine. The wind was from the south-southwest at around 15 knots, and we had a sparring partner in the S/V Amhas, a Class 40 owned and sailed by Micah Davis and Brian Harris.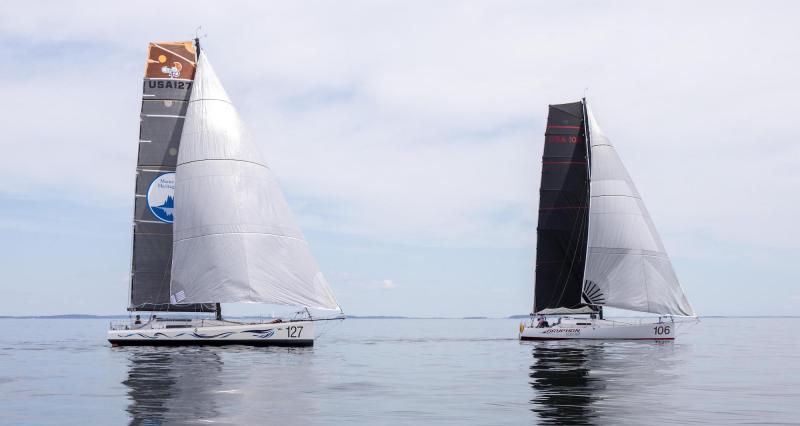 Testing Code Zero headsails in a drifter, Amhas (left) and GryphonSolo2. Billy Black photo
I had invited a few sailors to join us as part of my effort to broaden our co-skipper "team" given the uncertainties of Covid. (I spoke to each participant about their Covid practices and testing history and concluded that it would be safe for us to sail (outdoors, in a good breeze) together while trying to keep reasonable social distance whenever possible.) The first was my old friend and competitor Dave Rearick, who sailed the Class 40 Bodacious Dream for many years alongside GS2.  Dave lives in the Chicago area but was a trooper to drive out; he planned to visit friends in Maine after our sail. The second was Tom Hickey, a young sailor and practicing naval architect from Weymouth, Massachusetts, who has sailed a bit with the Class 40 Toothface. Dave and Tom joined Rob Windsor and me for a great day on the water to get to know GS2 and each other.
If you don't know Rob, he is someone I have been working and sailing with on Class 40s for many years. Rob has worked as a "preparateur" of offshore race boats, and he has sailed on more US Class 40s than anyone over the last 10 years and has deep experience with the boats in every respect. Rob will help me prepare GS2 for the Globe40 as he helped me prepare for the 2015 circumnavigation and will sail some of the race legs as co-skipper—to be determined as we get closer to the race start.    
We started the day by running through all three reefs for the mainsail, one by one, so that Dave and Tom could get used to where all the ropes were and get used to the spaghetti of lines in the cockpit.  We next rolled out the Solent jib and went through how to work the jib lead system, which controls an Antal ring that can be placed anywhere in 3 dimensions to locate the clew of the jib exactly where desired, depending upon the point of sail.
Next, we sailed upwind under full main and Solent, matching up with Amhas, who we were communicating with by VHF radio on all aspects of the boats' upwind performance—boatspeed, wind angle, etc. This was fun and instructive as we could quickly tell when we had the boat dialed in and when something was not quite right, as one boat or the other would slowly pull away or sail higher.  Everyone took a turn driving and trimming, and we donned foul weather gear to protect against the spray. The temperature was in the 60s, but it was nice and sunny, so everyone was happy.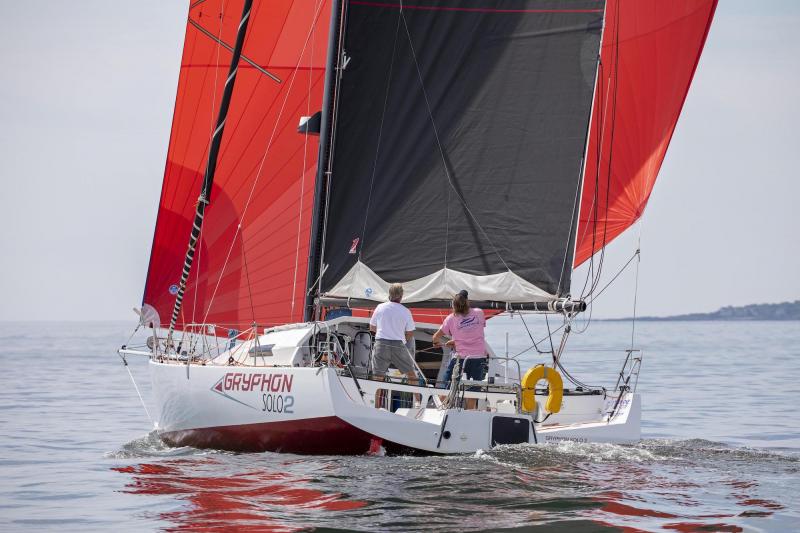 Joe Harris (steering) sailed GryphonSolo2 around the world along, four years ago. Next year he plans to do it racing doublehanded. Billy Black photo
After a couple of hours tacking upwind, we reached off at a 100-degree true wind angle and saw the boats pacing along at 10 or 11 knots in the 13- to 17-knot breeze. We had a bite of lunch before putting up the big A2 spinnaker and reaching off, further downwind.  The apparent wind came down and the foul weather gear came off as we reveled in the last sail of the year in perfect conditions. We set the staysail up underneath the kite and gybed 4 or 5 times as we headed back towards the barn.
Once at the dock, we put everything away while enjoying a cold beer and then headed out to Fore St., a fine restaurant in Portland, to cap off a perfect day. The sea stories grew as the night went on, as is often the case, and we all drank a few toasts to our good fortune to be together and able to enjoy such a fine day on the water with our friends on Amhas.
Next up, GS2 will have her mast removed and the boat will be hauled at Maine Yacht Center.  The rudders and the keel will come out for inspection, and we will begin a major refit of the boat in the shop. While it's always a little sad to put your boat away for the winter, it is fun to think about the adventure that lies ahead in terms of the www.globe40.com race around the world next year.