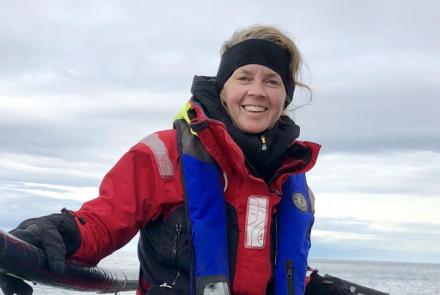 Meet CCA member Haley King Lhamon. She is a cruiser, a champion racer, coach, and teacher, who co-skippered Team Sail Like a Girl in an extraordinary 2018 distance event, Race to Alaska.
"I woke up to the swooshing sound of the WaveWalker propellers and came on deck for my watch at 9pm just before sunset. Our Melges 32 was averaging one knot against the flood tide with limp sails in Johnstone Straits—a section of the Inside Passage that is notorious for dangerously strong winds. Taking exception to the 'reef early in Johnstone' reminder, we'd enjoyed the forecast 5- to 7-knot southerly that carried us smoothly through Seymour Narrows into the Straits that afternoon and which had disappeared with the fading light."
Haley King Lhamon is revisiting the 2018 Race to Alaska (R2AK), in which she and Jeanne Assael Goussev were co-skippers and co-navigators for the winning team, Sail Like A Girl. (If you haven't heard of this unique race before, it's North America's longest human and wind-powered boat race—no motors onboard and no support as sailors and rowers navigate big seas, treacherous passages, and currents up to 15 knots.)
"We were close to the south shore to avoid the worst of the current, but looking out in the middle of the Straits, we saw a tempting finger of wind from the west. We decided to check it out, and just 50 yards later, we had 5 knots of boat speed with white water swirling around the pedals, so it was time for my teammates to kick up the propellers and climb off the bikes. Within minutes it was blowing 30 knots."
A few months earlier, Haley never expected to be in a 750-mile adventure race, steering a high-powered sportboat with one eye ahead and the other on the Navionics chart on an iPhone, held by a crewmate sitting in the cockpit next to her. But you never know where a life of adventure on boats will lead when it starts with your Mom tucking you in for naps under the dashboard of the safety boat while Dad races in a fleet of Butterflies on a lake in Dallas, Texas. 
"I steered us back toward shore again for a little protection," Haley says, "but had to keep tacking back and forth to stay between the rocks and the approaching wind line as we scrambled to double reef our huge, heavy carbon main (a standard Melges main doesn't have reef points because it's an ultra-light, buoy-racing daysailer).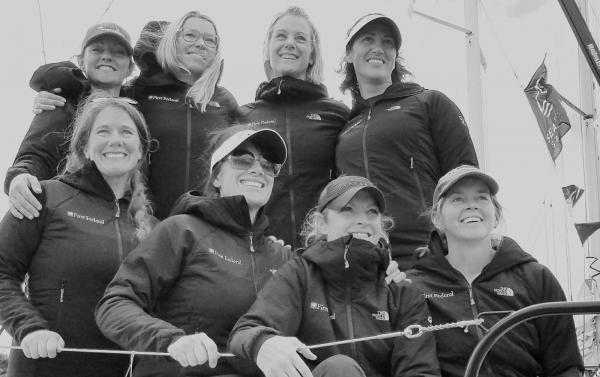 ​
"The westerly wind filled in and quickly increased to 35 to 40 knots, causing us to heel hard over and slide sideways while four of the crew finished reefing. Stretched across the cockpit, I held onto the windward lifeline with my free hand and met eyes with Aimee at the mast, shaking my head to acknowledge we'd lost our forward momentum and the ability to tack. I had visions of slamming into the rocks and ending the race for us then and there. My only option was to force a quick bear-away toward the rocks so we could build enough speed to throw in a tack...and we did it!
"Relieved but already tired, we pounded back toward the middle in building waves for a long night of tacking north of the shipping lane without the moon to define distances. Eventually we dropped the main and sailed under the No. 4 jib alone at 7 to 8 knots of boat speed until the morning…when a dense fog settled in to provide a new set of challenges."
Haley grew up in Dallas and Fort Worth as the youngest of six and has been sailing ever since. At first, she crewed on the family Cal 2-27 and then began sailing Optimist Dinghies year-round through her yacht club's junior program. During her teens, she primarily sailed Lasers and Laser II dinghies, racing in multiple Junior Women's Nationals, U.S. Doublehanded Youth Championships and other major events. After her family moved to Santa Cruz, California, she trimmed for future pro-sailor Morgan Larson when they won the 1988 Sears Cup, the triplehanded national youth championship.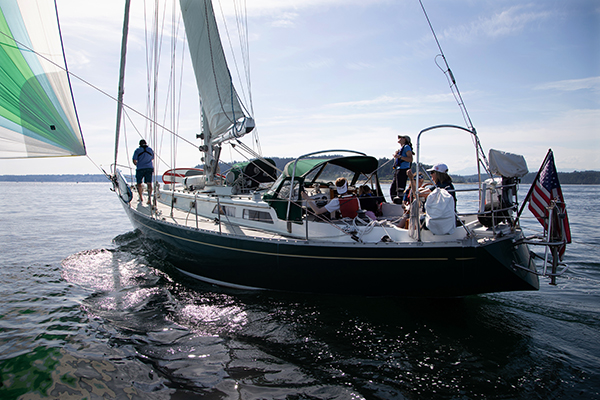 ​
Her first year at Stanford, Haley met Rusty on the sailing team and soon added big-boat cruising to her resume as the couple spent two weeks the following summer cruising on the Lhamon family's Sirena 38 Harmony in the San Juan Islands. When Rusty's parents, Tad and Joyce, bought an Alden 44 named Lyric and undertook a six-year circumnavigation, Haley and Rusty would meet them and cruise in different locations. They joined them again for the Seattle to Santa Barbara leg of Tad and Joyce's North American tour of Cruising Club of America stations when Tad was club commodore). The following summer they sailed from Boston to Nova Scotia with their boys, Taylor and Barrett, now age 16 and 19.
While Rusty's work moved them to Michigan, Europe, back to Michigan, and finally to the Seattle area, there was always a sailboat and varying amounts of cruising and racing. They were given an Irwin 28 by an uncle, and later bought a J/35, which they successfully raced in two Chicago-Macs. After Barrett was born, they decided to simplify their racing and shift back to dinghies, borrowing the Alden 44 for summer cruises and continuing to charter elsewhere.  
As a sailing instructor at the age of 18, Haley discovered a love of teaching and subsequently earned her teacher's certification for elementary and middle school, specializing in learning support, especially for students with dyslexia. She has continued to teach sailing to people of all ages, but encouraging women to sail through women's dinghy clinics became a focus after an intensive year racing Snipes and Thistles as a way to attract new sailors, build skills and confidence, and give back to the local Seattle fleets.
"All the instruction was done by women," she said. "Some great guys in the fleets were the 'dock boys,' providing support as needed before and after sailing. The idea was to give women an opportunity to ask questions and sail together in a fun, nonjudgmental, relaxed atmosphere with more experienced sailors at the helm, at least initially." Basic boat-handling skills were covered in the morning, and then there was an afternoon racing clinic with drills and coaching around the course.
When Haley and Rusty moved to Bainbridge Island, west of Seattle, she became the Parks & Rec Sailing Coordinator, designing and organizing classes for fleets of Optimists, FJs, and 420s. Haley teaches all of the adult dinghy classes and leads a summer kick-off clinic for women and teens.
As a high school sailing team coach, Haley helps train a team of 28 sailors, and she also has a middle-school sailing program that's growing, with a waiting list each fall.
Early in 2019, she started the Port Madison YC Women's Sailing Group with Rear Commodore Lindsey Lind as an outreach program to build the local women's sailing community and develop skills. "We meet monthly on Sunday afternoons for social time and a simple potluck," Haley says. "There's a lesson on one of the requested topics, and then we go sailing if the weather cooperates. We're encouraging others in the group to share what they know; for example, one woman is a doctor and will give a talk on hypothermia soon." Haley and Lindsey also find crew spots for any women interested in participating in a yacht club race or cruise. As of late September, 80 women had signed up for the group.
Haley and Rusty have enjoyed organizing youth regattas together the last several years as well. Rusty's always the PRO (principal race officer in charge of the races and support boats), and Haley is the regatta chair. Along with an army of dedicated volunteers, they recently hosted a record-breaking 148 sailors for PMYC's annual Johnny Adams Memorial Youth Regatta.
"Sailing has given so much to me," says Haley. "Teaching and organizing sailing events are my way to give back and to offer the chance for others to experience the magic of sailing—camaraderie, adventure, escape, independence, reconnecting with nature, exploring new places.
On days when it's too cold to sail, Haley can fill in any gaps with her own stories. At one point in the Race to Alaska, she says, "While flying the asymmetrical spinnaker, we hit a giant log that felt like a car crash when it struck our bow and rolled at an angle under the fragile hull all the way to the keel, where it stopped, projecting out from the transom several feet. It was 2AM in a narrow dark channel without cell coverage, and a barge was approaching from behind that wasn't replying to our calls on the VHF. We already had some water in the cabin (as we always did from rain and waves), so we pumped it out to make sure new water wasn't leaking in. Luckily, we were able to roll the boat off the log with the spinnaker still up, and we notified the Prince Rupert Coast Guard who was able to contact the barge. We took all the headsails down and sailed cautiously under main alone until morning to make sure the boat was OK.
"We had been in first place in the race and were inside an island, with the next two boats sailing around the outside. We were sure we'd lost them until 24 hours later when teammates had cell coverage again and checked the online race tracker. In spite of those hours proceeding slowly, we had had better wind on the inside and stayed ahead!"
Haley Lhamon and her husband Rusty became Cruising Club of America members in 2018, joining hundreds of other ocean sailors for whom "adventurous use of the seas" is a common denominator. With the Race to Alaska complete, Haley and Rusty are still cruising near and far in addition to racing keelboats as a family in the Pacific Northwest as they consider more long distance races.