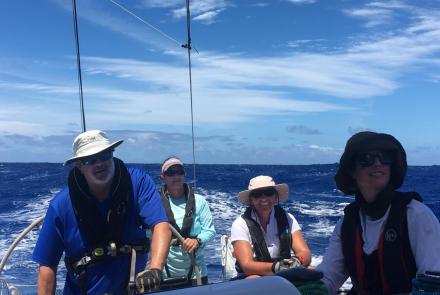 In the summer of 2019, Tiburon sailor Michael Moradzadeh succeeded in two of his favorite pursuits in rapid succession. First he successfully launched a complex new website on behalf of one of his sailing clubs, the Cruising Club of America; then he stepped aboard his Santa Cruz 50 Oaxaca and set sail from LA to Hawaii, capturing a class victory in the Transpacific Yacht Race.
"Michael gets involved with a lot of projects," says Liz Baylis, his Transpac navigator and fellow CCA member, "and I was a little concerned when he was working on the website right before the start—but he pulled it off!"
Both successes demonstrated Michael's technical and leadership capabilities and also highlighted what regularly challenges him—his natural ability to tackle most projects and solve most problems by himself. Looking back at last year, however, Michael admits that his willingness to lean on top talent for both the website and the race helped him reach a higher level of performance.
"Working alone, I could have done pretty good," he says of the website, despite the additional challenge of architecture components that enable far-flung members to conduct club business securely. But encouraged by club leaders, Michael engaged an outside consultant "to do a lot of the heavy lifting and fine points of website transition. With the help of people with the necessary skills," he says, "we were able to get an extra several-percent improvement."
"In a race to Hawaii," Michael says, "a quarter-percent improvement is the difference between first and the middle of the fleet. We finished only 12 minutes ahead of the second-place boat and 43 minutes in front of the third. One spinnaker wrap could have cost us the race. At that level of racing against boats with lots of pros and experienced sailors, it becomes a contest not only to make good plans and execute well, but not have anything go wrong."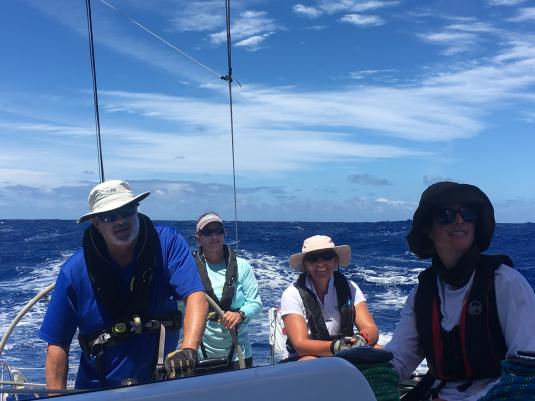 Michael Moradzadeh (left) had a crew including top-notch women sailors Liz Baylis, Dee Caffari, and Molly Noble. As Michael told a reporter after winning class in the 2019 Transpac class, "We pretty much let the women run the show."
Michael acknowledges the depth of talent in his crew, most of whom had sailed with him or with each other before, and says it was a "team of sailors, every one better than me. As humbling as that was, it was fun to win!"
In particular, he credits Liz Baylis for planning and executing the race, especially the approach to Molokai, a steep island that he says acts as an "escalator," generating stronger winds blowing along its face towards the finish, across the Molokai channel.
This was Liz's 11th race to Hawaii and her third as Michael's navigator on Oaxaca. She describes her skipper as "very knowledgeable and great with the systems and technology, so it was fun working cooperatively on getting the boat ready and discussing the weather, routing options, sail choices, etc."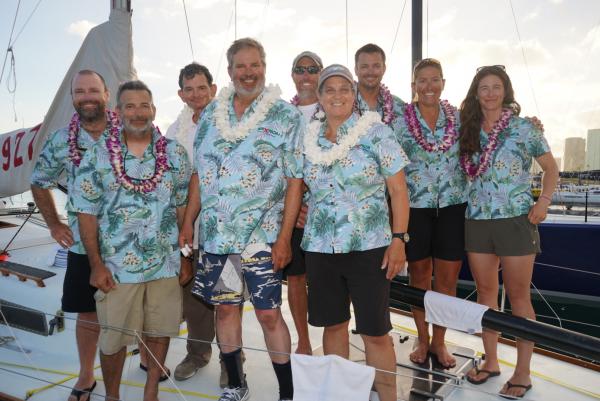 Crew photo
(left to right) Patrick Lewis, Tom Paulling, co-owner David Ritchie, Michael Moradzadeh, Brett DeWire, Navigator Liz Baylis, Harry Spedding, Dee Caffari, Molly Robinson Noble
Whether racing or building a website, Michael says, "It's necessary to accept the input and judgment of somebody else and allow that individual to guide your activities. Despite having the nominal final say, you really want to consider when and whether to exercise that. It's often wisest to defer to their expertise and allow those dedicating themselves to the job to have their effort respected."
Despite his recent Transpac success, it's the other race to Hawaii—the Pacific Cup—that has always been Michael's favorite, and he is currently doing his second stint as commodore of the event's organizing club, the Pacific Cup Yacht Club.
Michael describes seeing a poster for the Pacific Cup in 1990 and subsequently buying Jim and Sue Corenman's Pacific Cup Handbook and reading it repeatedly. Finally, in 1997, he and his wife Noelle bought a Passport 40 and began planning to do the race.
Michael learned to sail while attending Stanford and had sailed aboard his mother's MacGregor 25 before owning a Pearson Ensign and a Catalina 30. Buying a 40-footer and planning to race offshore was a big step up.
"We did the Coastal Cup the next year," he says, "from San Francisco to Santa Barbara, and my biggest fear was 'what if I don't like it being away from land for an extended period with the same crew?' As it turned out, I simply adored it, so we signed up for the Pacific Cup. We had a tedious 17 day, 16 hour passage, but never looked back.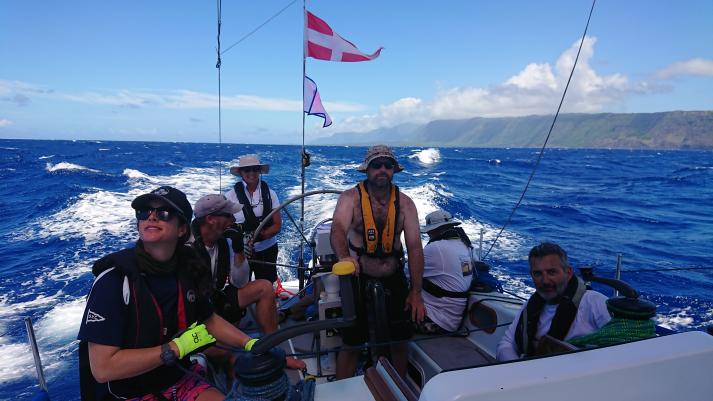 Full Court Press at Molokai
With Dee Caffari driving, Oaxaca passes Molokai on the approach to the Diamond Head finish line in the 2019 Transpac.
"Once you are three days out, you shed the stress and there's nothing on your mind but eating, sleeping, and sailing...it is a wonderful break."
The Pacific Cup starts in San Francisco and is billed as "The Fun Race to Hawaii," providing extensive pre-race training seminars and warm, welcoming parties on arrival. Michael has sailed it a total of eight times, most recently on the Santa Cruz 50 that replaced the Passport 40 after 17 years.
He finished that first race just outside the race time limit and recalls that his crew didn't get called up to the podium like everyone else. "That hurt my feelings," he says. "But I noticed the boat that served as the race-communications vessel seemed to have a good time, so I offered to do that in the next race. Performing that role drew me into race management."
Trained as a lawyer, Michael retired early in 2000 after doing technology law, working for a biotech firm, and working at Intel during a growth period. Now, if he's not working on his boat, Michael is spending his working hours volunteering for the Pacific Cup Yacht Club as commodore or the CCA as webmaster. He has also been commodore of the Corinthian Yacht Club of San Francisco.
"I'm motivated to be of service," he says. "In any activity I've taken up as a hobby, there are unique opportunities. I like being of service, accomplishing a task that perhaps was not obvious as to how it could be accomplished. And I like that people appreciate what I do."
The COVID-19 pandemic in 2020 didn't make life easy for volunteers in many organizations, and with the Pacific Cup race scheduled for July, the Pacific Cup Yacht Club was no exception.
"We pulled the plug in the second week of April," Michael says. "It wasn't tough. It was clear. We tried to delay as far as possible, consistent with not wasting a ton of people's time.
"As a principal race officer will do before cancelling any race, it's good to make it clear you are doing everything you can to salvage the race, but there wasn't really any option. Our partners at Kanehoe Yacht Club reached the same conclusion, and we collaborated on the final decision."
In the meantime, the CCA's new website has kept on ticking, with ongoing updates, of course. Bob Medland, CCA commodore, says the website has led to efficiencies for the members and  improvements in the membership database, the annual Year Book, and the member roster.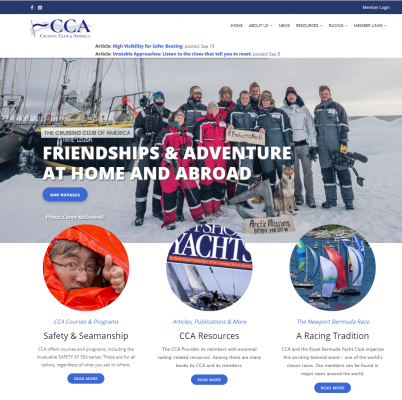 Michael Moradzadeh became webmaster in 2014 when, he says, "A discussion was started among the webmasters of the various CCA stations. I shot off my mouth too much and Commodore [Daniel] Dyer informed me I was now in charge." The newest iteration of the site was launched in 2019.
Chris Otorowski, the club's vice commodore, elaborates, saying Michael's work on the website over the last six years has transformed many club operations:
 "Members have the ability to manage their data on the website, including posting a photo of their boat and themselves in the profile section. Payment can be made for all club activities—an immense time saver for volunteers. Station rear commodores and post captains can use the database for mailing lists for club activities. And the easy-to-use Member Look Up feature allows any member to obtain contact info for any other member."
More challenges lie ahead, of course. As Chris says, "Like most websites, there are things that could be improved at any given time, and Michael, as well as setting up the current website, has been continually updating and making it more user friendly. And I think we know that there is much more potential in using the website that is untapped."
Even though 2020 hasn't worked out as planned for sailors in the Pacific Cup and other offshore races, the appeal endures for Michael. Predictably perhaps, he says there are two "independent and contrary pieces" to the mindset that ocean sailing offers. "First, there's the zen of it, the single-minded focus that you get to move into once well offshore. The other, whether offshore or preparing ahead of time, is the intensive problem-solving nature of it, whether designing a new instrument or replacing an old hatch with a sliding hatch. It's engaging...and fun!"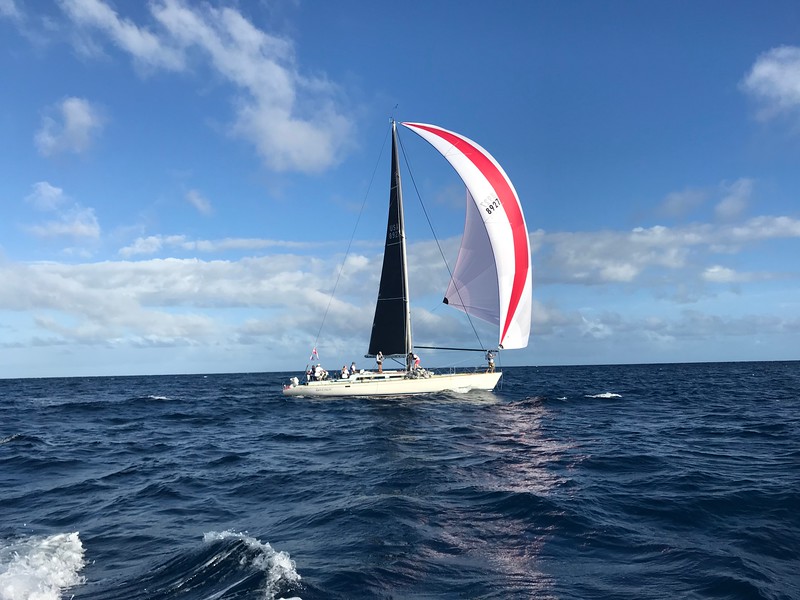 Oaxaca (Wa-hoca) is the name of a city and a state in Mexico. The name came with the boat when Michael bought it. An early owner apparently told him, "In 1980 that's where the best weed came from." Oaxaca has a solid race pedigree, winning in the 1981 Transpac, so Michael kept the name "out of respect for the boat's prior history."
by John Burnham