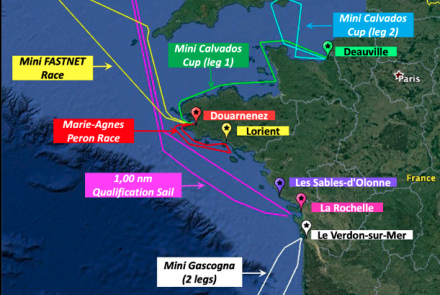 Peter Gibbons-Neff has a solo bluewater mission this year in a sailboat that's unlike the boats his fellow members of the Cruising Club of America sail offshore. Terminal Leave is an RG 650, a Classe Mini 6.50 design, and it stretches all of 21 feet, 4 inches.
The 32-year-old U.S. Marine intelligence officer is transitioning into the Reserves this year and has spent the last several months updating the eight-year-old boat, with major projects ranging from rewiring all the electronics, upgrading the twin rudders, and rebuilding the trailer.
Last month, Gibbons-Neff rolled the boat onto a ship in Baltimore and sent it to Europe where he'll soon meet it to compete in a series of Classe Mini distance races from June through August. If all goes well—including a 1,000-mile solo qualifying voyage—he'll sail Terminal Leave from Les Sables d'Olonnes, France, to Guadeloupe in the Caribbean next fall, completing the biannual 4,050-nautical-mile Mini Transat Race.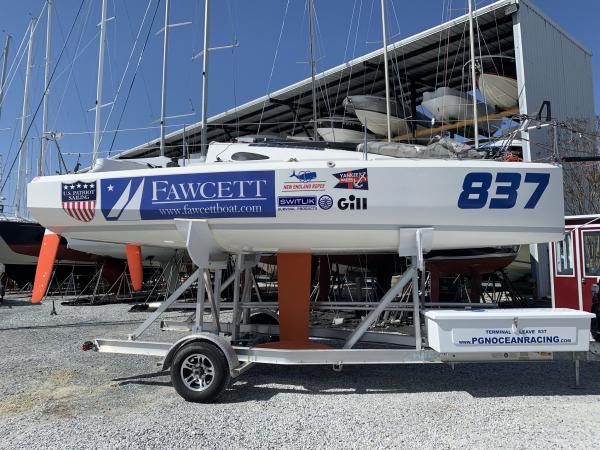 Terminal Leave gets ready for its Transatlantic delivery to France
How fast does a Classe Mini surf? "Even the production boats like mine, without foils, reach speeds in the mid- to high teens," Gibbons-Neff says. "Testing the boat last fall on the Bay, I hit 12 knots, and the boat was very much up under control. The faster is goes, the better it feels. The double rudders help," he adds.
Is a 21-footer safe offshore? "The boats are designed for solo ocean racing," Gibbons-Neff says. "They are made for sailing downwind in the ocean and are loaded with safety features and equipment requirements. They must pass a stability test to ensure they are self-righting, plus a third of the boat's interior is glassed-in foam."
The RG 650 that Gibbons-Neff purchased last year has proven competitive, twice winning the Bermuda One-Two, but he has been preparing it to perform as well as possible while standing up to the rigors of several thousand sea miles in the months ahead. Thanks to his primary sponsor, Fawcett Boat Supplies in Annapolis, and other in-kind sponsors, he has new electronics installed by Yankee Marine, new Harken deck hardware, fresh running rigging from New England Ropes, Switlik safety equipment, and Gill foul weather gear. He has invested in a new set of Quantum sails and will be meeting up with a new mast, boom, and bowsprit in France.

Peter Gibbons-Neff at the helm of his Classe Mini 6.50 Terminal Leave
Gibbons-Neff is an experienced offshore sailor and has raced several Newport Bermuda and Annapolis to Newport races, including skippering a TP52 to Bermuda while a senior at the U.S. Naval Academy.
"I'm very competitive," he says, "but my personal goal is to simply complete the race honorably and finish in Guadeloupe." 
His larger goal is to elevate awareness in the sailing and veterans communities of U.S. Patriot Sailing, a bi-coastal program for which he serves as an ambassador. Operating both in San Diego and Annapolis, Patriot Sailing gives veterans a chance to work and compete together, experiencing camaraderie and a sense of mission from a positive deployment. No previous sailing experience is required.
After deployments to Afghanistan and the Middle East, and multiple duty station moves in between, the most recent assignment at the Pentagon rekindled Gibbons-Neff's love of sailing by joining U.S. Patriot Sailing. The program helped him through an extremely difficult time, he says, including going through a divorce. Now, he's eager to give back.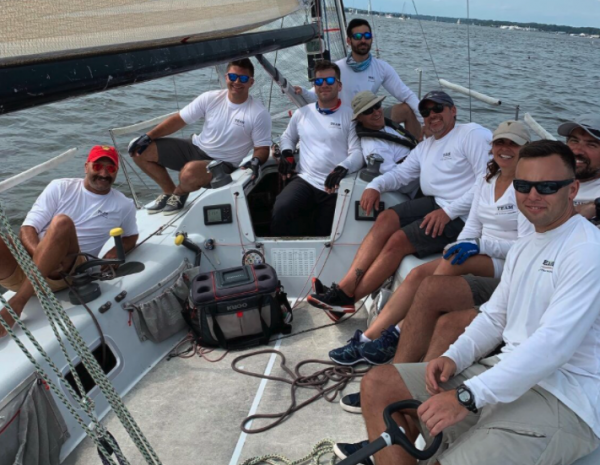 A U.S. Patriot Sailing crew aboard an Annapolis-based Farr 30; Gibbons-Neff at lower right.
The Mini Transat campaign, he says, will also give him time to pause and reflect on his 10 years of military service as well as the opportunity to focus anew on his passion for sailing.
Adding to his own funding and the in-kind sponsorship received for the Terminal Leave campaign, Gibbons-Neff says he has been generously supported by members of the CCA and the Corinthian YC of Philadelphia. The Annapolis Yacht Club Foundation and a number of AYC members have provided significant support. He also credits a Great Clips franchise in Philadelphia for funding support and keeping his hair properly styled!
While Gibbons-Neff says fundraising is "on track," his administrative costs for logistics, travel, and entry fees are mounting up faster than expected. The Suez Canal blockage meant Terminal Leave had to take a ship to Belgium first rather than direct to France. Plus, finding insurance for a US-flagged boat racing in France has been elusive to date.
No doubt there will be several more calms and squalls for PGN Ocean Racing, both ashore and afloat, as the campaign gets underway in France. You can follow Gibbons-Neff's progress and support his program at PGN Ocean Racing or on his social media pages like his Instagram account.
Read more about the Classe Mini.