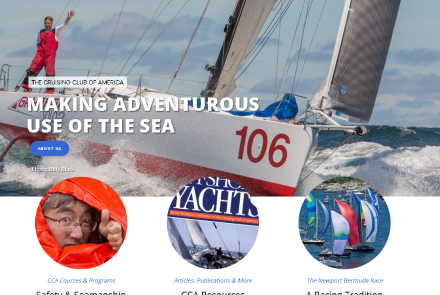 The new and improved CCA website is here, and we hope you find it reflects our values: making adventurous use of the sea, sharing our experiences, and helping our fellow voyagers.
Using a modern layout, a graphics-rich appearance, and a generally "responsive" (good for phones and tablets) structure, the site is designed to appeal to and serve the needs of a broad range of members and friends. The site highlights our recent news, access to courses, and, importantly, a repository of useful articles and advice. Our beautiful and inspiring Voyages magazine is also available online.
For members, with their log-in, the site includes access to their own and other members' directory information, dues and events payments, and access to other club materials.
Our thanks to Bay Design Associates for their work in design and development. And of course special recognition to our members who contributed with their suggestions and encouragement. Please take special note of the photographs contributed by our own Dan Nerney, and by Pam Bacich, Billy Black, Julia Cronin, Dick Enersen, Daniel Forster, Conor McDonnell, Onne van der Wal, and Barbara Watson.