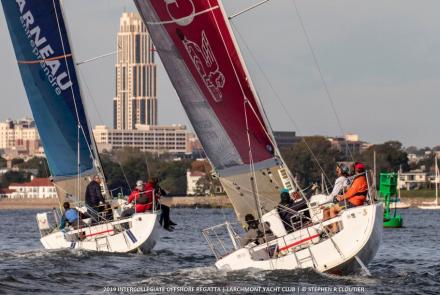 Donations to the Collegiate Offshore Sailing Circuit are placing 33-foot Figaro 2s in the hands of college sailors to build completely different sailing skill sets.
"As presently taught, dinghy sailing doesn't include seamanship," says Rick Burnes, a member of the Cruising Club of America's Boston station. "A lot of college sailors don't know how to navigate or properly cleat a line."
Two-time circumnavigator Rich Wilson, a close friend of Burnes and fellow CCA member, had an idea to change this state of affairs.
Wilson knew that the fully offshore-capable 33-footers in the Figaro racing fleet were being upgraded and through his long association with the shorthanded sailing community in France, he had the connections to acquire some of the older Figaro 2 models. He put down the cash for the first boat and pitched his friend Burnes on buying a second. Burnes had spent some memorable months in France with Wilson, helping him prep for one of his Vendee Globes, and decided to join him.
"The sport needs more tracks to get young sailors into ocean sailing," says Burnes.
"It's a different sport," says Wilson, adding that it's a chance to grow up and develop true leadership capabilities.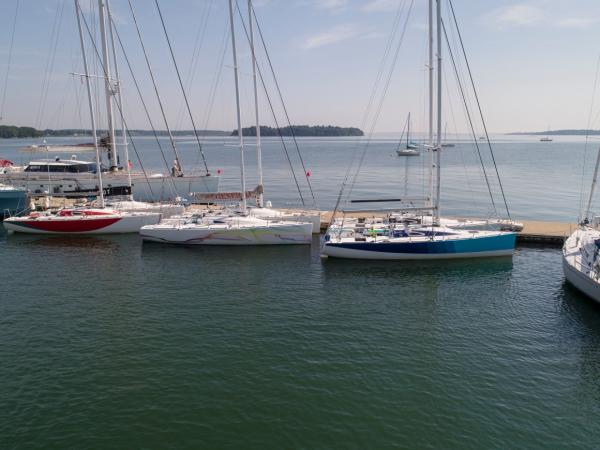 The first six Figaro 2s arrived at Maine Yacht Center in Portland for preparation before delivery to colleges late last year. Billy Black photo
Pitching other CCA and Storm Trysail Club members, Wilson raised enough funds to buy 10 boats, six of which have been delivered to colleges with programs prepared to add offshore sailing to their program and maintain the boats. By late 2019, this vision for the Collegiate Offshore Sailing Circuit, Inc. (COSC) became a reality (see Scuttlebutt's "New Era in College Sailing"), with a first regatta event held on Long Island Sound in October, run by the Storm Trysail Club.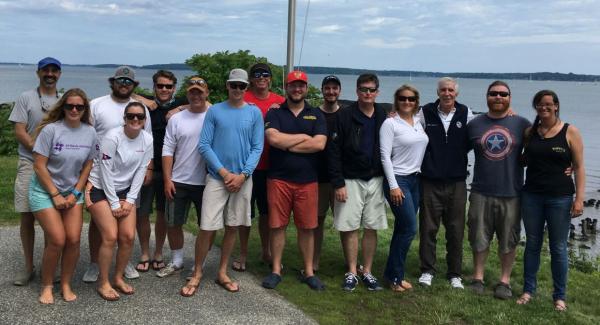 Student crews from six colleges get ready for their first experience aboard donated Figaro 2s in June, 2019; Collegiate Offshore Sailing Circuit organizer and CCA member Rich Wilson is third from right
So far, six boats have joined the program, sailing at four schools:  Webb Institute, Massachusetts Maritime Academy, SUNY Maritime Academy, and US Merchant Marine Academy. Other schools in Maine and Boston have shown strong interest, as have community-sailing programs such as Sail Maine in Portland, which is working on an idea for summer training culminating in competing in the Monhegan Island Race. The community sailing initiative may dovetail with collegiate schedules, allowing for a shorter-term, six-week summer charter for younger sailors while the college sailors are otherwise occupied.
The COVID-19 pandemic has put a damper  on 2020 COSC events, yet Wilson says some boats are still logging offshore time with a single sailor and a coach aboard. When it's safe to do so, he expects teams will return to the concept of having four sailors plus a coach aboard. "Our goal isn't to create solo or doublehanded sailors," he says, "but rather to expand the American pool of offshore capable sailors ."
In keeping with that philosophy, Wilson's plan for COSC trophies is to recognize not only performance but also which team's boat does the most miles multiplied by the number of students aboard. That means training sessions and deliveries count equally with miles raced.
Besides the effort to provide offshore skills training and all the positives that come along with that, Wilson and Burnes see COSC's work with colleges and community programs as an exciting way to build a "bridge beyond the yacht club" for young sailors with less opportunity to get involved in offshore sailing.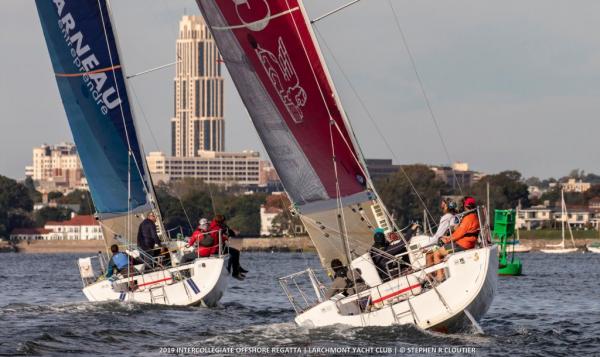 The offshore-capable Figaro2 features double rudders; a pair of boats are shown above racing at the Storm Trysail Club's 2019 Intercollegiate Offshore Regatta. Stephen Cloutier photo
Even with the college circuit of two races each spring and fall temporarily shut down this year, Wilson takes a longer view. He says, "Our best-case scenario may not be much sailing in college racing programs this fall," he says, "But we hope there will be training opportunities. We also keep finding more interest in our concept, and we'll keep expanding on that."
The pandemic isn't slowing Wilson's ambition for the program either, and he's actively making presentations and looking for donors to help expand the fleet from 10 to 20 boats. A tax-deductible donation of $100,000 buys and ships a boat to Portland, Maine for Wilson's team to oversee preparation and deployment at Maine Yacht Center, a well-known preparer of offshore racers. Wilson's organization, Collegiate Offshore Sailing Circuit, Inc., is a 501c(3) non-profit that retains ownership of the boats; colleges, academies and community sailing programs can access boats for a modest sponsorship fee.
Why should CCA members and other offshore sailors consider donating to this program?  Burnes looks beyond the acquisition of offshore sailing skills to the chance to mature, to take responsibility and solve problems with limited resources. "You learn to rely on yourself," he says, "to develop yourself as a leader, and to become someone with capability to contribute to the world."
For those without the means to donate an entire boat, COSC holds an annual fund drive to raise the $7,000 to $10,000 each boat requires for annual maintenance. To learn more about the program or make a donation, see the COSC website or send an email direct to Rich Wilson.
—John Burnham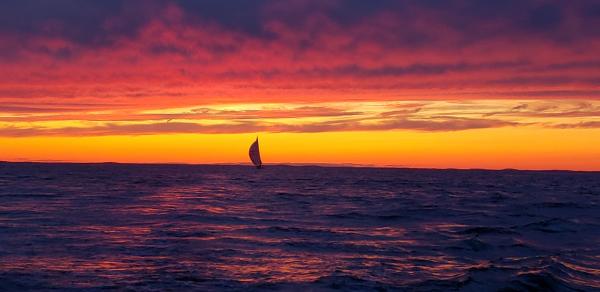 A Webb Institute Figaro 2 sails offshore; teams will not only compete in races but also earn mileage awards for their teams based on training, deliveries, and racing miles.