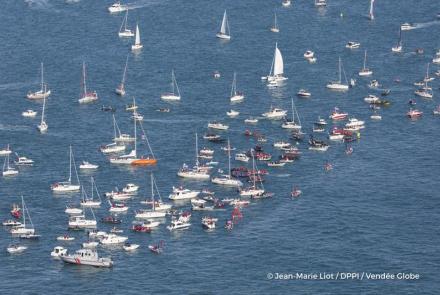 A CCA/NYS Event
If you missed it, click here to view an historic Zoom discussion focusing on why the French dominate shorthanded offshore racing year after year, decade after decade in such events as the round-the-world Vendée Globe, Solitaire du Figaro, and the Mini Transat. How do they do it? The first time in America that the subject has been seriously explored. And learn about the key role that de Gaulle played. 
A conversation between Rich Wilson, two-time Vendée Globe finisher, and Denis Horeau, four-time Race Director of the Vendée Globe and nine-time Race Director of the Solitaire du Figaro.
This year's Vendée Globe - single-handed, non-stop, no assistance, round-the-world - was the most competitive in the race's 32-year history.  After three months and 28,000 miles, the top eight boats finished within 19 hours of one another and the top ten within 35 hours.  The French entrants dominated, as they have from the first edition of this quadrennial, epic ocean marathon.  The race attracts millions of fans, both within and outside France.  How do they do it, race after race, decade after decade?
The evening will feature Denis Horeau discussing "the how" with CCA member Rich Wilson.  M. Horeau will relate the growth and challenges of shorthanded sailing in France from the English OSTAR through Eric Tabarly to President Charles de Gaulle and the Vendée Globe. 
A CCA event crossing burgees with the New York Yacht Club, the Storm Trysail Club, and Larchmont Yacht Club.