The Cruising Club of America's Young Voyager Award for 2022 goes to Cal Currier, a high school student who didn't have a boat or know how to sail when the year began. In January, he decided to sail across the Atlantic Ocean alone and began taking sailing lessons near his home in Palo Alto, California. Accompanied by his father, he also flew to New England and found a modest 30-foot boat.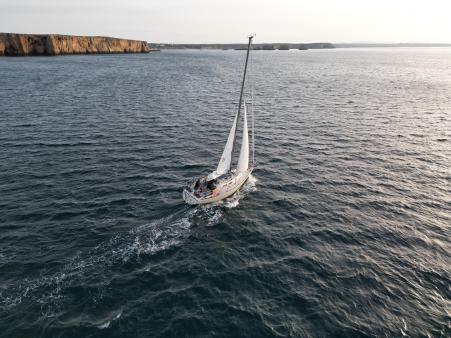 Undaunted by the seeming enormity of the task, Cal methodically worked through countless project lists, and, on June 27, 2022, set out for his first-ever solo sail, a transatlantic, on his 46-year-old sloop called Argo. The passage took 28 days and spanned 3,400 nautical miles, and, at age 16, Cal may have been the youngest person to ever make the west-to-east North Atlantic crossing. But what mattered most to Cal was time spent "in the wild," as an opportunity to grow and to learn from stepping outside one's comfort zone. 
Cal may have sailed alone, but he had enormous support from his tight-knit family and from Sandy Van Zandt, the 90-year-old sailmaker from whom he bought his boat for $12,000. Thanks to Cal's hyper-focused determination and drive, plus a firm foundation of the family's decades of experience, the novice sailor was launched to achieve something many only dream about.
Cal's father, James Currier, had crossed the Atlantic and South Pacific in his 20s; his grandfather had sailed two transatlantics; and his great-grandfather built a boat on which he sailed to the Galapagos and back. Cal's mother grew up in a New England sailing family. Cal may have been new to sailing but his family knew the risks, knew how to evaluate them, and knew how to help him get ready. As they sorted out the many challenges, the father-son project also strengthened Cal's already solid connection with his dad.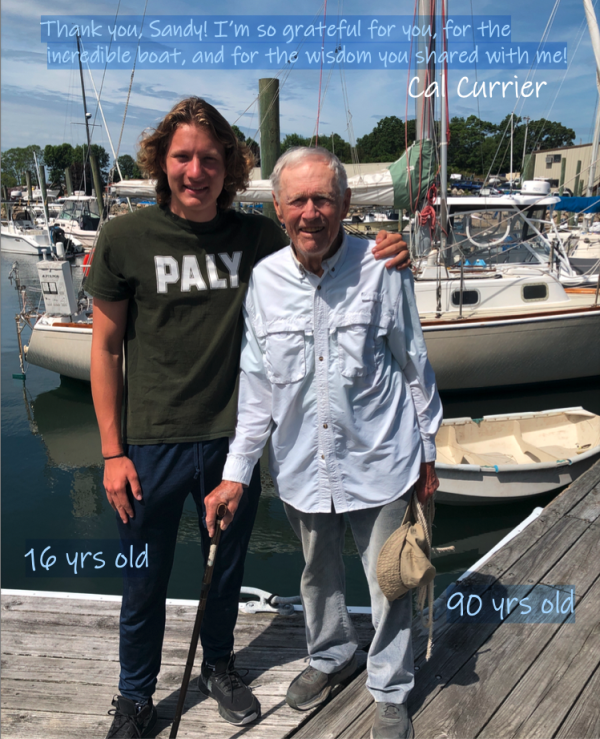 First, Cal and James looked for a "human-size," 23- to 33-foot older boat where everything had been proven to work. One with simple systems, easier to diagnose and fix than a complex web of interconnected electronics. When they first saw Van Zandt's 1976 Tartan 30, she was dirty, cluttered, very much a work in progress. But the other boats were cold and dark, and some hadn't been sailed for years. They came back to Sandy Van Zandt's imperfect but much-loved project boat, which he had been outfitting for the Bermuda 1-2 Race with a taller mast and an intermediate forestay to add a staysail, changing the rig from a sloop to a cutter. The boat also had a set of new-ish sails and a servo-pendulum windvane for self-steering—everything Cal needed. He was thrilled.
More work on Argo was done to get her ready, and sailing with his brother, Cal ventured into some nasty weather to test his heavy-weather skills and experience his first overnight sail. Argo successfully took on the challenging wind and seas, and was soon crammed full of provisions. 
June 27 was Cal's drop-dead deadline to depart to avoid the risk of encountering a hurricane. So on June 27, 2022, Cal sailed off, alone for the first time. He had agreed with his parents that if during the first three days he didn't feel comfortable or just decided it wasn't worth the trouble, he would come back—and they half expected him to do just that. 
So, what happened? After three days, Cal was lonely and bored. But he wasn't afraid, and he decided he could do this for one month. He was eager to achieve his goal. Looking back, he identifies the preparation as a bigger challenge than the passage itself, during which he felt as if he didn't have much to do and even wished he'd had some moments of adrenalin-fueled drama. Alas, or perhaps fortuitously, he had a dream crossing, with winds rarely exceeding 25 knots. He devoured the few books he had and regretted not bringing more. He kept in touch with friends and family via Garmin InReach and Iridium Go. He stopped briefly in the Azores but carried on after 24 hours. He managed to successfully negotiate heavy shipping traffic as he approached Europe and made landfall in Portugal.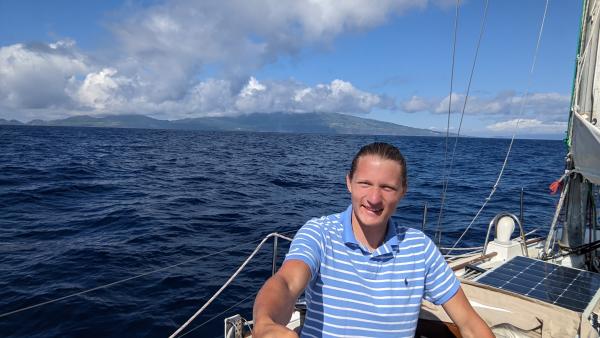 Cal and his father agree that teenagers are meant to push boundaries. They are meant to seek and find adventure, their "time in the wild." Not drugs or alcohol but good, healthy risks. Not going into danger but pushing the envelope to learn and experience more. Cal will tell you that society and your loved ones worry when people break out and do something different. Much of our world has become uncomfortable with risk, and many parents are reluctant to allow their children to venture outside their comfort zone. But going through difficult times is what makes people grow.
Now in his junior year of high school, Cal has joined the school sailing team. As a social creature and an extrovert, single-handed sailing may not suit him, but he thoroughly enjoys the challenge of dinghy sailing. His future plans may include sailing Argo in the Med next summer. But for now, he plans to work on his grades and make some new friends in school—to be a kid. 
—Zdenka Griswold, Boston Station
Sources of more on Cal's voyage we recommend: Cal Currier's TEDx talk and YouTube channel, WKRON interviews, Today Show, Cruising World (Herb McCormick), Out of the Gate Sailing (Benjamin Shaw); Sippican Week (Gillian English), The Wanderer (Mick Colageo)
Recipient Name
Cal Currier