An adventuresome French couple are the 2020 recipients of the Cruising Club of America's top award for younger sailors. Established in 2016, the Young Voyager Award recognizes "a young sailor who has made one or more exceptional voyages." Calypso Romero and Adrien Koller, only in their early 30s, have already made multiple exceptional voyages, taking in challenging high-latitude waters and places seldom visited by bluewater sailors.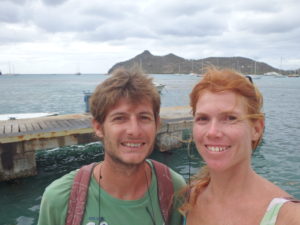 Both Romero and Koller had unusual childhoods: Koller in Senegal and France before embarking on a voyage with his father across the Atlantic and Pacific aboard their 34-foot sloop, and Romero aboard her parents' gaff-rigged wooden boat sailing around the world.
The couple began voyaging together in 2012 after meeting in a captain's certification course. They set off from New Zealand to deliver a friend's Open 50 (a former racing yacht) back home to France. They were fortunate not to have a strict timetable for the delivery as it soon transpired that the yacht was in poor repair.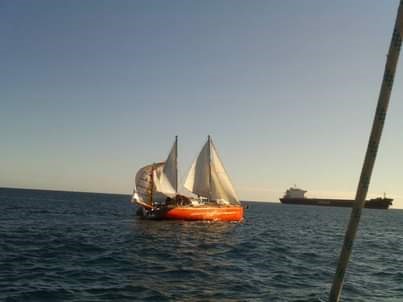 Sailing from the Maldives towards southern Africa, they lost the yacht's 70-foot-tall mast. "The step of the mast on deck was 'peeled off'," says Romero. "The mast fell off with a noisy​ 'craack' and ended up on the starboard side with its carbon-fiber laminate roots in the air." Despite the light wind, a big swell was running, and the mast broke into three pieces when it hit the starboard bilge keel. The pieces of the mast began to punch into the hull, so it was imperative for Romero and Koller to cut it free to prevent damage to the hull.
Two hours later, Romero reports matter-of-factly, "We were making way again downwind, with a windsurf mast fixed in the windlass and the storm jib [hoisted] upside down." They altered course for the British Indian Ocean Territory of Chagos, 300 nautical miles downwind, which they reached five days later. Granted permission to enter the territory to build a better jury rig, they were soon setting off again, with three little masts made of the yacht's seven-meter spinnaker pole and two Hobie Cat masts, with sails cut out of a large genoa.
The couple sailed with this jury rig for an impressive 2400 miles before reaching Mayotte, a French territory in the Mozambique channel between Africa and Madagascar. There they salvaged a 50-foot mast from the beach and adapted it to the Open 50 before rounding the Cape of Good Hope and sailing to France via South America, the Azores, and Gibraltar.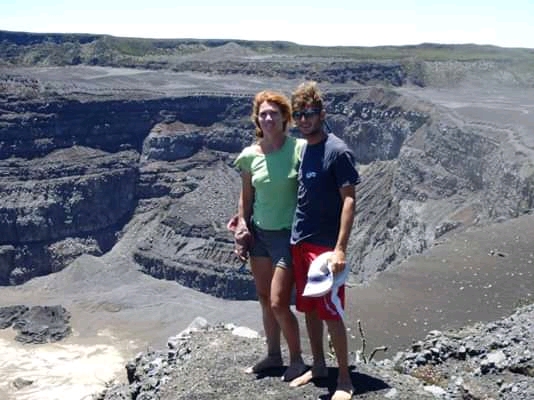 Upon reaching France, Koller and Romero bought their own boat, a 37-foot Jeanneau ketch they named ​Jalan​, which they sailed to Argentina. In Tierra del Fuego, they were offered the chance to voyage to Antarctica, albeit on two separate boats, as there was only room for one of them on each vessel. Koller sailed aboard a friend's 40-foot aluminum sloop and Romero, aboard a 70-foot aluminum charter yacht. "It was an amazing voyage to a magic world, where I had never thought to go to..." says Romero.
Upon their return to Ushuaia, they sailed ​Jalan ​north up the Chilean coast, a challenging voyage against the wind in narrow channels which they nonetheless undertook almost entirely without the aid of their old engine. They then crossed the Pacific to Easter Island and Tahiti. During their time in French Polynesia, they were offered jobs aboard Spirit of Sydney​, a 60-foot aluminum former BOC Challenge yacht converted for chartering in Antarctica. They worked as captain (Romero) and first mate (Koller) aboard her in the southern summers of 2018 and 2019.
Before the 2019 charter season, they sold ​Jalan i​n Tahiti, planning to purchase a larger yacht in France. In May 2020, they found ​Keanui,​ a 50-foot aluminum sloop that had been abandoned for many years. Koller and Romero refitted her entirely by themselves, converting the flush deck to a cabin with coach roof, building a sugar scoop on the transom, and installing solar panels and a wind generator. Romero says they still have a lot of work to do to the interior, "but we already live on board and she sails nicely! We are looking forward to going back to the Pacific and sailing to remote places." At the time of writing (December 2020), the couple had made their way from France to Las Palmas, in the Canary Islands.
By Ellen Massey Leonard
Recipient Name
Calypso Romero and Adrien Koller