An adventuresome French couple are the 2020 recipients of the Cruising Club of America's top award for younger sailors. Established in 2016, the Young Voyager Award recognizes "a young sailor who has made one or more exceptional voyages." Calypso Romero and Adrien Kollar, only in their early 30s, have already made multiple exceptional voyages, taking in challenging high latitude waters and places seldom visited by bluewater sailors. They have also shown remarkable resourcefulness, particularly when they were dismasted in the Indian Ocean.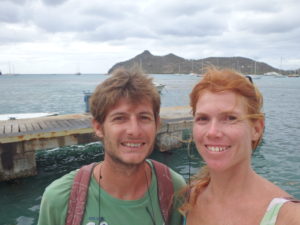 Calypso Romero had an almost storybook childhood, growing up aboard her parents' 26-foot gaff-rigged wooden boat. Born in a small town in Australia's Northern Territory, Calypso was brought aboard the family's floating home at only four days old. A few years later, on the French Indian Ocean island of Reunion, her parents built a bigger boat - 40 feet - in cold-molded wood but still with a gaff rig. Sailing by way of South Africa and Panama, the family reached New Caledonia, a French territory in the western South Pacific, by the time Calypso was 16 years old. There she began sailing on more modern boats and taking part in races.
Adrien Kollar also had an adventuresome childhood, albeit not involved with sailing. Growing up between Senegal and France, he was keenly interested in mechanics and motorsports until he discovered the sea at age 20. He and his father purchased a 34-foot sloop and voyaged together for three years from France to New Caledonia via the Caribbean, Panama, and many of the South Pacific islands. From then on, he's been hooked on sailing and the sea.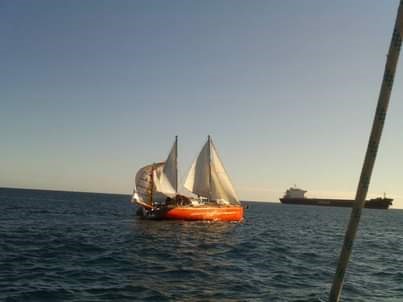 The couple began voyaging together in 2012 after meeting in a captain's certification course in New Caledonia. They set off from New Zealand aboard an Open 50 former racing yacht whose owner, a friend of Adrien's, wanted it delivered back home to France, but not in any constrained time frame. Calypso and Adrien were thus able to visit places off the beaten track en route, including the Solomon Islands, Sri Lanka, and the Maldives. Unfortunately the yacht was not in good repair, so that the couple's voyage soon turned even more adventurous than desired. Sailing from the Maldives to the Mascarene Islands west of Madagascar, they lost the yacht's 70-foot-tall mast.
"The step of the mast on deck was 'peeled off'," says Calypso. "The mast fell off with a noisy 'craack' and ended up on the starboard side with its carbon fiber laminate roots in the air." Despite the light wind, a big swell was running and the mast broke into three pieces when it hit the starboard bilge keel. The pieces of the mast then began to punch into the hull so that it was imperative for Calypso and Adrien to cut it free to prevent damage to the hull. They were able to save the boom, staysail, and many lines.
Two hours later, Calypso reports matter-of-factly, "we were making way again downwind, with a windsurf mast fixed in the windlass and the storm jib [hoisted] upside down." They altered course for the British Indian Ocean Territory of Chagos, 300 nautical miles downwind, which they reached five days later. Granted permission to enter the territory to effect a better jury rig, they were soon setting off into the open ocean again, this time with three little masts made of the yacht's seven-meter spinnaker pole and two Hobie Cat masts with sails cut out of a large genoa. It's a testament to the couple's resourcefulness that they constructed this jury rig in only three days.
The lightweight Open 50 made between three and five knots with this rig throughout the nearly 1000-nautical-mile passage to Rodrigues, an island surrounded by shallow coral reefs where Adrien and Calypso hoped to find a wreck with a mast they could salvage as a more permanent replacement. Unsuccessful in their search, they continued on under jury rig to Mauritius, Reunion Island, and then Mayotte, a French territory in the Mozambique Channel between Madagascar and Africa. There they found both a 50-foot-tall mast to salvage and jobs for the following ten months. While working for a ferry company (Adrien) and on a dive charter (Calypso), they adapted the salvaged mast for the Open 50. In June 2014, they got underway again, calling in Tanzania, Madagascar, and the Comoros Islands before rounding the Cape of Good Hope. Crossing the Atlantic from southeast to northwest, they called at the British islands of St Helena and Ascension and the Brazilian islands of Fernando de Noronha before reaching South America in French Guiana. They completed the voyage to France via the Caribbean, Azores, and Gibraltar.
While in French Guiana, they had made a deal with the owner of two dilapidated sailboats to refit the larger one in exchange for keeping the smaller. They were able to sell the smaller one, giving them the means to buy a 37-foot Jeanneau ketch, which they named Jalan, upon their return to France. Thus in 2016 they set sail aboard their own boat, bound for Tierra del Fuego via the Canary Islands, Cape Verde Islands, Brazil, and Argentina. As they got further south, they found that their ketch was ill-prepared for the cold, having little insulation, an inefficient heater, and being without the capability of receiving weather forecasts. So when they were offered the chance to voyage to Antarctica aboard two better equipped boats in Ushuaia, they jumped at it. As there was only room for one of them on each boat, Adrien sailed aboard a friend's 40-foot aluminum sloop and Calypso aboard a 70-foot aluminum charter yacht. "It was an amazing voyage to a magic world, where I had never thought to go to…" Calypso wrote of the experience.
Upon their return to Ushuaia, they reunited with Jalan and sailed north up the Patagonian channels. "It took us two months to get to Chiloe Island," Calypso reported, "all sailing against the wind, saving the old engine. It was tough; we had to tack every 15 minutes. But every evening we could stop in a nice anchorage in the many caletas along the way."
By 2018, Adrien and Calypso were sailing across the Pacific, from Valdivia, Chile to Juan Fernandez (sometimes called Robinson Crusoe Island), Easter Island, and French Polynesia. Meanwhile they were offered jobs aboard Spirit of Sydney, a 60-foot aluminum former BOC Challenge yacht converted for chartering in Antarctica. They worked as captain (Calypso) and first mate (Adrien) aboard her in the southern summers of 2018 and 2019.
Before the 2019 charter season, they sold Jalan in Tahiti, planning to purchase a larger boat in France. In May 2020 they found Keanui, a 50-foot aluminum yacht that had been abandoned for many years. Adrien and Calypso refitted the boat entirely by themselves. Their projects have included converting the flush deck to a cabin with coach roof, building a sugar scoop on the transom, and installing solar panels and a wind generator. Calypso says they still have a lot of work to do to the interior, "but we already live on board and she sails nicely! We are looking forward to going back to the Pacific and sailing to remote places." At the time of writing (February 2020), the couple had made their way from France to Las Palmas, in the Canary Islands.
© Ellen Massey Leonard, 2021, all rights reserved.