Newfoundland Cruise Report May 17, 2021:  The Long, Long Winding Roads Back to Trinity Bay
As we all have hunkered down through Covid times dreaming of our cruising borders reopening, your CCA/RNYC Cruise Committee reached out to Sailonline.org in Sweden last winter to suggest using their real time weather/speed polar virtual wind navigation simulator to practice North Atlantic delivery routing to our 2021 (postponed to 2022) Cruise in Concert rendezvous in Clarenville, Trinity Bay Newfoundland with our friends from the Royal Newfoundland YC  
This idea gained rapid traction with the crew of SOL, and Michael Moradzadeh and Bill Bowers worked with them to develop modified cruising speed polars for the Passport 40 and the S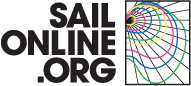 anta Cruz 52 featuring ability to motorsail in light air, prudently reef in heavier air, use drogues in gales, and anchor in shelter to dodge the worst gnarlies.  Participation in SOL virtual sailing is free, and the weather predictor control allows simple route building and editing by advancing the vessel along sequential legs on the chart based on speed polars and wind using delayed commands to fine tune timing of each course change as the real weather develops.  No need to even stay logged into the server.
Leg 1 of the Virtual CCA/RNYC 2021 cruise was a 360 nm delivery from the Cape Cod Canal to Halifax, starting any time after Feb 6, 2021 to arrive no later than Mar 4.  The fastest passage was 1 day, 2:24:39, made by the Santa Cruise 52 Renegade, who waited until 23:30 on Feb 24 to depart on a favorable frontal passage, sailing 374.5 nm.  The longest passage was 4,131 nm in 22.2 days sailed by the Santa Cruise 52 Mark7727, who took time to smell the flowers and visit as many "Saints" as he could.  147 sailors from around the world finished Leg 1 in Halifax, including 6 CCA members & crew.
After giving cruisers at least 2 days in Halifax to reprovision, Leg 2N departed any time after Mar 6, leaving Newfoundland to starboard.  This featured a chance to stop and see L'Anse aux Meadows, the Viking site, and grab a hot shower at the Fogo Inn, sailing 863 nm to Clarenville no later than April 5 for the rendezvous with the RNYC.  The fastest North-about passage was made by the Santa Cruise 52 Pit8008 who waited for a favorable weather window on Mar 28 to depart, sailing 880 nm in 3 days, 1:00:03.  Saintly Mark7727 again won the cruising distance award sailing 2,890 nm in 21.9 days before finishing in Clarenville.   79 vessels, including 2 CCA stalwarts, arrived in Clarenville by passaging around the North Cape in time for the pig roast.
For those wanting the option to visit South coast outports and fjords, and to enjoy the French delights of St Pierre while passaging East, Leg 2S departed Halifax on Mar 10. The fastest South-about passage was made by the Santa Cruise 52 Robmom, who departed Halifax at 13:45 Mar 11 and  sailed 599.1 nm in 2 days, 2:24:26.  The 2S distance podium went to SC52 Taffarazzi, who sailed 1,469.4 nm in 23.2 days.  83 sailors including yours truly finished Leg 2S in Clarenville.
Overall for the virtual Eastbound delivery passages, 93 including 4 CCA sailed one leg, 39 including 1 CCA sailed 2 legs, and 49 including 1 CCA sailed all 3 legs, for a total of 181 worldwide.
In terms of cruising mettle, our new friend Mark7727 has done a virtual horizon job on us all!!  Thanks to editor Doug Bruce, I am delighted to announce Mark7727 will be receiving a complementary copy of CCA Publishing's new greatly updated  The Cruising Guide to Newfoundland!
Based on the interest and participation of sailors around the world in these Eastbound delivery virtual voyages, SOL asked if CCA might suggest another quarterly virtual delivery passage.   Anticipating the new CCA Viking Route Cruising Guide, and the fact that several of our CCA vessels in Europe hope to return and join our In Real Life Newfoundland Cruise in 2022, we are pleased to announce the CCA/SOL Vinland Rally, following the path of Erik the Red and his son Lief Erikson from Iceland to Newfoundland.  This Westbound virtual passage will again sail in either the Passport Cruise 40 or the Santa Cruise 52, and will depart from Reykjavik Iceland any time after May 20, 2021, rounding marks in Tasillaq and Nanortalik Greenland, Cartwright Harbour in The Labrador, and finishing by June 26 in L'Anse aux Meadows Newfoundland.
Wishing all fair winds and following seas and ample vaccine at last,
Bill Bowers, CoChair CCA/RNYC Newfoundland Cruise Committee