Electronic Emergency Visual Signals: Replace Flares?
An example of the new technology.
In recent years, the US Coast Guard has, in response to comments from recreational mariners and professional mariners attempted to address the complex issues of required Day and Night Signals.
Current rules for recreational boaters require a Day Signal for vessels over 16' and Night Signal for vessels over 16'.  These can be one and the same, or each element of the requirement can be addressed with different solutions.
The "go to" solution has been flares.
Hand flares and/or aerial flares have been the common on board "go to" item for boaters. These pyrotechnic devices are dirty to manufacture, have expiration dates once they are produced, challenging to use and difficult to dispose once expired.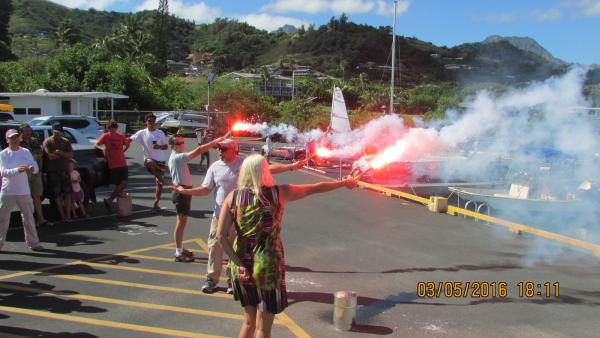 All of these significant challenges are understood by those at the USCG who write the rules for carriage requirements.
NOTE: There are products that can be carried on recreational marine vessels in the US in lieu of flares.  These have all been LED flashing lights that signal SOS – must float, must be able to operate 8 hours with battery power and are dedicated SOS Signaling devices.  The weaknesses these devices pose have been described as:
The LED lights cannot be seen by the InfraRed night vision goggles worn by USCG pilots and copilots. 

The white flashing lights were challenging to see with city lights in the background.
The USCG regulators did a survey of Search and Rescue (SAR) agencies, professionals and those engaged in selling and servicing marine safety equipment to understand the actual value of flares in the total picture of SAR rescues.  Surprisingly, the Coast Guard found that very few emergencies were resolved with flares as the first point of communication of a distress event.  Flares were, however, used in numerous SAR events to locate a vessel/person in distress.
The challenge has been to develop products that were affordable, easy to deploy, clean to use and would attract the attention of Search and Rescue.
The USCG invested money in research to develop a standard for non-pyrotechnic solutions to signaling.  Solutions ranged from Personal Locator Beacons, to two-way communicators to lasers to lighting devices.  https://ohsonline.com/articles/2018/07/16/uscg-researching-led-devices-to-replace-distress-flares.aspx
The process was to develop technology that would be affordable, easy and safe to deploy and would work similarly to how flares were being used in SAR events.
The solution was agreed upon and the USCG went to the International Body that develops standards for marine electronic devices to write the new standard.  The Radio Technology Commission for Maritime Standards (RTCM) produced the standard and now products are available meeting that standard.  The standard is for electronic Visual Distress Signal Devices. (eVDSD)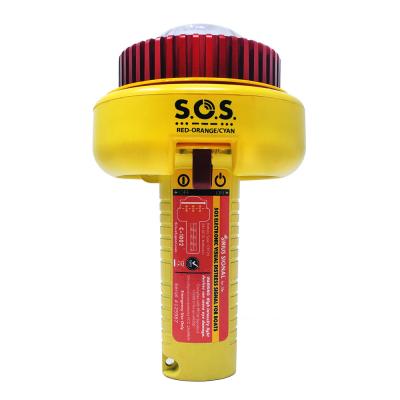 These lights produce multi colored flashing lights – and a light that is visible to IR night vision goggles.  They are sophisticated products that are significantly different from those white SOS lights.  They look significantly different when are seen. They meet both USCG recreational vessel Day and Night signal requirements.  They also are more costly.  Some are manufactured to integrate a Bluetooth signal that can be interfaced to a virtual float plan that notifies others of your status.
These are not just flashing lights!
Currently – the products that are available to the market – meeting the new standard are somewhat limited. 
Manufacturers include
Reviews:
I have no affiliation with either manufacturer. 
I am impressed by the features of each device. 
I was able to interview the co-pilot and Flight Engineer of the helicopter that rescued an injured crew off the sail boat I regularly crew aboard, I was surprised to learn they never saw the mast head lights, deck lights or strobe lights – all on during the rescue.  They were all LED lights!
Knowing full well of the issues faced by USCG helicopter air crews in locating vessels in distress, these units produce a light signal that is can be picked up by crews wearing their IR night vision goggles.  This is a significant advantage for boaters!
Bruce Brown
Safety Officer- SoCA Station