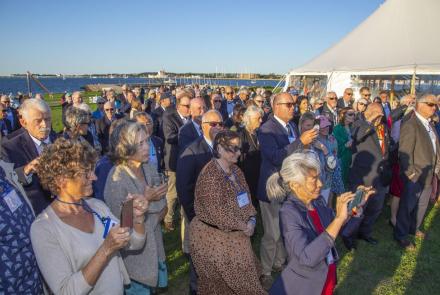 Chris Otorowski, Commodore
Over 400 members and spouses converged on Newport, R.I., and took over the Newport Harbor Hotel and its marina last September. It was great fun, with some education and meetings sprinkled in every day.
It took a small army of volunteers to make the Centennial the success that it became.
Thanks to Brin and Joy Ford, Dennis and Verity Powers and Mindy Gunther for their solid efforts, along with their 20+ committee members, for pulling off the Fall Meeting portion of the week so splendidly.
Thanks to Karyn James and Steve James as Awards Chair, who put together a great program on heavy weather with past Blue Water Medal winners and other awardees.
I had a great event co-chair in Shawn Otorowski for the Centennial and there were many others who contributed time and energy to the event and their help was vital and much appreciated.
The final Centennial Program can be found  here.
Opening cocktail party at Newport Harbor Hotel. All photos by Dan Nerney
Keynote Speaker Sir Robin Knox Johnston
A major highlight was having Sir Robin Knox Johnston as our Monday dinner keynote speaker.
Sir Robin Knox Johnson
Sir Robin enjoyed his part of the Centennial and wants to join us in our being planned Scotland Cruise in 2025. One amazing sailor. I met Sir Robin in Bermuda when the Bermuda Race was in progress. He was there because his ongoing event, the Round the World Clipper Race, was at its Bermuda stopover. I asked Sir Robin if he would come to our Centennial and be our keynote speaker. He agreed on the spot, to join us since our celebration fit just between two regattas he was involved in back in the UK. A wonderful addition to our celebration.
We welcomed several prominent commodores at the Centennial: James Neville of RORC; David Beattie of the Irish Cruising Club; Moya Cahill of Royal Newfoundland YC; Vice Commodore Tim
Trafford of the Royal Cruising Club; Paul Zabetakis Commodore and Clare
Harrington Rear Commodore of NYYC.
Thanks to Keith Yeoman of Yeoman Yachts for his sponsorship of this excellent dinner.
Heavy Weather Sailing Panel
Our heavy weather panelists of Steve Brown, Rich Wilson, Jean Luc Van Den Heede and Randall Reeves gave a great presentation on stage at the Jane Pickens Theater and the Rev Bob Shepton gave us a wonderful speech at lunch with accompanying slide show. Eric Forsyth sailed Fiona into the marina and joined us.