Christian Charalambous, of Sydney, Australia is awarded the Rod Stephen Trophy for Outstanding Seamanship for his heroic actions after the yacht Showtime inverted upon the loss of its keel, at night, in a very rough Tasman Sea. Christian has shared a first-person account of his experience.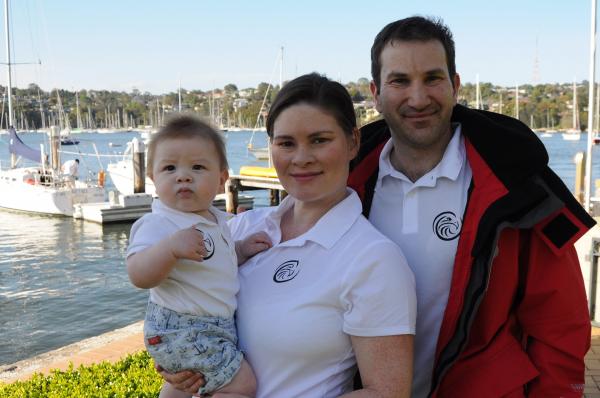 Charalambous signed on as crew for the return delivery of ShowTime, a 40-foot glass-fiber sloop, from Hobart to Sydney following the 2019 race to Hobart. Until that time, the crew and the boat were unknown to Charalambous. 
The voyage north was typically rough and included crossing the Bass Straits with poor visibility in smoke from raging forest fires in southern Australia. In pitch blackness, around 0200, the boat rolled over completely due to the loss of the keel. With some difficulty, the entire crew swam out from under the boat: Christian was first, and he banged on the hull to signal the skipper and two other crew inside that he had made it to the surface. The cold water and the pounding boat made for a critically dangerous situation, and to make matters worse, the life raft had been tied into the cockpit intertwined with jerry cans to keep all from shifting.
After some time, when it became apparent that the crew could not hang onto the boat, Charalambous did "one of the bravest things I've ever seen," said the skipper, Rob Buchanan. Charalambous removed his life jacket, dove under the boat, and with knife in one hand cut through the lines securing the raft while holding onto the boat with the other, gasping for air each time the pounding boat lifted him free of the water. This was a desperate situation described by Buchanan as "the boat trying to kill everybody as it was banging around and we were holding onto it."
Because of his bravery, his quick thinking, and his ability to successfully retrieve the life-saving raft in extremely difficult and dangerous conditions, thereby saving the entire crew, Christian Charalambous is awarded the Rod Stephens Trophy for Outstanding Seamanship. 
The Cruising Club of America (CCA) annually awards this Rod Stephens Trophy for Outstanding Seamanship to a sailor(s) "for an act of seamanship which significantly contributes to the safety of a yacht, or one or more individuals at sea.
Recipient Name
Christian Charalambous