Showtime's Last Delivery
A recount from Christian Charalambous, recipient of 2020 Rod Stephens Seamanship Trophy
The Boat:
Showtime, a Ker40
Timeline
2 January, 2020, 9:30 a.m. - Departure from Hobart for the Bass Strait
3 January, 2020 - Bass Strait
4 January, 2020 - Bass Strait to Batemans Bay
5 January, 2020 - Batemans Bay and Rescue
Showtime capsized at approximately 2:30 a.m. on January 5. We were rescued at 5:30 a.m. the same day.
2 January, 2020: Hobart Departure to Bass Strait
It was four in the morning when my alarm went off. I was already awake and stifled it quickly. I always seem to wake up before my alarm goes off when I have an early start. I think I just get anxious, especially if I'm going to fly somewhere, and that day I was headed from my home in Sydney to Tasmania. I hopped out of bed, trying unsuccessfully not to wake my wife, grabbed my gear, and jumped into an Uber to the airport.
I arrived at Kings Pier Marina in Hobart and, after a bit of mucking around, found my boat, Showtime. It looked fast. Very sporty with dual steering wheels, coffee-grinder winch, carbon-fibre spars, and a wide transom. I introduced myself to some crew, although I was unsure of who to talk to. I felt a little out of place, not quite welcome, and a bit nervous about rubbing shoulders with this level of experienced sailors. The skipper soon arrived, introduced me to everyone, and after a safety talk, we set off.
3 January, 2020: Bass Strait
Crossing Bass Strait was tough work. The wind and sea swell were coming directly from the north, which meant that there wasn't any sailing to be done. Instead, we were motoring straight into it with the mainsail up. It was a long, drawn-out day, the boat constantly pounding into the seas. We switched on the autopilot and settled in for the ride. With all the pounding from the waves, however, things started to break. Bolts began to come out of the keel-box below, and then the autopilot failed.
In addition, the jerrycans, which were tied to the life-raft in the cockpit, started to work themselves loose. I helped to refasten them. Little did I know it then, but familiarity with how the life-raft was lashed down would be essential for me later on.
4 January, 2020: Bass Strait to Batemans Bay
The wind swung from a northerly to a southerly. As the day progressed, the winds and seas continued to build and grow stronger. We had our headsail up along with a single-reefed main. The skies darkened from all the bushfires burning near the coast. Everything had a yellow glow to it and ash was everywhere.
Australia was on fire. The 2019–20 bushfire season became colloquially known as the "Black Summer." The fires burned an estimated 19.6 million hectares, destroyed over 5900 buildings, and killed at least 34 people. They were so big that they created their own weather systems, which impacted us severely.
The seas started getting confused with the swing in wind direction. The waves became somewhat unpredictable and more intense. I remember the bow dipping into the water while I was helming, and on one occasion, a foot of water going over the cabin top and straight into me. That's a foot of solid water.
Steering the vessel was challenging. The waves built behind the boat, picked it up and launched it forward, surfing as we came down to the bottom of the trough. Holding a straight course felt nearly impossible. I recall the skipper saying at the time that he only trusted three people to steer the boat, and I was one of them. I was surprised, because I considered myself to be less experienced than most of the crew on board.
As conditions deteriorated, I could barely keep my eyes open from all the ash flying around. I had to keep one eye closed when ash flew into it and rely on the other one. Then ash started filling that eye and I had to painfully squint, swapping eyes to use the one that was hurting the least. At 5:30 p.m., it was almost pitch black because of the ash. All you could do was watch the true wind direction indicator and feel the boat moving and turning, since you couldn't see anything.
It was rough sailing. Accidental jibes would occasionally lay the boat over onto its side for minutes at a time until we could get it going downwind again. It was frightening.
I found out later that other boats were not faring as well as us. Gun Runner was dismasted when it was hit by a 50-knot gust. When they tried to get to shore, they were turned away because the coast was on fire and had to keep going until they eventually found a safe harbour.
5 January, 2020: Batemans Bay and the Capsize
I was down below in my bunk, wedged between the bunk and the fiberglass hull in a sort of "V" shape. I had no idea what time it was or how quickly time was passing. I could feel the boat flexing all around me as we pierced through the waves.
Then I felt something different. The boat quickly but gently rolled onto its side. It only took about two or three seconds before I heard a bang. It was the sound of my hand and foot darting across the bunk to brace myself against the bulkhead. I reacted so quickly that my brain registered the noise before the movement.
Another few seconds passed before the boat turned completely upside down. I was trapped under my bunk. I knew that I was in trouble. I heard screaming and people being thrown around. With the boat capsized, the bunk, which was on hinges, had collapsed onto me and pinned me down. I had to get out of there.
I was in the worst possible part of the boat, on the starboard side in the stern, upside down and facing the wrong way in a narrow space. I don't know how it could have been possible, but I somehow managed to wrangle my body around and shot out into the main cabin area, just in the nick of time. Seconds later, water flooded the space where I had been.
My mind was racing. It felt like I was having a new thought every second. I found my feet in the main cabin area and focused on working the problem. My brain kicked into overdrive as I took in my surroundings, looking for things that could kill me and thinking through possible actions I could take if those scenarios eventuated.
There were four of us inside and the water was rushing in quickly.
I felt the boat lurch as a wave took it. There were all sorts of things floating around me—clothing, bags, sails, food, you name it. When the boat lurched, it knocked me off my feet. A vortex of water grabbed me, the crew, and all the stuff in the water and threw us around inside the boat.
We couldn't call for help on the radio because the aerial was under water, so we activated the EPIRB.
I found a life jacket and my PLB and put them on. The water didn't seem like it was going to stop coming in. We decided that we needed to escape from the cabin.
It was clear to me that no one wanted to go first, the uncertainty of making it out clearly being a big factor in everyone's mind. I volunteered to be the first to try, took a deep breath, grabbed a line, and down I went.
My next memory is being on the surface, alongside the boat. I had made it and still had the halyard in my hand, though the journey from the cabin to the surface is a blank in my mind. As I had promised the rest of the crew, I turned to face the boat, pulled my hand back, and hit the side of the boat as hard as I could. I heard a strong thud, but a "click" sound as well. It was my wedding ring. I was glad that I still had it with me.
I struck the boat once, twice, three times, but when I went for my fourth, the boat was gone. I looked up and saw a silhouette of the boat above me. At the same time, I felt a surge of water come from behind me and push me back underneath the boat, which came crashing down on top of me, pushing me under the water again.
I managed to get myself back to the surface and saw other people, alive and outside of the boat. We identified ourselves. One by one, everyone else from inside the cabin came up. We were all together again.
I made my way to the stern to investigate the life-raft situation. Because of the sea state, the transom was banging around in the water. As a result, reaching the life-raft seemed impossible. We tried climbing onto the boat, but the waves kept plucking us off and we just couldn't hold on. I felt myself shivering from being so cold. We were running out of options and we needed to get out of the water.
I told the skipper that I was going to get the life-raft and handed him my life jacket. He gave me his knife. As the transom skyrocketed into the air, I swam under the lifelines and grabbed the life-raft. While I held on, the boat pulled me out of the water and then slammed down on top of me, pushing me under again. It threw me around again and again, as if I were a rag doll. I was careful to breathe only when I was being pulled up. It was hard to keep my balance, since I was holding the raft in one hand and the knife in the other.
When I was drawn out of the water, I had to feel around for the cords with the hand that was holding the knife without letting go of the knife. I found one and started cutting.  It took a few goes, because every cycle I'd have to find the cord again. I could only cut a little bit at a time.
Eventually I cut all the way through and gave the life raft a big heave. It didn't budge. This meant I'd have to find more cords to cut. I felt as if I had reached my limit, that I couldn't keep going much longer. But I had to keep going. Failure wasn't an option.
I started feeling around again to find what else I could cut. I had a lot of trouble finding something. I was also trying hard not to stab myself with the knife, since each time I'd plunge into the water it was with immense force.
I couldn't find any more cords to cut on the life-raft case, so I started cutting away at the jerrycan cords. I was no longer as precise as when I had cut the life raft. I had a sense of urgency, aware that every moment that I spent under there could be my last. I slashed away at whatever I could find, until eventually I heard someone say: "The life-raft is free."
I looked up, and sure enough it had moved. I hadn't noticed because I was concentrating so hard on cutting the lines. I gave the life raft a big pull, and to my relief it slid out of its cradle. I pushed myself out from underneath the boat, life-raft in one hand, knife in the other. "Here's the knife," I said to the skipper, returning it to him. I passed him the life raft and he gave me back my life jacket.
The life-raft was deployed. It was a beautiful sight. I felt like I had hope again, and that I just might make it through this. Then it started to drift away as it rapidly inflated and I hurriedly started swimming after it. Once I was inside, a crewmate and I started pulling everyone else in. Some crew were easy to lift in, but others, clearly exhausted, didn't have much energy left and I had to pull as hard as I could.
5 January, 2020 - In the Life Raft
We all made it into the raft. I got so cold that people had to huddle around me to keep me warm. I was the only one that didn't have any warm gear on. Then someone peeked under the rain cover and said that they saw a boat. Sure enough, lights were coming toward us and I knew that we would be OK. I did not know it at the time, but there was a helicopter overhead, watching us and guiding the police boat to our location.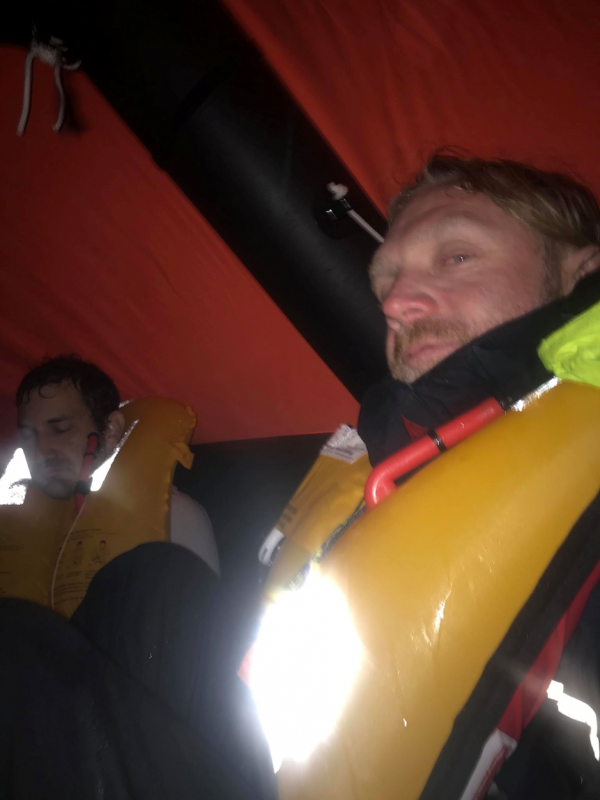 6 January, 2020 - The Days Following
The Australian Financial Review, Scuttlebutt  and MySailing were among the publications that ran stories about the sinking. Some news articles mentioned me by name. I was honoured by this account by our skipper in Scuttlebutt:
"According to Rob Buchanan, who had navigated the boat in the race, their survival was in part due to one crew member 'doing one of the bravest things I've ever seen.' After the crew dived out from under the sinking boat, their life jackets prevented them from going back under to retrieve a life raft.
"Christian Charalambous took off his jacket to head back under and get the raft. 'The boat was trying to kill everybody as it was banging around and we were holding onto it,' said Buchanan, who was skippering the delivery. One crew member was knocked out by the boat."
What a kind and nice thing to say. It is something that I will always remember and be grateful for.
I found out later that when the emergency beacons went off and the Australian Maritime Safety Authority picked up our signal, they mobilised seven vessels and two aircraft to find us. Three were navy ships, one a police rescue boat, and two helicopters. A helicopter apparently found us first. The timing is unclear to me, but they might have found us early on as we were getting into the life raft (although we didn't see it). They stayed with us and guided the police boat to our location. I also learned that because of the bushfires, emergency services were already close to our location, which is why they were able to get to us so quickly. I am so grateful to these people for the role they played in saving my life.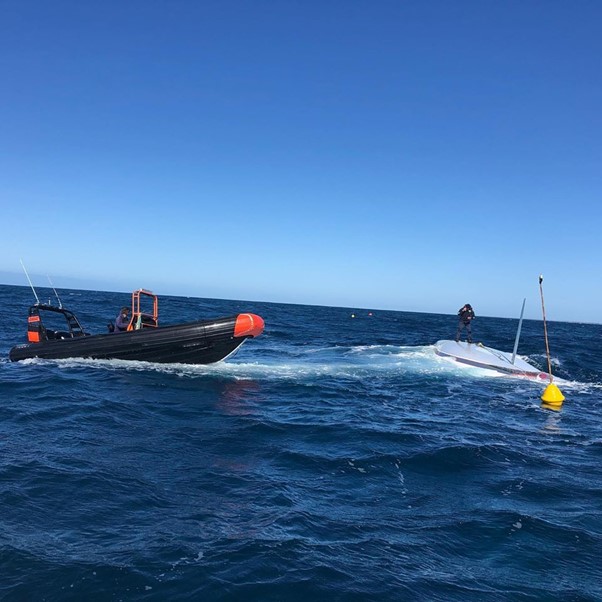 The Months Following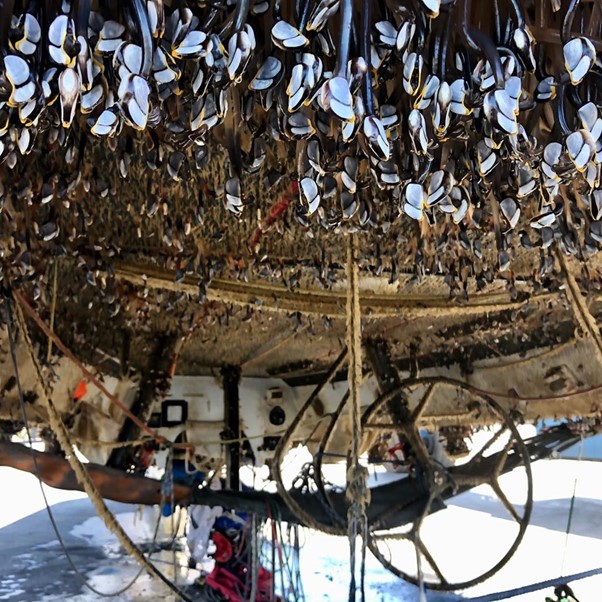 There was a lot of conjecture about what happened to the boat and whether the accident could have been avoided. The biggest question was, what actually failed and why? Perhaps we will never really know. The important thing is that we all made it out alive.