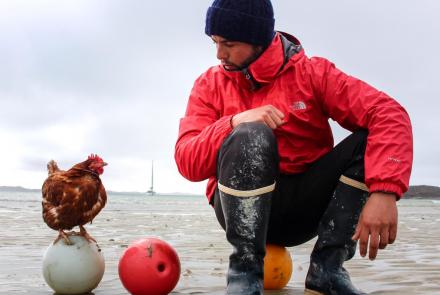 Youthful ocean sailors Gregor McGuckin, of Dublin, Ireland, and Guirec Soudée, of Brittany, France have been named winners of two of the Cruising Club of America's top awards. Last week, the award winner of the CCA's famous Blue Water Medal, was announced as Jean-Luc Van Den Heede, also of France.
McGuckin, age 32, is winner of the Rod Stephens Seamanship Trophy for extraordinary efforts to aid a competitor in the 2018 Golden Globe Race. Soudée, receives the Young Voyager Award for a five-year voyage including sailing the Northwest Passage and Antarctica, accompanied by his first mate, a chicken named Monique. Soudée was 21 when he first set out from his home island of Yvinec in Brittany. Their awards, along with several other CCA awards will be presented on March 6 at the club's Annual Awards Dinner at New York Yacht Club.
Rod Stephens Seamanship Trophy - Gregor McGuckin
The Cruising Club of America awards the Rod Stephens Seamanship trophy to Gregor McGuckin of Ireland, for his attempted rescue of a fellow competitor, Abhilash Tomy, in the 2018-2019 Golden Globe Race. Ninety miles apart, McGuckin and Tomy were both dismasted in the same hurricane force storm in the Southern Ocean, and Tomy was seriously injured. McGuckin jury-rigged his boat and sailed to within 25 miles of Tomy to help. Although a French fisheries vessel, FPV Osiris, was able to reach Tomy first, McGuckin's seamanship and courage were of the highest order. His shore team spokesman, Neil O'Hagan, described the effort:
"In an incredible show of seamanship, the 32-year-old Irishman managed to build a jury rig and hand steer his yacht Hanley Energy Endurance for the past four days to within 30 miles of his fellow competitor in order to be on site to assist with the rescue if required.
McGuckin did not declare an emergency for his own situation, despite being rolled over and losing his mast. However, given the extremely remote location and the condition of his yacht, it was deemed the appropriate course of action to abandon his yacht under a controlled evacuation scenario as the opportunity arose. This considered move helped ensure that if his own situation deteriorated during any attempt to reach land in the coming weeks, a second rescue mission would not be required."
2019 Young Voyager Award – Guirec Soudée
The Cruising Club of America presents the 2019 Young Voyager Award to Guirec Soudée in recognition of his solo voyage from the Arctic to the Antarctic. Established in 2016, the Young Voyager Award acknowledges "a young sailor who has made one or more exceptional voyages."
As a 21-year-old, Soudée set out from his home island of Yvinec in Brittany, France, crossed the Atlantic to the Caribbean, and then headed north to Greenland. There, he wintered over, alone with his pet hen Monique aboard his 39-foot cutter Yvinec (named for his home). After 130 days in the ice, voluntarily without radio or satellite phone, he continued through the Northwest Passage, becoming the youngest skipper to make that transit alone.
Soudée then set a course south down the length of the Pacific, stopping in the Pacific Northwest and San Francisco before traversing the Drake Passage to Antarctica. To reach home, he crossed the Atlantic three times to take advantage of prevailing winds: first to South Africa, then to the Caribbean, and then to the Azores and France.
Although Soudée had originally intended to cross the Atlantic solo, he had always hoped to visit the ice. In the end, the voyage totaled five years and 45,000 miles.
Blue Water Medal—For his six solo circumnavigations and winning the 2018 Golden Globe Race, Jean-Luc Van Den Heede, of Nantes, France (see separate press release).
Far Horizons Award—Peter and Ginger Niemann, of Seattle, Wash., for their worldwide voyaging, including a circumnavigation via the Cape of Good Hope and Cape Horn in 2006-2010, and a transit of the Northwest Passage in 2017.
Royal Cruising Club Trophy—Steven W. James, of Palm City, Fla., for his challenging cruise from Buenos Aires to the Le Maire Strait and Tierra del Fuego.
Charles H. Vilas Literary Prize—Awarded to Molly and Porter Barnes, of Los Olivos, Calif., for their article in the CCA's Voyages magazine,"A Family's Three-Year 36,000-Nautical Mile Adventure," which described sailing from Easter Island to Cape Horn, the Falklands to Norway, and more.
Richard S. Nye Trophy—Sheila McCurdy, of Middletown, R.I., for her leadership in the Cruising Club of America and the yachting world, as well as her many successes in yacht racing.