Kenichi Horie, Japan's best known ocean sailor, has been named winner of the 2022 Blue Water Medal by the Cruising Club of America (CCA) for a lifetime of ocean-crossing achievement. His most recent voyage began in March, 2022, when he sailed alone from San Francisco to Nishinomiya, Japan, at age 83. 
When informed of the award, Kenichi Horie responded, "I was amazed to find out about your invitation to receive the Blue Water Medal. I feel as if I am dreaming. I would like to express my gratitude for such an honor." 
The Blue Water Medal has been awarded 95 times since 1923 and is the highest honor bestowed by the CCA. It celebrates "meritorious seamanship and adventure upon the sea, displayed by amateur sailors of all nationalities." The Medal is intended to provide "an incentive for carrying on the spirit of adventure and the upholding of the best traditions of seafaring."  
Past recipients have included famous and less well-known ocean voyagers. Names such as Roderick Stephens, Jr., Harry Pidgeon, John Guzzwell, Jeanne Socrates, Carleton Mitchell, Bernard Moitessier, the Rev. R.L.M. Shepton and the British Yachtsmen at Dunkirk are cited in the rolls of awardees. Every awardee has distinguished themself in the adventurous use of the sea.
There are very few sailors who can genuinely be called a national hero, but Kenichi Horie of Japan is certainly one of them. For six decades, this intrepid sailor and environmentalist has traveled the world's oceans, always in very small vessels and often single-handed. He has circumnavigated three times: once westabout, once eastabout, and once longitudinally. Two of these have been solo, non-stop voyages, and the westabout passage in 1973-1974 set a world record at the time of 275 days.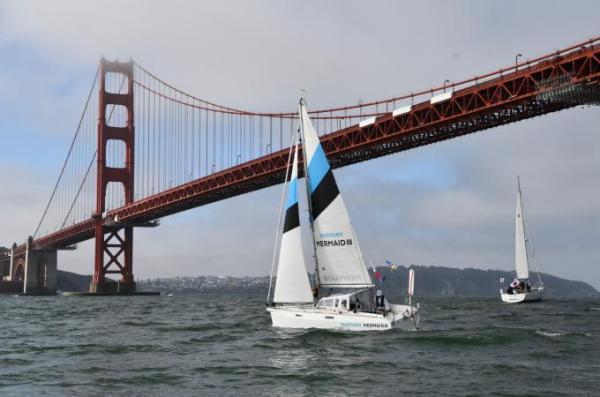 Capt. Horie has challenged our thinking concerning boatbuilding materials with Transpacific voyages in yachts made of recycled beer cans, and beer and whisky barrels. He has fitted his yachts with spars of recycled aluminum and sails of recycled plastic bottles. He has explored novel propulsion modalities ranging from solar power to wave power to human paddle drive. The Pacific Ocean has been his frequent venue and voyages both ways between Japan and the American and South American west coasts have continued over six decades of sea roaming. His most recent transpacific voyage was in 2022, from San Francisco to Nishinomiya, a passage accomplished alone by this remarkable octogenarian, in an 18-foot boat. In fact, he was the youngest non-stop solo sailor of the Pacific in 1962, at age 23, in his Mermaid and the oldest to repeat this feat last year, 60 years later in Suntory Mermaid lll.
Kenichi Horie's sailing exploits have not gone previously unnoticed. He has received numerous awards for his achievements including the Japanese Prime Minister's Award, the Asahi Award from Asahi Shinbun Press, The Brave of the Sea Award from San Remo City, Italy, and The Key to the City of San Francisco. The Government of Ecuador has named an island and cape in the Galapagos Islands in Horie's honor, and he has been inducted into the Single-Handed Hall of Fame in Newport, Rhode Island.
Horie is an author as well and wrote a book about his first voyage from Japan to San Francisco, titled Alone on the Pacific (Kodoku), which was made into a movie Alone Across the Pacific (also titled My Enemy, The Sea) in 1963 by Kon Ichikawa. The movie was nominated for a Golden Globe award. The Mermaid is currently on display in the San Francisco Maritime National Historical Park Maritime Museum.  
The CCA will present the 2022 Blue Water Medal to Kenichi Horie in person at its annual awards dinner on March 4, 2023, in New York City.
—Douglas Adkins, Pacific Northwest Station
Recipient Name
Kenichi Horie