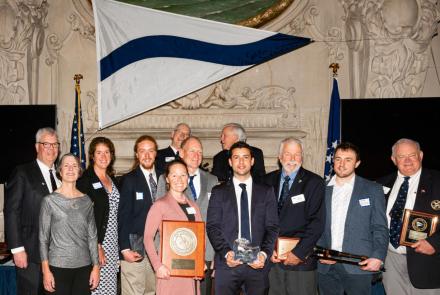 The annual Cruising Club of America gala awards presentation took place at New York Yacht Club on March 6.
NEW YORK (March 10, 2020)—Each year, the Cruising Club of America recognizes outstanding achievement internationally in making its annual awards, a tradition dating back nearly a century. Recipients typically comprise both CCA members and non-members, and this year was no exception.
 
The gala awards dinner last Friday, March 6, was highlighted by the attendance of Guirec Soudée, of Brittany, France, and Gregor McGuckin, of Dublin, Ireland, recipients of the Young Voyager and Rod Stephens Seamanship awards.
 
Soudée's five-year voyage with his pet hen, Monique, started at age 21 and included the Atlantic, the Pacific, the Northwest Passage, wintering over in the ice of Greenland, and visiting Antarctica. In receiving the Young Voyager award, Soudée said that he was not a good sailor when he started out and still doesn't think he is very good. After sailing 45,000 nautical miles, he said, "I've learned to never give up, to work hard, and to have confidence. Life is short. Anything can happen, so you have to make it a happy life."
 
McGuckin received his award for the attempted Southern Ocean rescue of a fellow Golden Globe Race competitor after himself being dismasted and erecting a jury rig. At the presentation, he said how great it was to be surrounded by so many people united by a love of sailing and appreciation and respect for the oceans and weather. He referenced the "unwritten understanding that when one of us gets into difficulty, we know there is a whole group of people who will have our back out there." He played down his efforts, simply saying, "I just happened to be in this situation and have no doubt that anyone else in my situation would have done the exact same thing."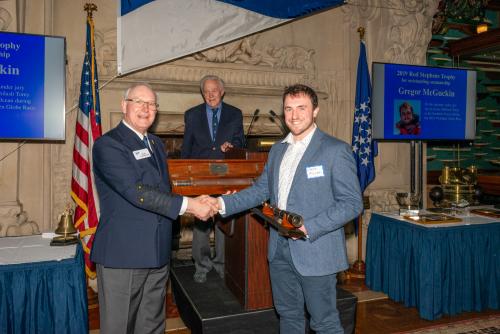 Jean-Luc Van Den Heede was named the recipient of the club's most famous award, the Blue Water Medal; unfortunately, the six-time solo circumnavigator was unable to travel from his home in France to take part in the ceremony. In his most recent trip around the planet, Van Den Heede won the 2018 Golden Globe Race. The CCA has invited Van Den Heede to attend the awards ceremony in a year's time to receive the award in person.

Receiving the club's top service award, the Richard S. Nye Trophy, was Sheila McCurdy, of Middletown, R.I., for her leadership in the Cruising Club of America, her promotion of ocean sailing throughout the yachting world, as well as her many successes in yacht racing. The award is named for a past commodore of the CCA who was a two-time winner of the Newport Bermuda Race. On receiving the award, McCurdy said, "Everything I've given to this club has rewarded me many times over in friendships and incredible opportunities. This award is especially meaningful to me because at the age of 22 I sailed from the Canary Islands to Tortola with Dick Nye aboard Carina, so this is an amazing arc." She concluded by saying, "I am not done yet. There are many more people to encourage to go out and make adventurous use of the sea."

The Far Horizons Award went to CCA members Peter and Ginger Niemann, of Seattle, for their worldwide voyaging, including a circumnavigation via the Cape of Good Hope and Cape Horn in 2006-2010, and a transit of the Northwest Passage in 2017. Ginger said, "Our years of sailing have only deepened our trust in each other and appreciation for the world and the kindness we've found the world over." She also said that they could not imagine a higher honor than to be recognized by the CCA, people "who actually know what it means to travel a long distance in a small boat on the open ocean."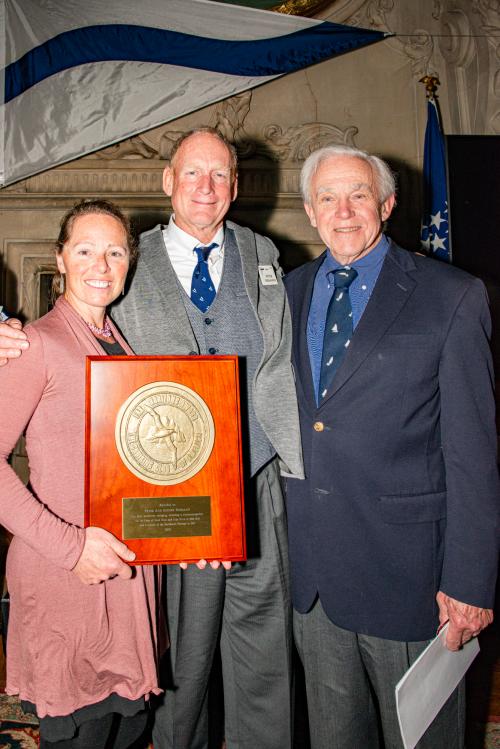 Stephen W. James, a CCA member from Palm City, Fla., received the Royal Cruising Club Trophy for his challenging cruise from Buenos Aires to the Le Maire Strait and Tierra del Fuego. Referring to his entire cruise from Morocco to Puerto Montt, Chile, James said "This was not a trip about me and my boat. It was about teamwork and the support I got. The reason I was able to do this trip was because of the CCA." He then listed at least a dozen club members who sailed major portions of the voyage with him.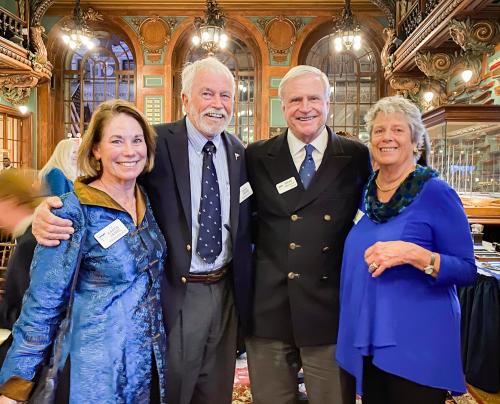 Earning the Charles H. Vilas Literary Prize was the mother-son pair, Molly and Porter Barnes, of Los Olivos, Calif., for their article in the CCA's Voyages member magazine: "A Family's Three-Year 36,000-Nautical Mile Adventure." The story described their trip sailing from Easter Island to Cape Horn, the Falkland Islands to Norway, and more. Speaking for both as they were presented with the award, Porter said, "Sailing, cruising, and living on a sailboat is always about the close bonds you build with your family."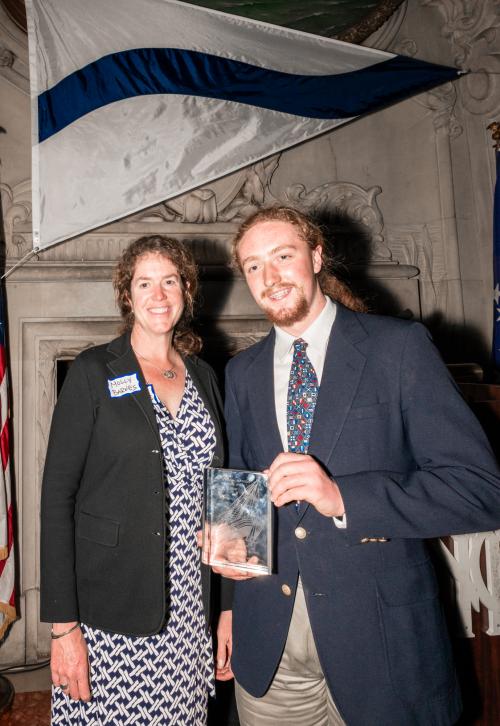 Photos by Harriet Lewis Pallette