Updates Winter 2020
The current edition of the CCA CRUISING GUIDE TO LABRADOR was published in January, 2020
Errata 2020 edition CCA Cruising Guide to Labrador
Page 5 – Anse du Petit Mecatina – Longitude should read W59°N, 18'W; Chart # 4468
 Page 6 – Baie de Tabatiere – Reference is made to an alternate anchorage "only six miles to the north". The Seal Bay referred to, Anse Seal, is more like 2.25    NM to the north.
 Page 60 – Penny Harbour – Approach from the "southwest" between Mad Moll and Black Rock should read SOUTHEAST.
Page 71 – Curlew Harbour – the "41" sounding referred to in the text should read as "41"
 Page 81 – Etagaulet Bay – No Name Cove – Latitude should be 53° 45.4'N
Fin Perry, the editor of The CCA Cruising Guide to Labrador, provides this synopsis of the Labrador coast; cruising from Greenland south.
Battle Harbour B-25
The new wharf project started in 2018 was miraculously completed in one season. A new "U"-shaped wharf is now in place providing an excellent lee in its southerly "basin", as well as dockage on the northerly el in normal summer weather. We are advised that work on the older southerly wharf will be completed by summer 2020, so all wharf infrastructure will be ready for full use this coming season. Be assured, Battle Harbour is anxious to welcome yachts back to this interesting port.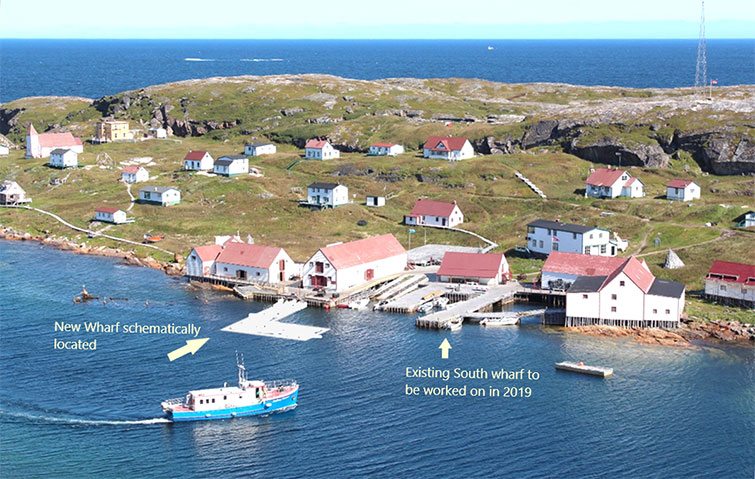 A pre-2018 view with the approximate location and layout of the new wharf "painted in."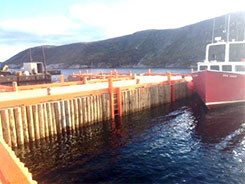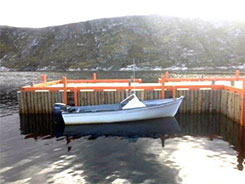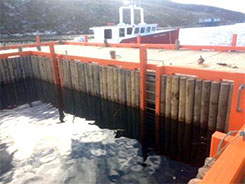 Photos taken in September 2018, from water level, of the new wharfs.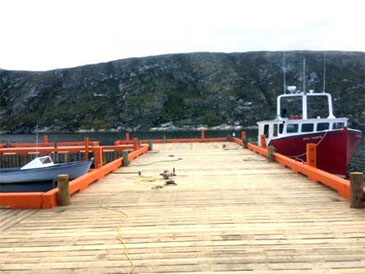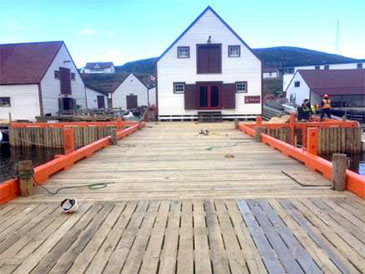 Above and below, 2018 photos showing the new wharf as built.

For a discussion on preparing for polar bear encounters,