The Cruising Guide to the Gulf of St. Lawrence

Updates from 2015 - 2017
The Current edition of this guide is the Fourth Edition, which was revised in January 2019. this date is indicated on the cover.
2016 Editor: A large amount of Federal money has gone to upgrades to fishing harbours, ranging from wharf repairs to major extensions. These are simply too many to list, and I recommend getting updated Sailing Directions for details. Similarly, changes to lights and buoys continue monthly and sometimes seemingly without reason, so updated charts (or a willingness to accept surprises!) are a must.
Prince Edward Island
2016 - Alas, the Department of Fisheries and Oceans seems hell-bent on turning our rivers and bays into one huge shellfish factory. Most of the anchorages have disappeared under acres of non-recyclable styrofoam buoys (except where noted in the Guide). The interactive map at https://www.arcgis.com/home/item.html?id=16aa8830c7084a8a92ce066b525978b4 will show how bad the situation has become (and in fact the situation is worse than shown). A note to the Province's Minister of Tourism at https://www.princeedwardisland.ca/en/employee/macdonald-j-heath might help to show how short-sighted this policy is for the tourist economy of the Island.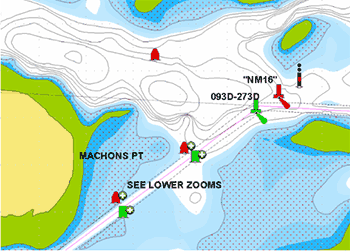 Murray Harbour
Page 151
2016 - The bar shoaled a little in 2016 but the harbour is still easy to access in anything but a strong easterly. Both Machon Point and Murray Harbour wharves have been extended, but there has been no dredging. One point of note is that two pairs of buoys have been added after the green buoy NM15, leading into Murray Harbour village, as shown below (position approximate). This is a BIG help as the village range is hard to see in the afternoon from NM15.
Brehaut's Restaurant is now the Harbourview: the food's good, and now has a more imaginative menu, while #5 Cafe up the hill continues to serve superior food in lovely surroundings. #5 will have a liquor licence for 2017.
2015 - There is now a new restaurant, #5 Cafe, in the former Presbyterian church next to the general store. The lovingly restored building offers coffee and desserts plus lunch and dinner, and a range of chutney and jams made by the owners. It's an exciting development for the village, and the food and ambiance make this a worthwhile stop. Brehaut's Restaurant by the bridge continues to offer hearty fare.
Also, the old fish plant at the harbour has been demolished and we are looking forward to exciting new developments here: it certainly looks a lot better already.
Machon's Point
Page 154
The wharf has been extended, but it will probably be even busier in 2016. Check at the office if you do come in here, and watch for shoals.
NOTE: most of the work noted below will be carried out during the 2016 season, so there may be access problems in these places. If you can, check before you go.
Montague
Page 148
The town is planning to dredge the marina area in 2016, improving access to berths and the fuel dock.
Most of the east coast harbours in PEI will be dredged in 2016.
Annandale
Page 143
2016 - A major wharf extension was under construction in 2016. I've not seen any notice of dredging but this may come in the Spring.
Souris
Page 141
2016 - High winds played some havoc in the boat park in October: damage was done when a boat toppled. Keeping support substantial and windage low seems to be the key to safe storage. The marina continues to give great service.
21 Breakwater restaurant (along Breakwater Street to the left as you leave the marina) offers excellent food in a delightful dining room overlooking the coast, or outside on the veranda. This is definitely the place to eat in Souris.
North Lake
Page 140
The entrance will be dredged annually. However, whether this will make it accessible to deeper draft craft remains to be seen.
North Rustico
Page 139
2016 - I still haven't managed to sail in here, but locals tell me several sailboats did so in 2016. There isn't much docking room: there is a small but shallow boat harbour, but one's best bet is likely to be to lie alongside a fishing boat. There are several restaurants and a pleasant boardwalk along the shore. The small town has supplies, banks etc.
The entrance is both convoluted and fairly shallow: half tide rising and an offshore wind would seem to be a must for a first attempt.
Tignish
Page 136
Channel will be dredged and realigned, dock space increased.
West Point
Page 135
Shore work and reconstruction of breakwater.
Summerside
Page 134
2016 - Summerside is planning to dredge the channel into the harbour for cruise ships. It's already plenty deep enough for yachts.
Nova Scotia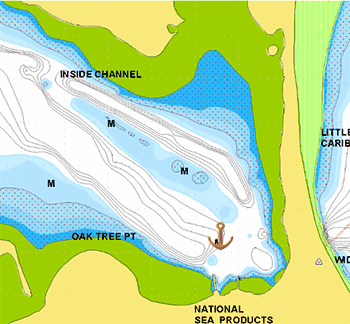 Caribou
Page 119
2016 - I spent a pleasant night at anchor up the east end of the harbour as shown below. The anchorage is overlooked by a block of condos, but it's quiet: there was no fishing traffic when I was there in July. Take care approaching the anchorage as the shoals come up quite suddenly on both sides. The inner (northern) channel offers more seclusion but it's tight. Although well-sheltered from most winds, there is a long fetch to the NW.
Ballantyne's Cove
Page 113
A new wharf with electrical system and dredging of the basin.
Arisaig
Page 114
New wharf
Havre Boucher
Page 110
New wharf, dredging to expand the basin area, floating wharves and electrical system.
Les Iles de la Madeleine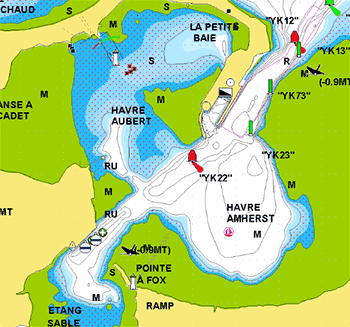 Havre Aubert
Page 98
2016 - Havre Amherst reinforced my feelings about this anchorage after I spent a fun morning dragging two anchors right across it, and recovering them single-handed. The channel into Etang Sable seemed to have shoaled right in or shifted (although there were a couple of sizeable yachts on moorings just off the old fish plant) and I couldn't find it using the Navionics chart below.
In my opinion, unless you have a big boat with big heavy anchors, the holding in this anchorage is just too unreliable and you're better off in the marina or alongside the fishing wharf just north of YK22.
The channel into the marina was in good shape and well-marked, however, and Havre Aubert remains a delightfully different stopover.
The chart above (Navionics) doesn't show the marina channel, which runs from YK22 to the marina. In fact, it doesn't seem to bear much connection with reality: caution advised!
Gaspe and River St. Lawrence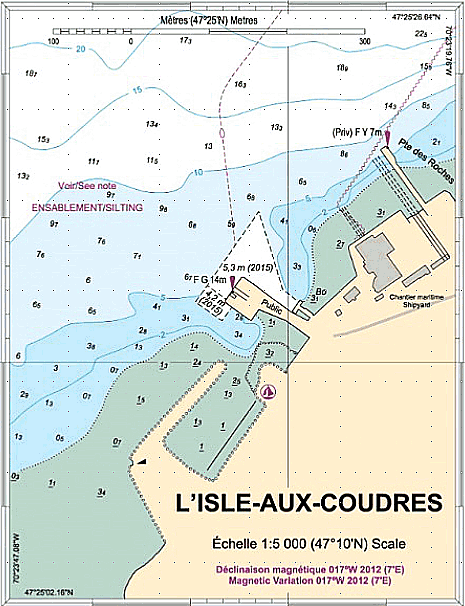 Thanks to Jay O'Hara and the crew of Foot Loose
for the following in 2015:
St. Lawrence River – North Shore
Ile aux Coudres
page 22, New chart 2016
Whale Protection Measures (these are likely to be continued for 2017)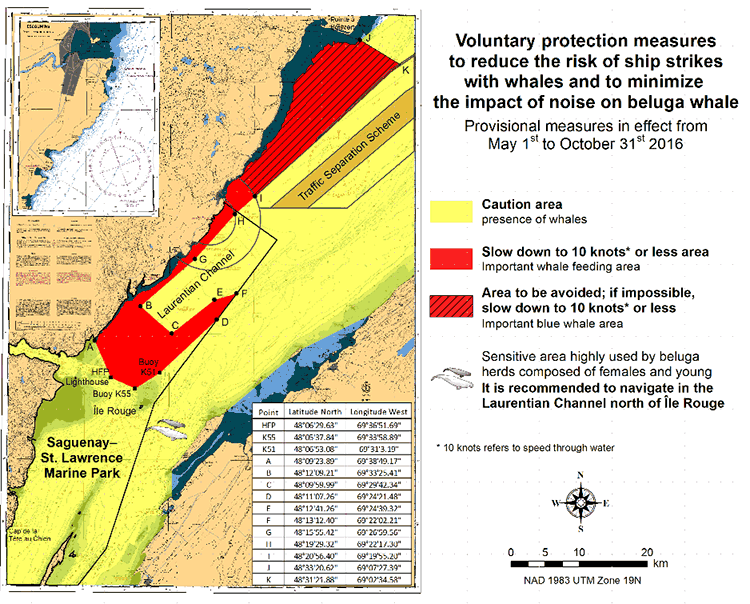 Cap a l'Aigle
Page 23
Self-service pay station at top of walkway, $2.07/ft. Gate code was 1520. Laundry and showers available.
Saguenay Fjord
Page 24
Foot Loose ventured to the head of navigation on the Saguenay at Chicoutimi. The cliffs rising from the water are spectacular, with ribbon waterfalls coming over the cliffs all the way up to the fork at Baie des Ha! Ha!, where the land subsides and the water broadens. Despite our attempts to play the tides, we found the current always flowing downstream. Heading up to at least Bai Eternite is highly recommended.
Bai Eternité
Page 24
48° 19'N 70° 19'W
Directions: The bay is broad and very deep. There were 4 moorings in deep water placed by the Parc national du Fjord-du-Saguenay around the inner perimeter of the bay. The dock in the western corner of the bay connects to the trail system. Park visitors center is a 5 minute walk to the west. Hikers are expected to pay a day-use fee in addition to the mooring fee.
Remarks: While we were there very early in the season, and the moorings were all available, one can imagine they would all be taken in the summer. It's not clear that the shelf at the head of the bay is sufficiently broad for anchoring. The trail that leads to Cap Trinite on the west side of the bay is well groomed and heavily trafficked, the trail on the east of the bay leading to equally spectacular views up Cap Eternite is more rustic and beautiful.
Chicoutimi
Page 24
48° 26'N 71° 03'W
Directions: Channel at the head of the fjord leading to Chicoutimi is well marked and easy to follow, though some of the ranges were not visible and may be deteriorating as the main shipping port has moved down-river from the city.
Chicoutimi is a reasonable sized city with many services but has little otherwise to recommend it. Regular bus service from Quebec City makes this a possible crew change location. The Chicoutimi Yacht Club is at the downstream end of the state wharf and has a gas/diesel dock.
Foot Loose spent a night on anchor opposite the Chicoutimi Yacht Club. Holding was excellent and a stern anchor was necessary given the wind was against a very strong downstream current.
St. Lawrence River – South Shore
Berthier-sur-Mer
page 32, New chart patch
Anse a l'Original
Page 35
Foot Loose spent the night on anchor and found the holding adequate. The plentiful mussels along the rocky shoreline were delicious and the scenery was spectacular.
Matane
Page 37
There has been some shoaling at the marina. Call the marina prior to entrance to obtain depths as passage at low tide may not be feasible. Propane available nearby but closed on Sundays.
St Anne des Monts
Page 39
$1.25/foot in 2015. Propane available a short drive from the marina. A side trip (1/2 hour hitch or shuttle bus available from the hostel in St Anne) into the Gaspe National Park affords spectacular hiking.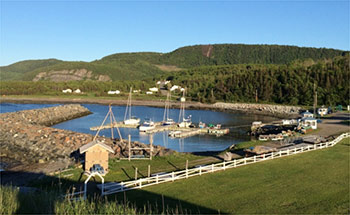 Riviere-Madeleine
Page 42
$1/foot in 2015. Showers, wifi, restaurant. Nice scenic little harbor in a quaint quiet village.
Riviere-au-Renard
Page 45
Foot Loose anchored in the NW corner of the harbor in approximately 13 feet. Good holding through a reasonable blow. Found relatively little commercial traffic to disturb us. Good local fish shop. The staff person for the marina/info center lent a car for 4 of us to go to the spectacular Forillon National Park. We left our dory on the beach near the marina and returned to find our painter cut and the dory having been taken for a joy ride.
Cap-des-Rosiers Est
Page 47
Harbor was still closed for work in 2015.
Le Cote Nord
Baie Johan-Beetz
page 64
The pier was reported as being in ruins; the October edition of Notices to Mariners said this pier is now deleted from charts, but a new ramp has been installed at 50°17'18.9?N 062°48'13.8?W.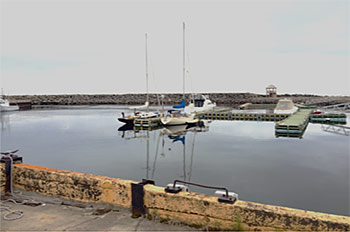 L'Anse à Beaufils, looking towards harbour entrance.
L'Anse a Beaufils
Page 90
Marina facilities have been much expanded with floating finger docks on the south side accommodating a dozen boats. Floats have electricity and water. The red roofed building on the north end of the harbor contains a good restaurant/cafe/bar with wifi, performance space, art gallery and showers. Pit Caribou micro-brewery on south side of harbor. We could not locate a marina manager.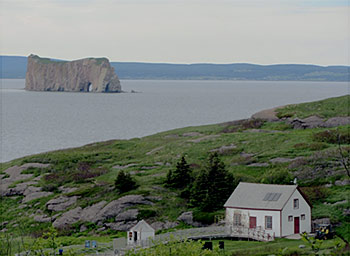 Ile Bonaventure
Page 90
48°30.1'N 64°10.6'W
Boats can anchor for the day in fair weather, with good holding near the wharf on the western edge of the island in approx 25'. Dinghies are allowed on the beach at the wharf to go ashore and see the enormous gannet colony on the eastern side of the island. Very cool. Park closes promptly at 5 PM.
Millerand
Page 93
Harbor entrance was being dredged on our visit in June 2015. In lobster season, the harbor was completely filled with boats moored stern-to, and impossible to raft. Fleet left between 3 and 4 AM and we were allowed to use the wall until the fleet's return at 11 AM. The reported restaurant was not open.
Cap-aux-Meules
Page 97
Dockage $1.25/ft. Marina has kitchen facilities. Footloose replenished her home-made granola supply here. Facilities Well stocked chandlery just outside the port entrance. The owner was extremely helpful in finding repair services for transients, including a welder.
Havre Aubert
Page 98
Range light reported absent in 2014 has been replaced with a single sector light. Floating dock inside the fishing harbor was still present in 2015 with room for 3-4 boats with some more room among the fishing fleet in the basin.
Ile d'Entrée
Page 100
The dock attendant no longer takes names and addresses to send a wharf bill, fees are collected on site. We found the breakwater wall filled with fishing boats stern-to. The floating dock in the center of the harbor has a finger on the east side, and room for a boat or two. Tour boat docks on the west side of the floating dock. First night $23, second night $17. Locals are incredibly friendly, inviting, and eager to show you their island.
Thanks to Syd and Sandy Dumaresq and the crew of Amasek
for the following in 2015: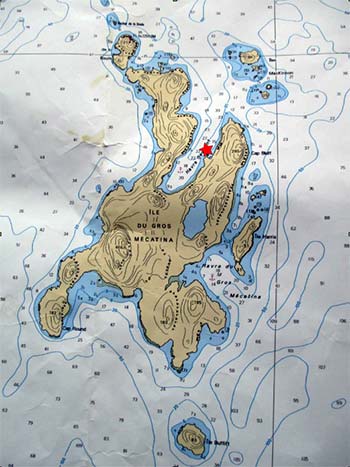 Ile Du Gros Mecatina
Page 72
50° 48.7'N, 58° 51.2'W
Chart 4474
We found good anchoring in the northern bay, Havre Gaumont, in the tiny cove that is formed by a small outcropping on the easterly side of the basin. There is a small cabin here and the granite rocks form a smooth, natural wharf for dinghy landing. There was about 30 feet of depth with a mud bottom. This island once had a whaling station, and there are whale bones still lying about near the cabin.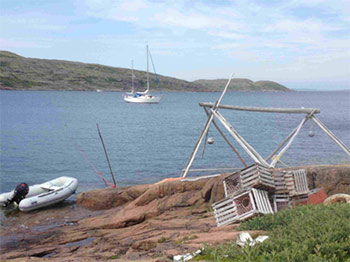 This would not be a good anchorage in northerly winds,
but it was a great lunch stop.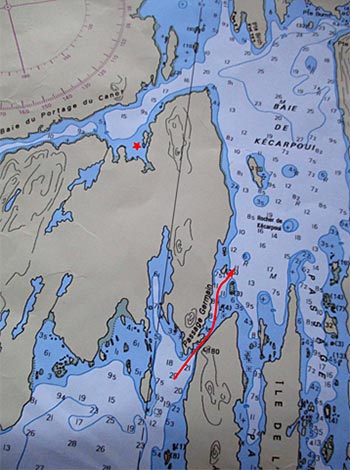 Passage Germain and anchorage
on S side of Baie du Portage du Canot
Passage Germain
Page 75
51o 01.3'N, 58o 49.6'W
Chart 4474
This passage is well described in the Guide. Although the rocks are accurately charted both on the paper charts, and on our GPS, as we were going through the Passage, the GPS placed Amasek well up in the hills. Don't try this in the dark!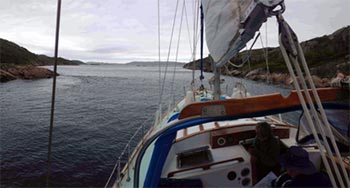 Un-named cove
6'N, 58o50.5'W
Chart 4474
We anchored in the un-named cove on the southerly side of Baie du Portage du Canot with about 20 feet of depth in mud. We found protection halfway up this cove on a line between a peninsula that had a small cabin and an island on the easterly shore.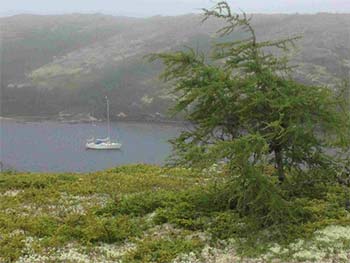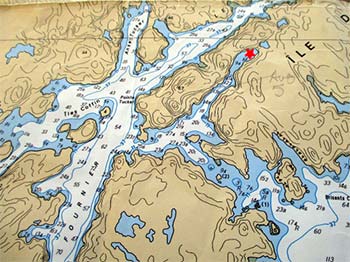 Ile Du Petit Rigolet
Page 75
51o 07.8'N, 58o38.1'W
Chart 4473
We found excellent protection in the unnamed cove on the easterly side of Ile du Petit Rigolet that runs parallel to Petit Rigolet and is reached from Passe Fournier. We anchored at the far end and had over 20 feet of water. We were surrounded by spectacular high hills. There were a few cottages at the entrance from Pass Fournier, and there were no apparent navigational hazards on entering.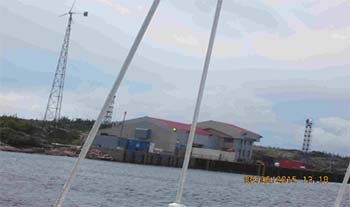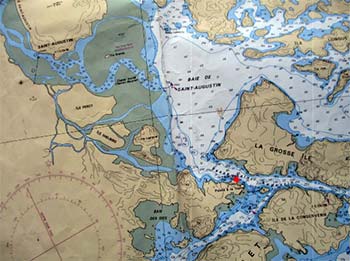 Pointe A La Truite
Page 76
51o 10.9'N, 58o 34.1'W
Chart 4473
There is a large, commercial wharf at Trout Point with a modern federal building on it. With permission from the wharfmaster, recreational boats can tie up to the wharf. This dock is used by cargo ships delivering goods to Saint-Augustin and by the Nordik Express, the large passenger ferry that goes from La Tabatiere to Blanc Sablon.
(Note that the ferry does not stop at Ile de la Conserverie as stated in the Guide. It stops at Pointe a la Truite on the mainland.)
The dirt road going north from Trout Point wharf leads to the small airport which is serviced by Air Labrador. This road also goes to the hovercraft ferry that crosses Riviere Saint-Augustin. The hovercraft has scheduled crossings, but they are not frequent during the day.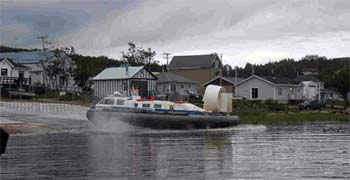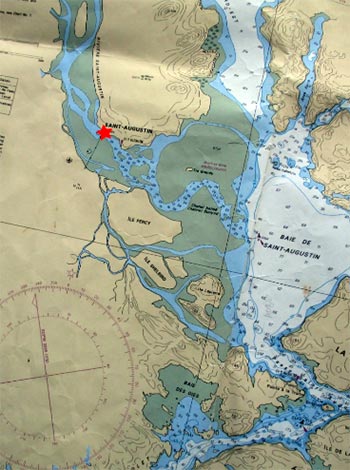 Saint-Augustin
Page 76
51o 13.5'N, 58o 39'W
Chart 4473
As noted in the Guide, it is impossible to reach St. Augustine in anything but a motorboat. It is four miles to the town from the wharf at Trout Point while anchoring in Baie des Oies would mean a much longer trip. Even in a small skiff, it is recommended that one follow the buoyed channel. We became stuck a number of times trying to make shortcuts.
The small public wharf is located just to the north of the hovercraft landing in the town. The town has many amenities. Up the hill, on Rue Principal, is the Riverview Inn. This is a modest, tiny hotel, but it has spotless rooms and bathrooms for showers. Attached to the Inn is Depanneur Riverview. This store has three freezers of meat, lots of bread, and the usual groceries as well as wine and liquor and cold beer. There were very few fresh fruit and vegetables when we were there in early August.
There is also a gas station at the back of the Inn, but it only sells gasoline and not diesel. The town has a hardware store, a restaurant, and there is a clinic as well as a nursing home. Many blackfly. The language spoken is English.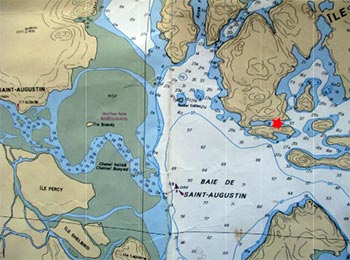 Ile Des Genevriers
(Page 75)
51° 13.2'N, 58° 33.7'W
Chart 4473
We rounded the eastern peninsula in Ile Longue and then went north up the channel to the first unnamed cove on the port side on Ile des Genevriers. There is 20 feet of mud all the way up to the head of this cove, and it is well protected from all winds. The entrance is about 4 miles from St-Augustin, and one might prefer to stop here and dinghy to the town rather than leaving from Trout Point.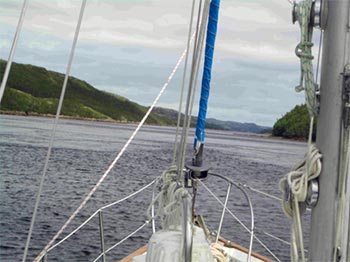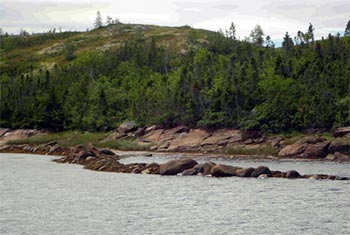 Rock formations, Rotten Cove.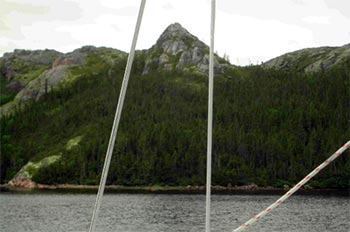 Ile de Fougeron, Passage Bougainville
Passage De Bougainville
Page 78
51o 15.3'N, 58o 32'W
Chart 4473
Current in Passage de Bougainville This is a spectacular passage with beautiful high hills. About 3 miles in from the westerly entrance, we decided to check out an unnamed cove that reaches into Ile des Genevriers. The entrance was lined on both sides with semicircles of rocks that formed pools behind them. It is possible that these were man-made and meant to trap fish at high tide.
Because of the high hills, the GPS showed Amasek to be up on the shore in a few places!
As we approached the little island, just before the cove opened up, it became very shallow, particularly on the easterly, starboard shore. We stayed close to the little island and anchored in 22 feet just inside the bulb of the cove. On exiting, we kept close to the island, but just after having passed it, it became exceedingly shallow – less than 4 fee on the sounder. We proceeded towards the easterly shore and the bottom improved again. We would recommend that this cove be entered very cautiously as the soundings on chart 4473 might be accurate, but not as extensive as they might be.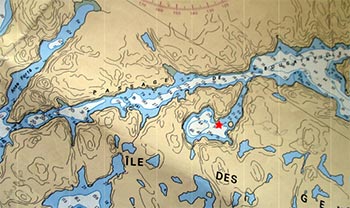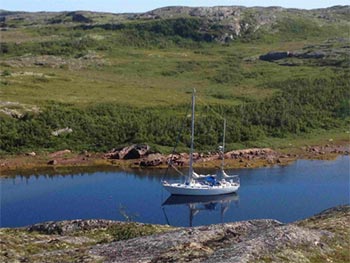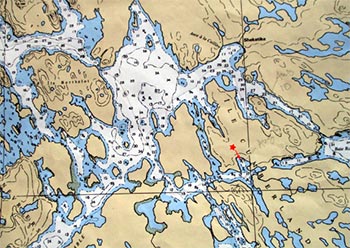 Ile Du Forgeron To Ile Cumberland
Page 77
51o 15.3'N, 58o 20.1'W
Chart 4472
Local knowledge recommended the northeasterly passage over Ile Berthelot when coming from Baie de Kingston. We crossed the easterly end of Passage de L'Ile au Sable, leaving to port the unnamed island that lies between Ile Bayfield and Ile Cumberland.
At the southerly end of this unnamed island, we turned east and headed up to almost the end of this channel. Just before it ended on Ile Cumberland, and after passing two coves on the port, we entered a third cove going to the north.
This cove was very deep, and we did not find holding ground until right up to its head where it was still 35 feet deep. When the wind shifted later, we had to reset the anchor to keep us off the muddy shore. This is a spectacular anchorage with striking bold, rocky hills – and lot and lots of blackfly.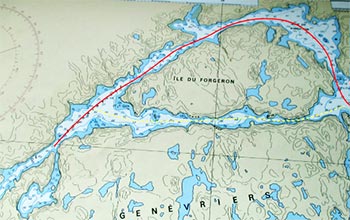 On the chartlet, the rounte Amasdk took is the solid line.
The that was not recommended is the dotted line.
Ile Du Forgeron
Chart 4473
We continued along Passe de Bougainville around Ile du Forgeron into Baie du Kingston. The unnamed passage between Ile de Genevriers and Ile du Forgeron looked interesting, but we had been warned that it was only passable at high tide. Our assumption was that that statement applied to the local small boats and that we could not make it through on any tide.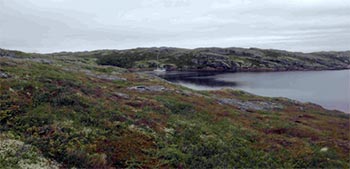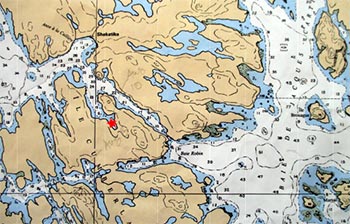 Ile Cumberland
51o 16.1'N, 58o 20'W
Chart 4472
There is an excellent anchorage in the northern end of Ile Cumberland in a cove just south of Anse a la Cuillere. One can go right up to the end, and be surrounded by hills on all sides, offering protection from all winds. We found mud bottom there with 35 foot depth.
The channel on the northeast side of Ile Cumberland between Baie de Jacques Cartier and Anse a la Cuillere is not recommended. The narrow entrance leading from Baie Robin in Baie de Jacques Cartier has only a couple of feet of depth, and the tide rushes through at great speed.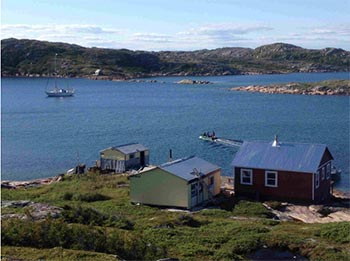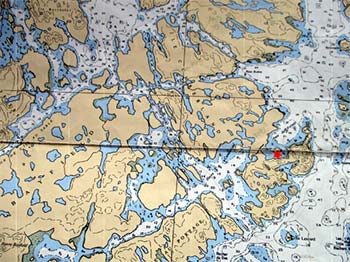 Anse Du Portage
51° 14.1'N, 58° 17.8'W (inner cove) Chart 4472
2015 Syd and Sandy Dumaresq: From our anchorage in Ile Cumberland, we headed southerly, crossing Havre Cumberland, and out to sea. The passage through the rocky channels was beautiful and not difficult. Following the coast northeasterly, we turned into Anse du Portage.
In the main part of the Cove, there are 17 summer cottages, and 5 cottages in the inner cove. As there is no fishery any longer, the cottages are used mostly on weekends. The summer residents come from St. Augustin and are very friendly. Anchor, as suggested in the Guide, behind the small unnamed island. There is good bake-apple picking in the hills on the westerly side of the cove.